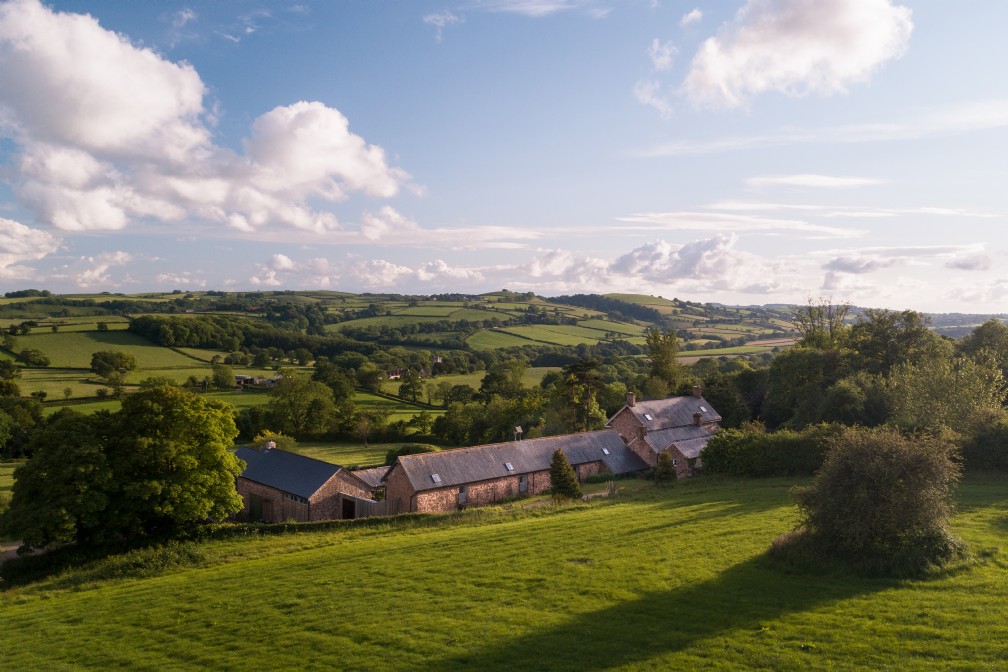 Bohème
Be dumbfounded by the magnetism of Bohème; a 16th century cider press turned boho-luxe farmhouse in Somerset. Sleeping up to 20 with a spring-fed indoor swimming pool, this large luxury self-catering home sits just over the Devon border in Somerset and offers space and tranquillity for all. An unforgettable destination for family holidays, yoga retreats and weekend-long birthday celebrations, all wrapped up in 100 acres of pastoral paradise.
Introduction
Nestled within a secluded smallholding, Bohème is a large self-catering home designed with the grandest of gatherings in mind. Oozing rustic rural style with a contemporary edge, the renovations of this spacious farmhouse include eco-friendly enhancements and local materials to retain a pared-back, rough-luxe style. For the ultimate wake up, kick start your morning with a swim in the 15-metre indoor heated pool, followed by a spot of yoga on the lawn. Later, after an invigorating family walk in the fresh Somerset air, return for an atmospheric movie in front of the flickering open fire in the cinema room.
Inside
Behind the towering oak front doors awaits a heavenly farmhouse retreat, combining old-fashioned and modern-day luxuries. Gather for decadent breakfasts and candlelit suppers around the extensive dining table and serve up delectable fodder to refuel the whole party. While Grandpa curls up with a book and the dogs snooze by the fire, let little ones escape to their own private corner or step up to the table for a game of pool. Arranged in a unique horseshoe formation, nine beautifully appointed bedrooms sit across from the cavernous living area, meaning some can sleep whilst others chat into the small hours.
Outside
On a sunny weekend, take the party to the Quantock Hills armed with an icebox of chilled champagne bottles and wicker baskets overflowing with juicy strawberries, scones and clotted cream. Follow in the footsteps of Coleridge and Wordsworth as you ramble across this Area of Outstanding Natural Beauty to find a hidden spot for a wild swim and a picnic of local fayre. Back at the ranch, the olive tree courtyard will provide a sophisticated playground for the evening's entertainment; think smoky barbecue feasts, family games, a backdrop of music and conversation long after the sun goes down.
The Facts
SleepsUp to 20 guests
From £10,500 per week, £5,495 per short break
Day hire options are available
Bedrooms and bathroomsOn the ground floor are four zip-and-link bedrooms (which can be set up as super king-size doubles or twins), with a further six zip-and-link bedrooms on the first floor. On the ground floor are two family bathrooms each with a bath and separate shower, and one further separate WC. On the first floor is one family bathroom and four en suite bathrooms.
View bedrooms
Features

15 metre heated indoor pool, Tesla electric car charger, universal electric car charger, table tennis, pool table, fire pit, entertainment room with cinema projector

PetsTwo well-behaved dogs are welcome
Each pet is charged at £60 per week or part thereof
Arrivals and departures

Arrival Day:

Friday or Monday

Arrival Time:

4pm

Departure Time:

10am
Family

Yes, children are very welcome. Two cots and two highchairs are available.

Practicalities

Up to 10 cars can park outside, where there is also a Tesla and universal electric car charging point. The kitchen has a double and single oven with seven hob rings in total, two American fridge-freezers, two dishwashers and a Nespresso coffee machine. There is underfloor heating in the dining and living areas. There are two washer-dryers in the utility room. Please note, there are several steps and changes of levels throughout the property. The courtyard garden is fully enclosed and the owners live next door. If arriving by air, helicopters are welcome to land on the grounds.

Homestay includes

Luxury welcome hamper, TV with DVD player, iPad, WiFi internet, an extra-large Big Green Egg barbecue, linen, towels, logs and kindling for the fire...

House book - your property and destination guideDiscover more little luxuries
Additional extrasA handpicked selection of unique experiences are available at this property.
Eco-friendlySpring water, Biomas heating and hidden solar panels



Prices & Availability
Stawley
Idyllically placed between Exmoor National Park and the picturesque Quantock Hills, Stawley is a pastoral paradise for enjoying a self-catering holiday in the countryside. Set in the heart of rural Somerset, a stay in Stawley promises a magical holiday in the great British outdoors.

Getting there
On the Map Bohème sits within the secluded village of Stawley in Somerset, between the Quantock Hills and Exmoor National Park.
By Car The farmhouse is approximately three hours drive from London.
By Train Taunton train station is around half an hour's drive away from the house, with regular routes to London.
By Air Exeter Airport is 45 minute's drive away. 

Helicopters are welcome to land on the grounds of Bohème.
From the owner
"As the evening sun goes down, I love the way the sunlight reflects on the pool. The Somerset stone wall glistens with the water ripples which exaggerates the stunning view and peaceful position of the property; a perfect time to relax, unwind and enjoy a sun downer with friends and family."

Bohème started life as a dairy farm. The long low barn was the shippon parlour where the cows were looked after when they weren't roaming the 100 acres of farmland. The courtyard and surrounding barns later became a cider press.
Since moving to Stawley in 2011 and subsequently having four little children, we have put all our love and energy into creating a special place for everyone to enjoy. We wanted to create a rural Somerset escape that was peaceful and private, with wonderful large open spaces for families and friends to share special occasions.
From the courtyard with olive trees to the indoor pool with infinity views, and from the secluded secret love den to the spacious dining area, there is certainly a part of the house for all ages. We have designed it to be a welcoming home-from-home for you to enjoy.
Minky and PJ
Owner recommendations
Live like a local, discovering the best hidden gem restaurants, walks and attractions during your holiday in Stawley with an insider's perspective.

To Do
Banquet and Blooms, Bohème
Whether a hen party, birthday or family reunion, whatever your reason for staying, let owner Minky create a dramatic tablescape for your celebration. With flowers sourced straight from the estate´s cutting garden, there´s zero miles but a whole lot of zingy, floral beauty.

To Do
Walking Adventures
There are lots of wonderful walks around the 100-acre estate, so wander at your leisure. A favourite for guests and their dogs is to go up above the property through the field to the cedar trees to reach an old highway where the trees create a tunnel running along the field which is rather spectacular.

To See
Houses and Gardens 
Knightshayes is a nearby National Trust estate with stunning house and gardens, and a sweet cafe. The combined work of Gertrude Jekyll and Sir Edward Lutyens, the Hestercombe Gardens Project boasts temples, lakes and formal beds.

To Eat
The Rock Inn, Waterrow
Scrubbed tables, an open fire and a chalk board menu offer a more modern approach to dining at the Rock Inn. Their philosophy is to dispense with the set restaurant format and have a more relaxed service and laidback dining experience.
Guest Testimonials
It´s been a wonderful home for the week. We´ve celebrated a ´milestone´ birthday with 15 family members of all ages. We´ve loved the countryside views (sublime) and the house has provided a wonderful place to relax and have fun. The pool, snooker, table tennis and cinema room have entertained us all. We had a fantastic BBQ one evening in the lovely warm weather when we could enjoy the garden & outside dining space to the max. We are taking away great memories.
Thank you to the owners for making our stay so wonderful! We had family from both the UK and the USA come together to celebrate three birthdays. I can´t think of a place more perfect to do this. I would be happy to recommend this idyllic home to our friends over in Florida!
A warm welcome at an astounding location and property. All of our party were totally overawed. It was ideal for our family who have missed seeing each other for a while and this stay has been such a tonic for us all. Every generation made good use of all the games provided and as for the pool, well what can we say! We leave you with sincere thanks for providing the wonderful experience we have all had. We already know we want to come back!
The owners went above and beyond on every request, even dragging their satellite dish over so my husband could broadcast. They left us the most wonderful hamper of goodies, made up all the bedrooms so gorgeously that we were spoilt for choice and slept blissfully. They were lovely with all three dogs we brought with us and so reassuring that nothing in the house was "too precious" to be used. We felt sincerely welcome and had complete privacy even though they live next door. Delighted to be allowed to frolic with the sheep and cows. Such marvellous hosts! We feel like we've made friends.
We´ve had a really lovely stay at Bohème. The pool was a real highlight, as were the snooker table and table tennis. The owners are extremely hospitable; we had friends visit for the day and they did super homemade pizzas in the pizza oven - made for a great get-together, really fun. The house is gorgeous, the views are stunning and we had a glorious week of warm, sunny weather. Such a picturesque place to spend our first week of freedom in 2021!
Thank you for making our stay so wonderful. We followed the owner´s beach recommendations and went horse riding, which we all thoroughly enjoyed! Thank you for the beautiful table decorations too; we´ve made some lovely lasting memories at this house!
What an idyllic spot! And the view… it´s just amazing. The house is incredible and we all loved the pigs, cows and sheep! We all had a magical time at Bohème, thank you so much!
What a truly magical time we have had here in this amazing house. You have created such a magical place to relax, party and just celebrate being together. We have had the best time, thank you!
The perfect house to celebrate a wedding and two birthdays, what a week! We´ve all loved our stay at Boheme, even with Storm Dennis turning up totally uninvited. There has been plenty to do and lots to celebrate together in these beautiful surroundings. Thank you!
We have had the most amazing weekend here and all my friends absolutely loved Boheme. We have made so many beautiful memories and hope to stay in this property again in the near future. I have since recommended it to others as I have never stayed in a house so perfectly set up for large group gatherings!
We have had the most glorious weekend celebrating my 50th birthday here! The house is magical, cosy, and beautiful, and felt like home from the moment we arrived. The attention to detail and the gorgeous colour palette of all the spaces was appreciated by everyone. The garden and the courtyard are stunning. Thank you for creating such a special place, it is clear that Boheme was created with love!
We have had the most wonderful week at Boheme assisted by a week of mostly good weather. The house is so well equipped and we kept finding more treats and surprises throughout the stay. The pool was used by all the generations! We were very lucky to have the services of a few recommended chefs for various meals, which were all superb. The activity day of archery and shooting was a big hit! Thank you for a fabulous time and we are already discussing when we can return.
We leave 20 very happy individuals! This place is amazing. We have had a great time and all hope to return. Amazing location, the pool was heaven, and the weather was perfect. None of us want to leave, thank you so much for everything.
Thank you, from the bottom of my heart. Beautiful Boheme was the most perfect venue for my surprise birthday celebrations with the people I love most! We had an amazing, hilarious, peaceful, soul-feeding time here. Thank you!
A fantastic property to rent with a larger group of family or friends. Bohème was in perfect condition and beautifully decorated and designed. A great space for children as well as adults and in a lovely location. Thank you.
We loved Bohème and would stay there again. The owner was so nice and was easy to get hold of during our stay for any questions we had. They were all nicely decorated and each had bath robes which we could use for going to and from the pool. Since discovering your website we have booked our past three holidays with you. We are a family of four but like the larger properties for 10 to 20 people just for ourselves! Our standards are high and we are pretty hard to please but all the properties we have booked with you have met our expectations and more.
We had a fabulous time at your lovely place on my 70th Birthday. My family have come from as far afield as Canada, Pakistan & London, all ages from 7 to 70 years and our little dog "Frida". Thank you for your hospitality.
We had the best time celebrating my 21st birthday in your incredible home. It is honestly amazing and none of us wanted to leave. You should be incredibly proud of it. Thank you so much for everything.
The most perfect setting, we can´t thank you enough. Boheme will always hold a special place in our hearts. Wonderful from start to finish, a very happy wedding weekend.
What an amazing place to celebrate a big birthday, a weekend that none of us will ever forget. Special mention to Fred the peacock, the worlds best alarm clock! Hoping that we will be able to come back and do it all again one day.
We gathered here to celebrate my 70th birthday with four children and ten grand children. We enjoyed the facilities to the full, the wonderful pool, the comfy beds and the spacious kitchen. We have had fabulous weather all week. There was tears on departure and we have enjoyed the quality time spent together. Thank you very much.
Well what can I say! We have just experienced the most incredible few days here, the most laughs, fun, fantastic surroundings and every possible facility available for both adults and children alike. Everyone is so sad to be returning home... Another week or two would have been amazing! Turning 50 has been fabulous, spending quality time with dear, close friends, I will hold these memories for many years to come. Everything was perfectly catered for - luxury beyond words in beautiful countryside. Thank you so much, hope to see you again.
We all loved it here. Everything is as described and even better, thank you so much. Its been a family holiday that we´ll all always remember, and we´d love to come back!
It´s great to be back, it´s starting to feel like home! The birthday girl had a fantastic time, with lots of family and friends visiting throughout the week. A 50th birthday celebration to remember. I look forward to a third stay, so you will be seeing us again soon. Everyone loves the place, and many are thinking they would like to return.
Thank you for letting us into this beautiful corner of Somerset. The accommodation was so well designed and energy efficient. The pool was a great success from dawn until midnight!
We loved this beautiful place it is the ideal venue for family to spread and sprawl and come together to celebrate. The pool and snooker were particulate hits and the local walks, apple and blackberries en route were also a huge bonus! Very comfortable beds, warmth in the living areas and bedrooms were perfect. We enjoyed the views, friendly owners and help at the local village shop.
The weather outside, at times, was frightful. But inside Boheme, it was delightful. We enjoyed our week so very much and all sixteen of us would like to come and stay again. The big hits were the inside pool and the snooker table. Thank you.
This is my first retreat in the UK and I couldn´t have wished for a more perfect house and setting! Bohème is a stunning country ´get away´ destination! I may be back for my wedding.
We have had the most amazing holiday here. Large family get together and the house is superb. Everything you could want in beautiful surroundings. The pool is fantastic and the property is a certainly a great place to relax and unwind. The beds are very comfortable. Thank you so much!
Spectacular venue for our 50th Birthday celebrations! Everyone loved the house and the bedrooms were so comfortable. The views were to die for and we hope to come back again soon.
We had a fabulous family holiday here over the last four days; it´s a lovely house and we all had a lovely time. There is lots of space and a great pool for the children. Highly recommended!
Thank you so much for such a lovely weekend. The house is beautiful, the pool is amazing and we had tonnes of fun in the games room! Everyone loved the house and we had a lovely time - the perfect place to celebrate! Thanks again!
Unique extras
Enhance your stay with a unique experience from one of our preferred suppliers. From professional in-house chefs to luxury at-home spa therapists and wine delivered to the door, see what's on offer for your bespoke escape.
Press
Below are a selection of features in which Bohème and Unique Homestays has appeared. If you would like to feature the property in an editorial capacity, please contact the marketing team on +44 (0)1637 882014.
complete an image bank request
Not quite what you're looking for?
Find properties:
Luxury Self-Catering Cottages > UK > Somerset > Stawley > Bohème
Disclaimer: These particulars, whilst believed to be accurate, are set as a guideline so should not be relied upon as a statement of fact. The photographs show aspects of the property at the time they were taken and it should not be assumed that the property remains precisely as displayed. If there are points of particular importance that need clarifying before you book, please contact us.