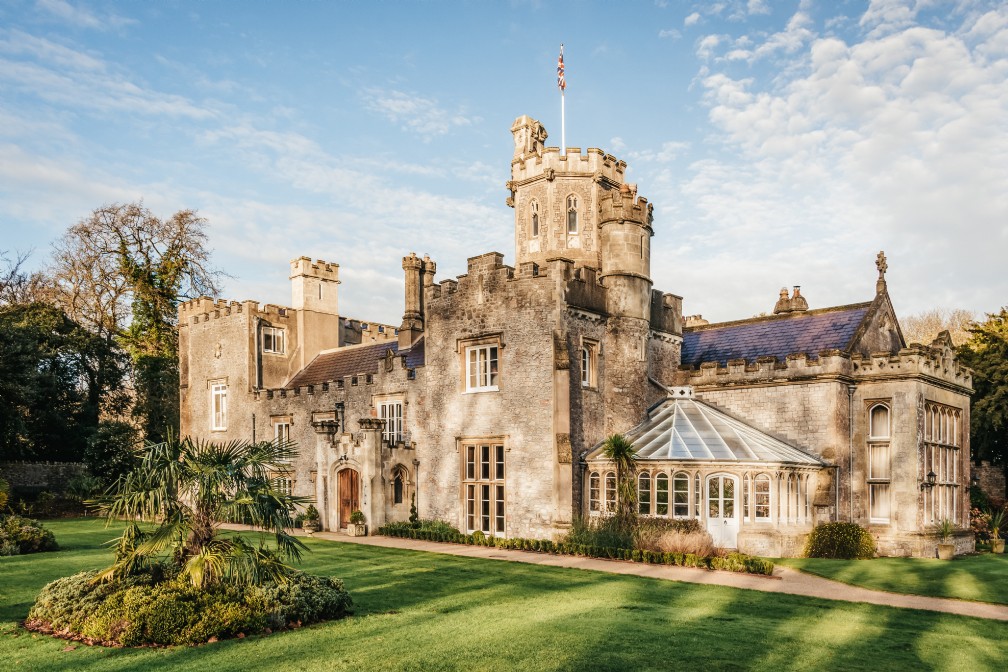 Thornemead Castle
Step back in time to a bygone era of burgundy smoking rooms and vaulted ceilings at this 240-year-old Gothic castle on the Somerset coast. Within walking distance of Uphill beach and the famous Donkey Bluebell Fields yet secretly hidden away within 10 acres of grounds containing beehives and ancient trees, Thornemead Castle is ideally placed for exploring Bath and the Mendip Hills. This extraordinary stately home is sure to make a statement self-catering holiday.
Introduction
After steaming cups of coffee and fresh croissants, tie up the laces of your trusty hiking boots and head to the coast and Brean Down. Eight miles by foot from Thornemead Castle, this unique peninsula hosts rich history and excellent walking trails above the Bristol Channel. Return from a day's adventures to a family snooker tournament on the full-sized table before feasting on a hearty dinner fit for Kings and Queens in the regal dining room. When the lights are dimmed, retreat to the library for some well-deserved hot toddies.
Inside
Restored to full glory with the help of English Heritage, Thornemead Castle holds within its ramparts a treasure trove of antiques, history and romance. Brass chandeliers glimmer from ornate ceilings, curved oak bookcases house lyrical idioms and Pugin-designed wallpaper akin to that found throughout Westminster Palace decoratively lines the snooker room. For blissful repose after days of royal escapades, each of the castle's five bedrooms feature Victorian fireplaces, views of the gardens and a king-size zip-and-link bed.
Outside
This 10-acre private Somerset estate, dotted with flamingo statues and plenty of quiet spots to while away summer days beneath the shade of a tree, offers opportunities en masse to relax. Wander barefoot through the wildflower meadow, take a tour of the Victorian walled garden (by prior arrangement) and chat with the beekeeper who visits Thornemead Castle weekly to tend the hives. If one really must leave, the nearby Mendip Hills are a rambler's paradise with deep limestone gorges, stone circles and tearooms serving slabs of homemade cake.
The Facts
SleepsUp to 10 guests (+3 children)
From £3,550 per week, £2,695 per short break
Day hire options are available
Alternative group optionUp to 6 guests
Bedrooms and bathroomsFive en suite zip-and-link bedrooms, one on the first floor, three on the second, and the master on the third. One first floor en suite bathroom with overhead shower, three second floor en suite bathrooms, and one third floor en suite bathroom. There is also one king-size sofa bed in the master bedroom for children and one further single zed-bed for children (each available on request and at additional cost).

View bedrooms
Features

Hot tub hire is available (please enquire for details), football table, badminton, volley ball, games room, outdoor tennis table, croquet lawn, library, Kadai fire bowl and pizza oven.

PetsSorry, no pets

Arrivals and departures

Arrival Day:

Friday or Monday

Arrival Time:

4pm

Departure Time:

10am
Family

Yes, children are very welcome. One travel cot and one highchair are available.

Practicalities

There is parking for five cars at the front of the castle. The large kitchen has a Rangemaster gas cooker with two ovens and six hobs, a Nespresso coffee machine, fridge-freezer and dishwasher. There is a breakfast kitchen with fridge-freezer, washing machine and dryer. Please note, when booking the smaller group option, only bedrooms two, three and four will be available. The owners live in an adjoining property, with use of a separate entrance, and they will be there to greet you on arrival.

Homestay includes

Luxury welcome hamper with organic produce, snooker table, croquet, library with books, several local discounts, Freeview TV with Netflix, USB points in each bedroom, iPad, WiFi internet, gas barbecue, pizza oven, linen, towels, luxury wrapped soaps, logs and kindling to get you started...

House book - your property and destination guideDiscover more little luxuries
Private cateringSeeking a celebratory dinner or fully catered escape? Our recommended caterers will work with you to create personalised menus for your stay. Details are shared through our house book on confirming your booking.
RetreatsFrom foraging weekenders to crash courses in cold-water therapy, our bespoke retreats bridge the gap between luxury and back-to-nature philosophies. Create a hand-crafted stay that puts connectivity at the fore.
Eco-friendlyElectric car charging point (available on prior request)
RestrictionsParties considered on prior permission from the owner, no fireworks are permitted at the property



Weddings
Lead your merry wedding party through 10 acres of majesty in the grounds of this striking Gothic castle. Flaunting a four-level octagonal tower, interior designed down to the last roll of historical wallpaper and flanked by fields of horses, there´s no shortage of choices when it comes to regal photo backdrops.
Prices & Availability
Weston-Super-Mare
On the west coast of Somerset looking out over the Bristol Channel, this coastal holiday spot is perfectly located for walks in the Mendip Hills, and cultural day-trips to Bristol and Bath. Perfect for those wanting a pick´n´mix of town and country.

View nearby properties
Getting there
On the Map Thornemead Castle is set on the fringes of Weston-super-Mare on the north coast of Somerset.
By Car This grand South West home is approximately three hours drive from London and forty-five minutes from Bristol.
By Train Bristol train station is forty-five minutes from Weston-super-Mare's station, with regular trains to London Paddington.
By Air Bristol airport is just thirty minutes away whilst Heathrow is two and a half hours away by car.
From the owner
"Even after 25 years, we are still amazed by the truly wonderful picture that greets you when you emerge from the tree lined driveway - a stunning historic Grade II*-listed Gothic manor house on the Somerset coast. Every part of the building is full of surprises and architectural gems; a jewel for enthusiasts."

Built in 1805, Thornemead Castle is one of the most historic buildings in the area and used to be known as 'one of the most unusual urban hotels in the country'. 
The wallpaper used in the snooker room was designed by Augustus Pugin in the 1840s and is also used in the Palace of Westminster. The interior design of this new extension was carried out by J G. Crace, a student of Pugin, and has been described as one of the 'most complete Pugin inspired schemes in existence'.
We purchased Thornemead Castle in 1993. We had no clear idea of exactly what we intended to do with the manor other than to live there with our two daughters and son. We embarked on a project to create a luxury bed and breakfast and subsequently spent almost 20 happy and successful years welcoming a huge variety of guests, many of whom became friends. Incidental to this, we also brought up our young family in these wonderful surroundings. 
After a devastating fire in July 2016, we were able to save Thornemead Castle and restore all its historic features to their former glory, whilst other parts of the house have undergone sensitive modernisation as part of its evolution, including services such as electric, plumbing and internet.
The Kennedy Family
Owner recommendations
Live like a local, discovering the best hidden gem restaurants, walks and attractions during your holiday in Weston-Super-Mare with an insider's perspective.

To See
Cheddar Gorge and Caves
Britain´s highest inland lime stone cliffs at 450 feet high; below are stunning stalactite caverns created during the Ice Age. This world famous natural wonder is designated an Area of Outstanding Natural Beauty and a must-see.

To Do
Mendip Activity Centre
Offering kayaking, canoeing, abseiling, climbing, archery, caving and more, Mendip Activity Centre also offer instruction for activities within the grounds of Thornemead. Why not book a thrill-seeking adventure or group exercise to enjoy without having to travel?

To Do
Bath
The historic Roman City of Bath needs no introduction - a wonderful place to visit whether you are interested in history, architecture, archaeology, shopping or food and drink. A nice way to get there is on the train from Weston.  

To Eat
Il Michelangelo, Weston-super-Mare
Highly recommended is this lively seafront Italian family restaurant, smart but not too formal. There is a wide choice of Italian food, fresh fish and good pizzas. Enjoy the friendly professional service and the sobering walk home along the beach!
Guest Testimonials
Great looking accommodation with fantastic facilities. Looked ideal for what we wanted. Lots of space and facilities which kept us entertained throughout our stay. Thank you once again.
We couldn´t have wished for a better place to celebrate our Golden Wedding anniversary. Exceptionally high attention to detail by the owners who were very welcoming and helpful, but unobtrusive.
Despite the castle being so big the place is spotless and everything smells amazing! Their cleaning team is great! I can only say that the photos on the Unique Homestays website are beautiful but I do not feel they do enough justice to how magical this place is! I would strongly, strongly recommend this amazing place (although that would probably make it more difficult for us to find availability in the future however, you deserve this experience and the owners deserve the best of guests).
It´s been a pleasure to meet you and stay in this magnificent place. We had the most enjoyable and relaxing time. We felt like Kings and Queens over these few days and we are going back to London full of energy and wonderful experiences. We will come back, we are in love with this place! Thank you for everything!
Thank you for making our stay in your beautiful home so special. You really have thought of all the details to ensure we were all very comfortable and we thoroughly enjoyed our week.
The owners of Thornemead Castle are very welcoming. The house is sumptuous, warm, spotlessly clean and very well equipped. The welcome goodies were first class. Every member of our small family party thought it a fantastic place to stay and we´re sorry to leave. All in all, a very pleasurable experience!
Thank you so much for letting us stay in your wonderful home. We have had a wonderful week enjoying the space and all the amenities. No one wanted to go anywhere, as there was so much to do here! We now know where the ´super´ in Western-super-Mare comes from. Thank you kindly for a memorable holiday.
We´ve had a super time in this spectacular house playing tennis, croquet, billiards... the list goes on! We´ve had fun on the beach, the golf course and enjoyed some excellent barbecues plus our dinner party and murder mystery evenings in the beautiful dining room were all great! The house and holiday have been a once in a lifetime experience; just what we all needed after a difficult year. Thank you!
We have had a much-needed and very wonderful holiday here this week. The children have loved all the games both inside and out, and we have loved all the architectural features. So many beautiful walks and breathtaking views nearby and so lovely to come back to and explore this gorgeous house. Thank you.
Thank you so much for such a wonderful stay. We enjoyed the hospitality so much; the welcome hamper, the fireplace in the library, the delicious eggs - it was all wonderful. The weather was also perfect and Thornemead was the place to be this week! Thank you!
Thank you so much for the use of your beautiful home. We would love to stay longer! We enjoyed a great murder mystery party during our time here and have made some wonderful memories. Many thanks once again!
We absolutely loved our castle staycation, thank you so much for your wonderful hospitality! We had lots of fun making great memories and we all hope to see you again soon.
Absolutely beautiful, tranquil property with excellent grounds for relaxing and escaping amidst a sea of madness beyond the castle walls! The owners are also wonderful hosts. Thank you!
Thornemead Castle is absolutely stunning. The building, grounds, location and hosts are all perfect. It really was an unbelievable place to spend a week and an amazing experience living on the ´other side´ of the fabric barriers found in stately homes. The building and gardens are stunning, the housekeepers and owners are great and incredibly welcoming. Nothing was too much trouble. We will definitely be returning to Thornemead for another week of relaxation soon.
We had a wonderful stay! A beautiful home and setting. The standard of cleanliness is so high – everything is immaculate, as we had hoped for. The hosts are absolutely lovely – it was a pleasure from start to finish.
Thornemead Castle has ideal facilities, space and the wow factor for celebrating a special family birthday. It was great to have both the traditional rooms with open fires in the reception areas as well as a great kitchen and luxurious, spacious bedrooms with modern decor and bathrooms. The hamper with local and homemade produce was a particularly nice touch! This was our first experience with Unique Homestays and we´re definitely keen to use your company again. Everyone in the party has already been recommending it to friends and family! Thank you.
I was a little overwhelmed by what I saw as I was shown into this magnificent house. I experienced friendliness and kindness at Thornemead Castle, which is quite unusual for holiday accommodation. It has been a privilege to enjoy your hospitality; something that will long remain in my memory.
Thank you for giving us all the opportunity to stay in your wonderful home. Thornemead Castle is a treasure! We loved the attention to detail, the beautiful rooms, comfy beds, fabulous supplies hamper and a good coffee machine! We definitely plan to return.
Thank you for sharing your amazing castle with us. Thanksgiving is a time to reflect on all things you are thankful for, and we certainly had a lot to be thankful for! We appreciated your hospitality, the attention to detail and for flying our flag! We are looking forward to another memorable stay at Thornemead Castle in the future.
Thank you for an amazing weekend. All of us have enjoyed the castle so much, the inside, the outside and the whole area. There is such attention to detail, the castle is perfect and every hope is answered from the lovely hamper, comfortable beds, snooker table, firewood and the laid table... You made us feel very welcome and nothing was too much trouble!
Thornemead Castle is perfect. The location was important to us as we are a group of friends travelling from different parts of the country, as well as space to sit and chat of an evening. The hosts are superb, right from the initial greeting and show around to the final send off. They could not have been more considerate in making sure we had everything we needed for our stay. The welcome hamper was also amazing and enjoyed by all!
Wow, what a fantastic, marvellous castle to call home for a week! We have enjoyed every minute and thank you for your hospitality, you were here when we needed assistance. Snooker, table football and rugby (on television) entertained us and we enjoyed local walks and the Marina Café. A visit to Bath by train and Taunton races were fun!
Thank you both so much for hosting us in your lovely manor, we had such a wonderful time celebrating a birthday weekend. We all felt extremely well looked after; your friendly welcome tour and box of goodies really set the tone. We made good use of the house and garden and it was really kind of you to lay on the bike racing at the beach which we thoroughly enjoyed! It will remain a very special weekend in our memories and hearts always.
We loved Thornemead Castle! The facilities and grounds are splendid! From the bathrooms, to the kitchen, to each unique room, to the history of the place, it´s all just fantastic, unique and memorable. Our group loved every minute. Craig and Tina were perfect hosts. We met at the beginning and chatted when we left. The rest of the time it was like we had the castle all to ourselves! Thank you, we will return to Thornemead Castle and we will use Unique Homestays again.
Thank you for a wonderful stay in your beautiful house, it is a credit to you. We enjoyed exploring the house and grounds, it is the sort of house we would very happily live in! We hope to visit again.
Unique extras
From private chefs to luxury at-home spa therapists and adrenalin-fuelled retreats, once you've booked your stay we'll introduce you to our owner-recommended suppliers to create a truly bespoke, memorable escape.
Press
Below are a selection of features in which Thornemead Castle and Unique Homestays has appeared. If you would like to feature the property in an editorial capacity, please contact the marketing team on +44 (0)1637 882014.
complete an image bank request
Not quite what you're looking for?
Find properties:
Collections > Family-Friendly Self-Catering > UK > Somerset > Weston-super-Mare > Thornemead Castle
Related Collections
Disclaimer: These particulars, whilst believed to be accurate, are set as a guideline so should not be relied upon as a statement of fact. The photographs show aspects of the property at the time they were taken and it should not be assumed that the property remains precisely as displayed. If there are points of particular importance that need clarifying before you book, please contact us.