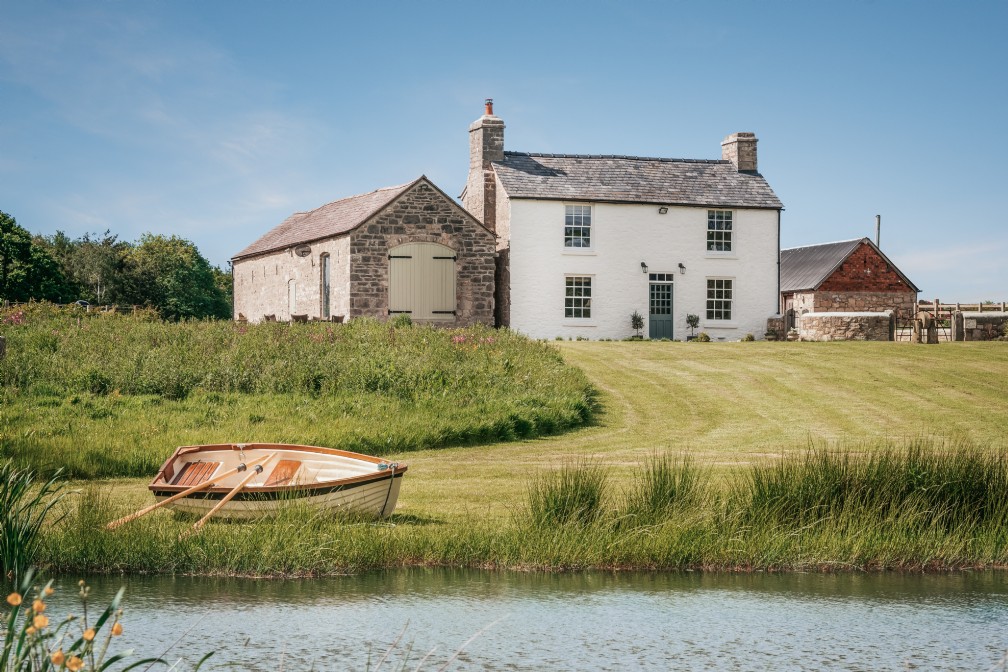 Eirianfa
Llanbedr-Dyffryn-Clwyd, Ruthin, Wales, UK
Experience the warmth and hospitality of north Wales at this heart-stirring self-catering farmhouse in Denbighshire. Cradled within the arms of a peaceful valley close to the historic market town of Ruthin, Eirianfa enjoys 17 acres of bucolic rapture. The jewel in the crown is the hot tub barn that overlooks the private lake and floating jetty - a place to sit back and admire your own little Welsh kingdom.
Introduction
Eirianfa is an effortlessly stylish self-catering retreat that embraces its traditional Welsh cottage roots, whilst simultaneously flaunting eco-friendly mod cons. From the vast natural playground with achingly pretty views, the flawlessly romantic interiors and the floating jetty for lakeside confabulation, there is so much to fall in love with. All of this, in addition to the crowning glory of the hot tub, 50" TV, pool table and bar in the adjacent barn, makes Eirianfa a favourite amongst all generations. If you can drag yourself away, there are pretty pastoral walks and cosy inns in abundance nearby too.
Inside
Come winter or summer, this luxury farmhouse proffers a divine escape. Sleeping four people across two super king-size bedrooms, there's plenty of space for friends and families. Draw out mealtimes in the farmhouse kitchen-diner against a backdrop of beautiful juxtaposition in the original beams, floors and walls, and mod-con fittings. Later on, after a day exploring the vales, the entertainment barn awaits those with more energy to spend. Throw darts, race cars on the Playstation and turn up the sound system, all before sinking shoulders under the warm waters of the hot tub.
Outside
It is as if time stands still at Eirianfa; the stone outbuildings have hardly changed since the last cows were milked in them. On sunny afternoons, the Jaques of London garden games, including boules, skittles and badminton, will keep the whole family entertained. Bring generations together over gentle competition, before dropping bats and wandering down for a picnic by the stunning spring-fed lake at the bottom of the garden. Exuding serenity, the sprawling surrounds feel miles from anywhere; however, Ruthin is just two miles away - for those who want to pick up the papers and enjoy a barista-prepared coffee in the morning.
The Facts
SleepsUp to 4 guests
From £1,895 per week, £1,395 per short break
Day hire options are available
Alternative group optionUp to 2 guests
Bedrooms and bathroomsThe double bedroom (with super king-size bed) and zip-and-link bedroom (which can be set up as a super king-size double or a twin) are both found on the first floor along with the family bathroom with roll-top bath and walk-in shower. The separate WC is on the ground floor.
Features

Hot tub, bar, 50" TV, pool table, private lake

PetsOne medium or two small well-behaved dogs are welcome on prior request
Each pet is charged at £60 per week or part thereof
Arrivals and departures

Arrival Day:

Friday or Monday

Arrival Time:

4pm

Departure Time:

10am

Times may vary due to Covid-19 requirements, please refer to your booking.

Family

Babes-in-arms and children over 10 welcome. One highchair and one cot are available. Guests that wish to use the cot are advised to please bring their own cot mattress as this is not provided.

Practicalities

There is ample parking at Eirianfa. The property has an electric Aga, Smeg fridge and microwave. The laundry and utility room can be found in one of the outbuildings and has a washer-dryer. The outbuildings are also home to the Biomass boiler room and log store, and there is a warm shower in the barn. If using the cot, please be aware that there is no cot mattress at the property. Please note that dogs are only permitted in the gated entrance hall.

Homestay includes

Luxury welcome hamper with a hand-picked selection of local produce, iPad, Sky TV with DVD player, Playstation 4, Bose Bluetooth sound system, WiFi internet, pre-paid landline, charcoal barbecue, linen, towels, logs and kindling to get you started.

House book - your property and destination guideDiscover more little luxuries
Additional extrasA handpicked selection of unique experiences are available at this property.
Eco-friendlyBiomass underfloor heating



Weddings
Picture this: a stylish farmhouse poised upon a sweeping lawn running down to a romantic lake complete with little white row boat... A dream setting for a fairy-tale wedding, Eirianfa makes wishes come true. Design your day at this exclusive private house wedding venue in a peaceful North Wales countryside.
Prices & Availability
Ruthin
With its fairytale castle and ghost story for every corner, the historical town of Ruthin in North Wales dates back to the 13th century and is an extraordinary place to visit. The lively craft scene and superb walking attract those with a love of culture as well as the great outdoors.

Getting there
On the Map Eirianfa sits just outside Ruthin, the farmhouse is two and a half miles from Llandyrnog and 24 miles from Chester.
By Car Approximately four and a half hour's drive from Central London.
By Train  Penyffordd train station is just over 15 miles away. From London to Chester the journey is just over two hours. Chester station is a 40 minute drive from the property.
By Air Manchester Airport is around a 60 minute drive from the property.
From the owner
"The first time we visited Eirianfa we could not believe the feeling of peace and tranquillity that immediately came over us. It felt as if time had stood still and we didn´t want to leave. We hope you feel the same."

Croeso i Rhiw Isaf! Over 200 years old, Eirianfa is a traditional Welsh farmhouse set on a small holding at the bottom of a luscious green valley in North Wales. It was farmed until four years ago when the farmer sadly passed away.
When we first brought the limestone house it had been uninhabited for some years, the roof was collapsing, nettles guarded the front door and the garden had become a marshland, but, on the mantlepiece in the bedroom was still a red tin of old spice between dusty black and white family photographs.
During the first few months of renovations we slowly chipped away at the crumbling plaster that covered the charming limestone walls. We were filled with surprise after surprise as we discovered trinkets of families of yesteryear throughout the house. Dotted above the windows and doorways were beautiful oak beams and stone arches, and in the kitchen we found the site of an old hearth.
My wife and I did not rush the project; it was truly a labour of love. We did our best to respect the previous owners by keeping the basic architecture of the building as traditional as possible, but furnishing it with a chic yet provincial style.
The Whittingham Family
Owner recommendations
Live like a local, discovering the best hidden gem restaurants, walks and attractions during your holiday in Ruthin with an insider's perspective.

To Do
Snowdonia
Snowdonia National Park covers 838 square miles and is one of only three parks in Wales. With its formidable mountain shield, the landscape is breathtaking. Some of the peaks reach over 3,000 feet high, a sure way to get your heart pumping.

To See
Chester 
The Roman city of Chester is one hour away and has a bevy of boutique shops, eateries and historic sites such as the fortified Roman wall and amphitheatre. Enjoy spectacular scenery, magnificent gardens and a range of tours.

To Do
Ruthin Castle Feasts
Why not try something a little different and experience a medieval feast in a 16th century castle? Two miles away at Ruthin Castle, you can assemble for an evening's feasting accompanied by a toast of mead and hearty goblet of wine.

To Eat
On The Hill, Ruthin
This is the best kept secret around. On the Hill is a wine bar serving extremely tasty gastro food by a dedicated husband-wife team. Book in advance as the restaurant is extremely popular.
Guest Testimonials
Thank you so much for sharing this magnificent property with us. It is hands down one of the most splendid places we have ever stayed. The owners provided above and beyond what we needed and were so warm and welcoming. Thank you again, we will be back.
We have had such a fantastic week here in this beautiful cottage. Such brilliant hosts and we were so touched by the generous hamper provided. We loved the beautiful area, it is a perfect, luxurious getaway and so peaceful. We would love to return again one day!
The most amazing setting and the most lovely cottage with outstanding attention to detail. We´ve had a wonderful holiday at Eirianfa. Thank you for sharing your beautiful home with others.
Another wonderful stay at this gorgeous house. We love everything about it, from the peaceful location to the fabulous décor. Great family times in the games room and hot tub and some excellent meals out. A truly amazing place to enjoy and relax. We can´t wait to come back.
An amazing house in an amazing location. The house is spotless and the hamper was so lovely. We shall miss the cows, they were lovely! We are all refreshed and ready to return to the rat race. Many, many thanks and we look forward to returning soon.
It has been such a joy to stay here. We usually love to try new places but we will certainly be coming back again and again. Every small detail has been beautifully thought of to make this the most relaxing, comfortable and idyllic stay. The surrounding fields and lake are stunning and make for some delightful walks. We loved the hot tub and games room too. Thank you for suck a lovely winter break.
Wow! What a beautiful property and location, Eirianfa was just the quiet unwind we needed for our minimoon! The house is perfect and the attention to detail is outstanding. We will definitely be returning in the future. Thank you!
Eirianfa is such a beautiful house - perfect in every way. The view over the pond is magical on a cool September morning with low mist. We´ve had a wonderful relaxing mini-break. Thank you.
A wonderful and special place. We have had a fantastic time playing games, going for walks, having picnics and enjoying the amazing views, even the weather was great. We will definitely be back.
We came here for peace, relaxation, and a bit of luxury and got everything we wanted and more! What a wonderful place to be. Every want, need or whim is catered for. We left feeling completely refreshed and reinvigorated. Thank you
What a beautiful cottage! Eirianfa is exactly what we wanted for our week away, a complete and tranquil escape from all the trappings of modern life! Thank you for providing us with a wonderful warm welcome, as well as excellently providing the cottage with everything anyone could want. What comfort!
If peace and tranquility is what you are after, then you have come to the right place at Eirianfa. The owners nailed every last detail to make our short stay in Wales one to remember. From spending time just hanging out by the lake to enjoying time in the hot tub and games room. It is simply a dream home! See you again one day! Thank you!
We have had a fantastic stay and Eirianfa exceeded all our expectations! We spent a week in this beautiful house and it was a wonderful way to spend our honeymoon! Absolutely everything has been thought of. The lake and the hot tub were the icing on the cake. Thank you so much for making it all so special. We will be back for another stay.
What a beautiful place. We have thoroughly enjoyed our stay at Eirianfa, especially sitting by the lake and watching the wildlife. The hot tub is an added bonus! We will hopefully be back one day. Thank you once again!
If peace and tranquility is what you´re after, then you have come to the right place. Linda and Charlies have nailed every last detail to make our short stay in Wales, one to remember. Spending time hanging out by the pond to enjoying time in the hot tab and games room has been dreamy. Thank you so much once again, and we hope to see you again soon.
This was our second visit to this beautiful house, and it was every bit as perfect as we remembered. The holiday was made even more special as, on the first night, Terry proposed! I could not have wished for a more magical place to get engaged. Thank you, Linda and Charlie, for another amazing break, I´m sure we will be back again soon.
We have had a really lovely relaxing week and are now fully recharged! The cottage was very homely and everything we could have wished for and more. The welcome hamper, flowers and cake, was a lovely touch. We really enjoyed the hot tub with such beautiful views and the games room was an added bonus. We had such a relaxing time down on the pontoon and rowing on the lake in such beautiful weather was so special. We had such a lovely stay we have already booked for next year! Thank you so much.
Possibly the most relaxing holiday we have ever had! Oscar has learnt to row, play pool and darts! The view from the hot tub is outstanding and clearly, a lot of thought has gone into catering for guest´s every need. A very memorable wedding anniversary. Thank you very much.
We have had the most fantastic time here - thank you so much! The house is beautiful, wonderfully equipped and perfectly positioned - we truly escaped! From the delicious chocolate cake to the fresh eggs and a wonderful hamper - it has all been considered. We highly recommend a daily dip in the lake too - what a view!
A beautiful home with everything you could possibly need and more. We loved the hot tub and pool table and even attempted rowing! We had the most fantastic meal in ´On The Hill´, and would highly recommend that restaurant. Such a wonderfully relaxing week, we´ll definitely be back!
Wow! What a luxury cottage to stay in. I have to say its is one of our best stays ever. We loved the Christmas lights, such a cosy feel. We will definitely be back and telling all our friends and family about it. Thank you for an amazing break.
Wow. What can we say, truly unbelievable, we have been so lucky to stay in such a beautiful home. Everything in the house is perfect. Had a great 72nd birthday celebration here with my granddaughters, one I will never forget.
Thank you Charles and Linda for yet another amazing stay, you even arranged the sun for our visit. We had such a relaxing few days. The house was as perfect as our last visit. We loved our walk among the bluebells in your stunning woods. Thank you also for the cake. All the extra touches make for a wonderful holiday.
One week here at Eirianfa was simply perfect. The home that the owners have created is so warm and every detail has been catered to. We could not have had a more welcoming couple, they are so friendly and kind. This is such a stunning property and we wish we could have stayed for another week to enjoy it and the beautiful Welsh countryside and people. Thank you guys, we will be back and that is for sure.
This is the most beautiful place we have visited in the UK, and as our first holiday as a couple it couldn´t have been more perfect! We are so sad to leave. Every need is catered for and more, every detail is thought out and the house is simply stunning! We will be back and we will recommend to all of our friends and family. Thanks so much.
This was our first holiday away as a couple and we could not have asked for one more perfect or romantic. The house surpassed all of our expectations and even though the weather wasn´t kind, we have had an amazing three nights here. We will be returning very soon!
This short break has been heaven! We need to come back for a longer stay. The house is so beautifully and sympathetically renovated and works for a relaxing holiday- there was nothing that we needed. We received such a friendly welcome and the view was simply fantastic. Love it all. Thanks for the beautiful flowers, cake and all the extras- we´ll be back!
Our stay has been fabulous. Your home is by far the best self-catering home we have ever stayed in. As others have said, this place is truly unique and no expense has been spared. Not only has the cottage been perfect, the friendly welcome we received together with the help Charles gave us on our first day, was very much appreciated. We will be sure to recommend this wonder place. Thank you!
Thank you for sharing this amazing home. It is a truly special house, everything is top quality and there´s been no expense spared in making this home a special place. This is a truly unique home and we wish we could stay longer!
This was the most well-appointed self-contained accommodation we´ve ever stayed in- everything that could have been provided had been. The property looked beautiful inside and out and more than met our expectations. The owners were very welcoming and had made many special personal touches to ensure the property was welcoming.
What the owners have achieved with Eirianfa is remarkable. It is a beautiful location created with such love and pride by them, it is a pleasure to be there and appreciate it. The owners were helpful, thoughtful, caring and went above and beyond. Having a newspaper delivered every day was a wonderful touch. I asked if they had a juicer and they didn´t, however, they got one in time for our stay. We used it every day and were very grateful, thank you!
Wow! What can I say, other than you have simply created our dream home! Thank you so much for sharing it. We only wish we could have stayed longer.
Unique extras
Enhance your stay with a unique experience from one of our preferred suppliers. From professional in-house chefs to luxury at-home spa therapists and wine delivered to the door, see what's on offer for your bespoke escape.
Press
Below are a selection of features in which Eirianfa and Unique Homestays has appeared. If you would like to feature the property in an editorial capacity, please contact the marketing team on +44 (0)1637 882014.
complete an image bank request
Not quite what you're looking for?
Find properties:
Exclusive-Use Wedding Venues > UK > Wales > Ruthin > Eirianfa
Disclaimer: These particulars, whilst believed to be accurate, are set as a guideline so should not be relied upon as a statement of fact. The photographs show aspects of the property at the time they were taken and it should not be assumed that the property remains precisely as displayed. If there are points of particular importance that need clarifying before you book, please contact us.