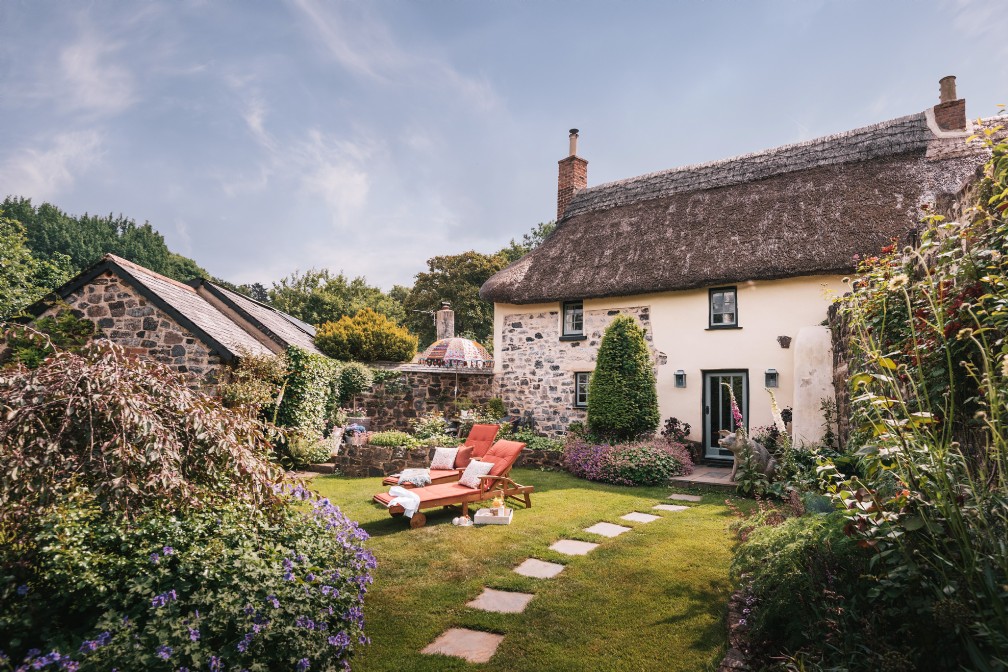 Sojourn
Thatched and pretty, quaint and hidden, this luxury self-catering cottage in Drewsteignton is buried in the depths of a leafy Dartmoor valley is the perfect romantic escape. Idle beneath dappled sunlight under the watchful eyes of kingfishers on the River Teign, explore sienna-hued Devon moorland and sink deep into bubbles in the copper bathtub before popping open a bottle of fizz.
Introduction
Nestled within the wilds of Dartmoor National Park amongst ancient farmsteads, traditional pubs and wild swimming spots sits this Grade-II listed cottage. The last in a trio of chocolate box homes tucked down a country lane, Sojourn is located in the pretty village of Drewsteignton and is ideal for solo breaks and romantic getaways. Appealing for exploration and luxuriation in equal doses, the presence of a massage table means the village's expert therapist can be booked in for the ultimate at-home pamper experience. Enjoy a day of rambling Devon's wooded trails, before retreating to your private spa room.
Inside
At the top of the little set of cottage stairs sits the king-size bedroom, where plush linens and cloud-soft pillows encourage long lie-ins and breakfasts in bed. Emerge from the sheets and rinse off in the light-filled shower room adjacent, before padding downstairs to top up your coffee in the kitchen. Laden with sumptuous home comforts and cosy corners, the addition of the luxury spa room provides the cherry on the cake, perfect for soaks with glass of Champagne in hand. Once thoroughly pampered, the comfort of the sofa will be too much to resist as the woodburner crackles away. 
Outside
Through England's kaleidoscope of weathers and seasons, Sojourn's pretty cottage gardens offer a calming and private oasis from blazing heat, howling winds and the rest of the world. In spring, the beds and borders burst into life with a sensory cacophony of colours and scents. Come summer, chase the sun from lounger, to swing seat, to picnic blanket, relaxing to the sound of the trickling fountains. While autumn and winter bring cooler days, the flower house (a bespoke Chelsea Flower Show buy!) is the most wonderful hideaway to enjoy Dartmoor's magnetic appeal over a steaming mug of cocoa.
The Facts
SleepsUp to 2 people
From £995 per week, £795 per short break
Day hire options are available
Bedrooms and bathroomsOne first floor double bedroom with a king-size bed, one first floor shower room and separate spa room with copper bath.
Features

Spa room with massage table.

PetsSorry, no pets

Arrivals and departures

Arrival Day:

Friday or Monday

Arrival Time:

4pm

Departure Time:

10am
Family

Sorry, no children or babies.

Practicalities

There is courtyard parking with a private walkway to the cottage. Sojourn has a Rangemaster, dishwasher, microwave, fridge, Champagne fridge, a freezer and a washing machine. A dryer is also available.

Homestay includes

Luxury welcome hamper, small complimentary bar, Smart TV with Blu Ray DVD plus Smart TV in bedroom, Netflix, Sonos multi-room sound system, iPad, WiFi internet, wellingtons country coats, maps, magazines, logs and kindling to get you started...

House book - your property and destination guideDiscover more little luxuries
Private cateringDiscover your options for private dining and fully catered breaks.
Additional extrasA handpicked selection of unique experiences are available at this property.



Prices & Availability
Drewsteignton
Cute as a button, this idyllic Devon village has a perfect spot nested in the north of Dartmoor National Park, making it a great base for hardy hikers and lovers of the natural world.

Getting there
On the Map Idyllically located in the Dartmoor village of Drewsteignton, not far from Chagford, Asburton and Totnes.
By Air Exeter airport is 30 minutes drive away.
By Car From London, take the M4 toward Bath, take M5 South and follow the directions provided to the property.
By Train There are regular trains from London Paddington to Exeter St Davids, with a journey time of two and a half hours. From here there are buses to Crockernwell Village or taxis which will take you to the door.
From the owner
"Sojourn is nestled in one of the most beautiful villages on Dartmoor and offers a perfect location for exploring some of the best of the National Park. It´s an ideal location for foodies, nature lovers and walkers alike. Offering an extra splash of glamour to the country cottage escape, the spa room is a favourite highlight."

We've had a long love affair with Dartmoor going back to our childhood and magical family holidays spent here. In 2007 we decided to turn a dream into reality; we took the plunge and moved our family from a commuters' life in Sussex to live the country life on Dartmoor. We've never looked back. 
After renovating our own home, a Jacobean farmhouse nearby, we bought Sojourn and made it our next project.  Our goal was to create a haven for visitors to Dartmoor.  We wanted to offer a genuine taste of Dartmoor living in a prime location, with all the peace, tranquillity and senses of nature. 
We have tried to retain all the charm of this lovely old cottage at the same time as providing some real luxury comforts to help guests unwind and de-stress. We fell for the cottage the minute we saw it, and we hope you will too.
The Ross Family
Owner recommendations
Live like a local, discovering the best hidden gem restaurants, walks and attractions during your holiday in Drewsteignton with an insider's perspective.

To Do
Wild Swimming
Join the latest craze in outdoor activities with a spot of wild swimming. There are many great locations around Dartmoor, including the beauty spot Fingle Bridge. Go for a revitalising dip, before rewarding yourself with a picnic!

To Eat
The Old Inn, Drewsteignton
Led by chef Duncan Walker, the Old Inn in Drewsteignton has received numerous awards over the years. Featuring in the Good Food Guide and recommended by the Michelin Guide, it is well worth a visit for an evening of fine dining.

To Do
Rambling
The Teign valley is the most dramatically steep and wooded valley in Devon. Its deep, narrow valley, twisting course, woodlands and moorland to the east boundary of Dartmoor National Park provide a playground for on-foot adventures. 

To See
Castle Drogo 
´The last castle to be built in England´, Castle Drogo sits above the woodlands of the Teign Gorge. Built by Sir Edwin Lutyens, the castle has recently undergone major renovations, revealing new aspects of Drogo´s remarkable story.
Guest Testimonials
Everything you should expect from a country cottage: beauty, comfort, warmth and luxury. Sojourn has these things in abundance. Thank you for providing us with the most comfortable accommodation to help us relax and explore the beautiful countryside. We rarely return to places that we have previously visited, but Sojourn has captured our hearts so we will definitely be back!
We came here three years ago and are pleased to say, Sojourn is just as gorgeous as it was then! Very comfortable and cosy with lots of lovely touches throughout. The cottage is immaculate, hats off to the housekeeper and owner.
Beautiful cottage in a beautiful area; what more could one want? This is our second visit to Sojourn and we enjoyed it as much as we did the first time! So much so that a third visit is on the cards. Thank you for sharing your cottage with others.
From start to finish... just perfect! Too many positives to list at Sojourn, from the hamper, setting, garden, copper bath, home-from-home necessities, comfort; the list goes on and on. We cannot wait to return. Thank you so much.
My husband´s face and comments when he opened the gate said it all. "WOW!" Holiday planning is my hobby, but working with Unique Homestays makes life decidedly easy. Sojourn is a picture-perfect Devon cottage. Everything is presented beautifully and the welcome extra special. We walked, cycled, ate, drank and completely relaxed. Thank you, we hope to be back!
What an absolute gem!! We were wooed from the moment we stepped into the beautiful garden and it did not stop there. The cottage is idyllic, peaceful, relaxing and catered for all our needs and so much more. We have had a wonderful stay and know that we will be back again. We could not have asked for more. We leave feeling relaxed and knowing that we were blessed with not only finding Sojourn but also with amazing weather. Thank you so much for providing everything we could need and making this a true home-from-home. To future visitors, enjoy to the full, you will not be disappointed.
We loved the little hamper we found upon arrival, along with the bubbles! The handwritten wedding card from the owners was such a lovely touch too. The bath, location and sound system really made our stay fantastic. We also loved the pig statue outside. The instructions to find the Sojurn and suggestions of places to go/see was so well designed and clear. Such a positive experience using Unique Homestays; cannot wait to book again. An absolute gem!
We could not have dreamed of a more beautiful and idyllic setting to unwind after our wedding, and celebrate our first week as husband and wife! Thank you for making us feel so special and taken care of. We can´t wait to spend many anniversaries here in the future.
Possibly one of the worst weeks of weather one could experience, but what a place to experience it in! Warm, cosy and serene, just what was required to wind down and fully recharge. Certainly one of the most thoughtful and pristine holiday cottages I´ve ever stayed in, and the hamper of goodies was the icing on the cake! Thank you for sharing this awesome little place!
We´ve had a wonderful stay at Sojourn. It´s a beautiful cottage which is so well equipped and decorated, with exquisite attention to detail and quality. We´ve spent so many hours enjoying the sunshine in your lovely, peaceful garden. My husband really appreciated the birthday card and bottle of local sparkling wine. We look forward to returning.
Another fabulous stay in the cottage that has a very special place in our hearts. We are going back to London feeling totally refreshed, and our third visit has been every bit as enjoyable as the first! Thank you so much for the delicious Easter egg, this was a very thoughtful touch. We will certainly be back again!
We have had an amazing 3-night weekend stay. The cottage is exceedingly well equipped and is a delight to cook in. The gardens are beautiful and immaculately maintained which made it a real pleasure to relax in, and watch the day draw to a close. A real retreat from hectic London life. We can´t wait to return to Sojourn.
We had such a wonderful time here for my partner´s birthday. Thank you so much for all the wonderful treats and for making this weekend so special. We have absolutely loved it. The cottage is simply exquisite and we will definitely be back!
Thank you so much to the owners of Sojourn for everything that you have done. Above and beyond to make this week the tonic that both of us so desperately needed. This cottage is magical, if a place could have healing properties, this would be it. We have both slept properly here for the first time in months. Thank you again, we are very much looking forward to coming back.
From the minute we opened the door, we knew it was perfect for our weekend. So many wonderful memories have been made that we will never forget. The fire, candles and the music system were all amazing, not to forget the lovely bath. We will definitely return! This place is heaven and has recharged our batteries. A romantic birthday weekend for my partner. Thank you.
We´ve stayed in a lot of cottages on Dartmoor and this is by far our favourite! Peaceful and private without feeling isolated. Beautifully decorated with everything one could need in a home away from home. So handy having the Post Office Stores, pub & restaurant in walking distance. Fabulous walks from the doorstep and Castle Drogo an easy car journey.
Such a magical cottage! Beautifully appointed and peaceful, with everything you could need. We couldn´t have asked for a more perfect few days away. There are so many incredible walks on your doorstep here as well as some fab pubs and restaurants all within easy reach. Thank you so much, a much needed retreat from London. We don´t want to leave, but will do feeling happier, healthier and more relaxed! Can´t wait to come back!
Enchanted Cottage! This is probably one of the very best cottages we have ever stayed in and the perfect choice for our mini-moon! Beautifully designed, comfortable and exquisite in every way. Wonderful meal at "The Old Inn" and excellent rib of beef from the farm shop "Oinkers!"
We have just come to the end of another fantastic weekend in Devon, the county really is most beautiful. Sojourn is a jewel, set in a charming village and surrounded by amazing walks and scenery. This has been our second stay here and Sojourn, once again, lived up to our hopes and dreams. We leave wanting more, and will return! Until next time, take care of Sojourn; relaxing, elegant, charming, cosy and delightful!
We had a lovely weekend stay at Sojourn. The cottage was beautiful and had all the amenities we could have wished for. We also had a massage arranged which was exceptional. Thank you so much.
Had the most wonderful holiday in this picture perfect cottage. Opening the gate to the garden was like going down the rabbit hole in Alice in Wonderland to a magical place. The oh so romantic bedroom in calming colours, the snug living room and a well appointed kitchen all made for a wonderful break. From falling asleep in the garden under cosy throws, al fresco dinners by candlelight, to dancing in the kitchen made us laugh and cry with happiness at the same time. Thank you for the memories.
Our pre holiday itinerary was jam-packed with National Trust visits which would have pleased my very organised father. However, upon arriving at Sojourn I decided to fall in love with my husband all over again. Thank you, a beautiful cottage!
We had a wonderful time in Sojourn, it´s truly a lovely little cottage, beautifully decorated and furnished with a great garden too. We really did enjoy our stay, helped by the wonderful weather. Very many thanks again for a wonderful stay - the hamper was also excellent.
We had a wonderful stay at Sojourn, it was pure indulgence! We walked to the local pub and enjoyed a delicious lunch followed by a lazy afternoon in the Spa room; the copper bath is a real treat on a winter´s day, we truly relaxed and switched off for the weekend!
Unique extras
Enhance your stay with a unique experience from one of our preferred suppliers. From professional in-house chefs to luxury at-home spa therapists and wine delivered to the door, see what's on offer for your bespoke escape.
Press
Below are a selection of features in which Sojourn and Unique Homestays has appeared. If you would like to feature the property in an editorial capacity, please contact the marketing team on +44 (0)1637 882014.
complete an image bank request
Not quite what you're looking for?
Find properties:
Collections > Luxury homes with a private chef > UK > Devon > Drewsteignton > Sojourn
Related Collections
Disclaimer: These particulars, whilst believed to be accurate, are set as a guideline so should not be relied upon as a statement of fact. The photographs show aspects of the property at the time they were taken and it should not be assumed that the property remains precisely as displayed. If there are points of particular importance that need clarifying before you book, please contact us.