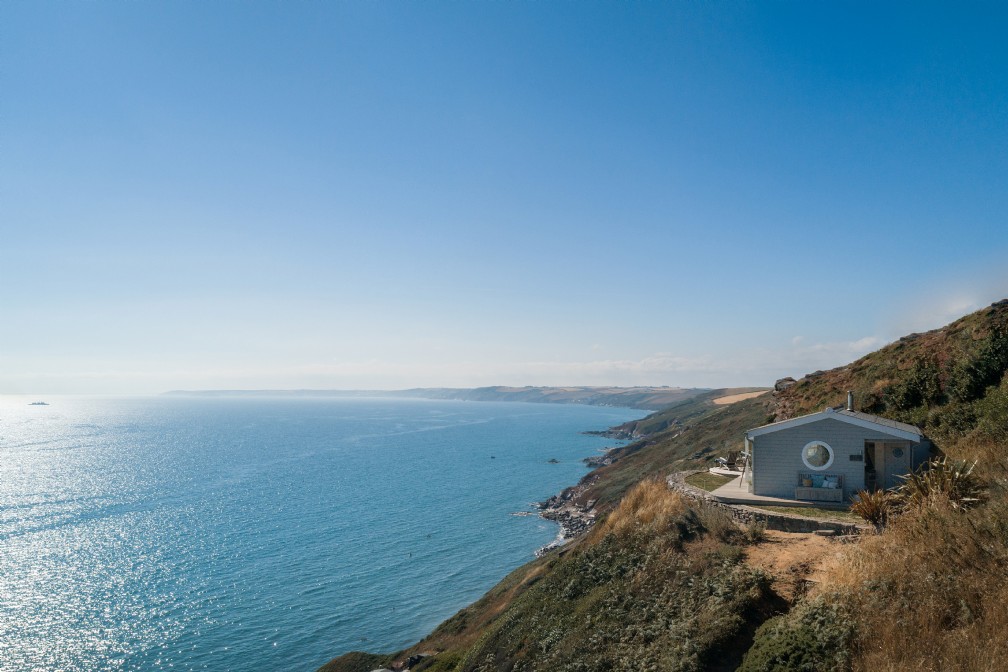 The Edge
Settled into the cliffs with a bird's eye view over Whitsand Bay and Cornwall's soft south east coast, The Edge is the perfect self-catering bolthole for honeymoons and romantic escapes with up to two dogs in tow. With immaculate attention to detail and a hot tub with a view of the moon over the ocean, this eco-friendly cedar-clad beach hut is a fanciful couples' retreat. 
Introduction
A luxury eco-friendly beach hut with stunning sea vistas, The Edge provides an idyllic solo retreat or couples' escape for those looking for some blissful time out. Stretch into the day on the yoga deck and later wander the shore with feet buried in the surf. On long, lazy afternoons, the inside's cool coastal interiors are the perfect spot for reading a book or simply admiring the views, whilst outside a hot tub above the beach is the most tempting of ways to spend every evening. From dawn til dusk, The Edge gifts the most remarkable vantage point for gazing over this oft' forgotten corner of east Cornwall. 
Inside
Talk about making it difficult to get out of bed; with a floor-to-ceiling picture window offering views from under crisp linens to the sapphire horizon, the only concern on any morning will be who's on tea-making duty. A chinking shell chandelier and circle windows gazing out to sea ensure you feel a million miles from home. When you are ready to rise, the open-plan living area connects you to the outside world with bi-folding doors running the length of the room. Cosy up by the log fire while the wind whips up a frenzy on the surf and, on balmy days, throw open the doors to let the sea breeze wash through the cabin.
Outside
When it comes to wow-factor locations, The Edge delivers on every level. Uninterrupted panoramic sea views provide a dramatic backdrop throughout all of England's four seasons, while inside, handmade and bespoke furniture provide the comfiest of places to kick back and watch the ever-changing weathers across the sea. With a rugged cliff track running straight from the front door to the dog-friendly beach below, a dawn (or midnight) skinny dip is only a short stroll away. Thoroughly invigorated, return to your bolthole and wash off salty skin in the al fresco shower.
The Facts
SleepsUp to 2 guests
From £1,750 per week, £1,295 per short break
Day hire options are available
Bedrooms and bathroomsOne double bedroom with king-size bed, small wet room with walk-in shower and heated outdoor shower for rinsing sandy toes.
Features

Hot tub, heated outdoor shower

PetsTwo well-behaved dogs are welcome
Each pet is charged at £60 per week or part thereof
Arrivals and departures

Arrival Day:

Friday or Monday

Arrival Time:

4pm

Departure Time:

10am
Family

Babes-in-arms up to six months are welcome; one cot and one highchair are available.

Practicalities

There is an allocated parking space available at the top of the cliff with a short walk down the cliff path using rustic steps; this access path is uneven in places and care needs to be taken. In addition to a fully-equipped kitchen, the beach hut also has a dishwasher and washer-dryer.

Homestay includes

Bottle of Champagne and Cornish chocolates, Sonos speaker, TV with DVD player, radio and CD player, iPad, WiFi internet, electric Weber barbecue, luxury linen and towels, logs for the fire to get you started...

House book - your property and destination guideDiscover more little luxuries
Private cateringDiscover your options for private dining and fully catered breaks.
Additional extrasA handpicked selection of unique experiences are available at this property.
Eco-friendlyGreen Tourism Gold Award



Prices & Availability
Whitsand Bay
A long stretch of sparkling blue bay and golden sand down on south Cornwall´s soft coast makes Whitsand Bay the perfect holiday spot for sea swims, long beach walks and true relaxation.

Getting there
On the Map Situated on the edge of the coast of South East Cornwall; The Edge holds a superb clifftop position overlooking Whitsand Bay.
By Car From London, take the M4 toward Bath, take M5 South and A30 to Cornwall and follow the directions provided to the property.
By Train The nearest train station is Plymouth, which is around 45 minutes drive from the cabin.
By Plane Newquay Airport is around an hour from The Edge, Exeter Airport is approximately 90 minutes away, with regular flights to London and major cities.
From the owner
"For us, the Edge is a place to feel completely relaxed and at peace. The extraordinary coastal views, enhanced by the full-length windows, create an unbelievable sense of space which never ceases to amaze us. The ever-changing scenery is mesmerising and always promises a truly magical stay."

Once a small tumble-down shack and now an elegant and eco-friendly beach hut with the most inspiring, magnificent and spectacular views that we hope will touch your soul just as they do ours.
With such amazing uninterrupted views of the sea combined with extraordinary sunsets, our heart and soul now feel part of this beautiful place!
This Area of Outstanding Natural Beauty is referred to by the locals as 'Cornwall's forgotten corner' and that sums it up really. Most visitors to Cornwall will head west and drive straight past – more fool them we say! We like it this way though. How often can you say that you are the only person walking on the beach on a sunny morning?
Of course, with such an extreme coastal location comes extreme weather and whilst we hope you have a sunny stay at the Edge, you may experience four seasons in a day. However, we can guarantee that whatever the weather, the dramatic sea views will always draw you to sit and look. Look out for seagulls plunging into the sea, huge basking sharks swimming by, kestrels and the occasional peregrine falcon hovering above the deck, and if you are really lucky a pod or two of dolphins playing in the surf!
Iris & Chris
Owner recommendations
Live like a local, discovering the best hidden gem restaurants, walks and attractions during your holiday in Whitsand Bay with an insider's perspective.

To Eat
The Devonport Inn, Torpoint
A very popular traditional pub with characterful interiors displaying an eclectic mix of antiques! Owner Jerome is from Northern France and has the French passion for classic, uncomplicated dishes using the very best of fresh, local produce.

To Eat
The Eden Project
The Eden Project is a popular visitor attraction in Cornwall, England. Inside the two biomes are plants that are collected from many diverse climates and environments.

To See
National Marine Aquarium
The UK´s largest aquarium, the National Marine Aquarium holds a Green Tourism Gold Award. Pay a visit and peer into the watery worlds of stingrays, sharks and over 4,000 different types of marine fish. Definitely worth a trip.

To Do
The Adventure Bay Surf School
Located at Whitsand Bay at the bottom of the cliff, the Adventure Bay Surf School is open all year round and provides exciting, professional surf tuition. They offer a range of courses to suit all levels, so novices need not fear!
Guest Testimonials
Peace in the 21st century seems like a fleeting concept. Finding the same peace that me and my partner have found in each other captured in a beautiful abode is not only awe-inspiring but a real blessing. Together we enjoyed the wonderful ocean views, breathtaking walks and the hot tub. We also ventured out to Plymouth where we found great places to eat. The days we shared have not only furthered our relationship but re-aligned our spirits for the hectic day-to-day of London living.
A week away from my 30th birthday celebrations and what a stunning find this was. I have visited Cornwall almost every year since I was born, but never visited the East coast. The peace and tranquillity are outstanding at The Edge. Our time has been taken up by beach walks, yoga on the deck and a cold sea swim. Highly recommend a visit to Looe, a pretty harbour town. This is truly a special place. I left feeling relaxed and completely content. We hope to return one day.
Cold, windy, rainy, beautiful! This was my first time in the UK and I loved it. Driving was frightening. We stayed on both sides of the Cornwall coast and loved it. The countryside and the people were lovely. I look forward to coming back with my teens, thank you for a memorable stay.
I can honestly say this has been the first place we have stayed where we have felt like we can really switch off our minds and fully relax. It has been such a beautiful place to spend my 24th birthday. The bottle of bubbly, cake, bread, eggs, milk etc upon arrival was such a lovely touch, especially after a long drive. The sunset views from the chalet are the best I have ever seen! An unforgettable trip! Me and my husband have created so many special memories. Thank you!
What an amazing experience we had staying at The Edge! We chose this spot as our summer vacay place to stay but also to celebrate our dogs birthday and it exceeded our expectations. The view is immaculate and we could not get enough of it. Every little detail was thought through which made our stay unforgettable. Will definitely visit again next year and hope the weather will be as lovely as this year.
We have absolutely loved our stay at The Edge. We got engaged here on Friday evening on the terrace. Being here made the occasion even more incredible. We cannot wait to come back and thank you for everything.
Cute little house with absolutely stunning views! And to top it off, quick & direct access to the beach! We had our little boy hooked, with us making 2 trips down and up daily. A wonderful stay - leaving with pretty pictures and fond memories. Our stay was too short!
Our stay here was perfect. The views, the location and the neighbours were all fantastic. With a beautifully welcomed cosy home. We will definitely be visiting again. Thank you for everything.
A magical week of doing very little. We spent our days reading, snoozing and enjoying the views. We were lucky enough to get some lovely sunshine and will never forget the evenings relaxing in the hot tub, watching the sunset. Our pug Boris has particularly enjoyed basking on the desking and being carried back up the steps after a walk on the beach!
Wow, where to start! We came here for my partners birthday and upon arrival, we instantly knew we had made the right choice. The photos on the website are amazing, however, upon being here, you simply cannot describe the magical feeling it gives! As we checked in the sun was setting, so we sat and watched the sun disappear. We did a tiring, but very worth it, coastal walk and visited Looe, a lovely place, but when you´re out, you just want to get back to The Edge! The view, the setting, it´s hard to explain how good this place is... Amazing!
The weather in all its changes has been magnificent to watch! The local restaurants were exceptional and we enjoyed fantastic walks along the coastal path. We are sad to be leaving and heading back to reality, but we are already planning our return! Thank you.
We were due to be married at Polhawn Fort on the 5th of June, and this was supposed to be our mini-moon. Our wedding date is now next year, but we kept this weeks booking and named it our pre-moon! Amazing views, chalet and a really beautiful part of the world. Thank you for having us, and we will definitely be booking again.
We chose The Edge very spontaneously back in February as a birthday weekend. Sadly, we were not lucky with the weather, but the angry sea, lashing rain and howling winds all viewed from inside was spectacular! We have stayed in more than we planned but the rugs and hot water bottle were particularly appreciated! We were so impressed with everything and the attention to detail.
I have had the most perfect break at The Edge away from my city home. I have dreamt all year to be by the sea, walking along a country road and resting in the hot tub. Oh, and feeling the sand between my toes, and I´m pleased to say I have had it all. Thank you!
Thank you for creating such a beautiful home. It is truly amazing and far better than the photos can ever show. My partner and I came for a short break and now feel truly relaxed. We have seen dolphins every day, loved the binoculars and telescope. The hot tub and sunset - wow! Our dog has had the best time, we have had to hold him back from running down to the beach every day. If you come here you don´t need to go anywhere else. What a special place, so special in fact that we got engaged sitting on your sofa. We are planning on returning already!
We´ve had such a wonderful, relaxing four nights here at The Edge. Our sausage dog has loved his walks on the beach and we´ve loved sitting in the hot tub looking out at the beautiful views of the bay. On a cold, rainy day we loved sitting by the log burner and cooking a roast dinner. Everything about The Edge is so beautifully decorated and has given us inspiration for our own cottage. Thank you for a wonderful stay.
What a beautiful place to chill out and spend quality time with a loved one. This area certainly is one of England´s hidden treasures! You have created the most idyllic holiday home and I really hope to return. Thank you for the kind gift!
Wow. What a magical stay we have had at The Edge. Having planned this trip over a year ago, we have since become engaged so the timing of this was literally perfect! So many wedding decisions were made in the hot tub. It was a fantastic escape to simply breathe in the air, the views and the chalet. We have had such a great week with sun, wind, rain, clouds - you name it! We cannot wait to come back.
Wow! What a beautiful place! We have loved every second of it and have not once tired of the breathtaking views. This was a lovely way to spend the first week of married life! We hope to return in the near future.
We have had rain, hail, sleet, high winds, and perfect sunshine whilst we have been here. It has been amazing to just sit and watch the world go by. Relaxing in the hot tub with a glass of champagne watching the stars added to our magical stay here. Thank you to the owners for the welcome hamper and birthday gifts, this was a lovely touch. Everything at The Edge has been perfect, we would love to come back.
What a beautiful place! Incredible views and the cosiest little chalet! We´ve had the most lovely few days, the perfect way to start married life and at 3 months pregnant, to get some much needed rest! We´ve had the wildest, windy and wet weather, but it's just made the chalet even more cosy watching the storms! We´re sad to leave and hope to come back to see what it's like in Summer! Thank you for a beautiful stay!
We´ve really enjoyed our stay here admiring the views and enjoying the hot tub. We haven´t wanted to go far as it is so lovely here at The Edge. My husband has spent much of the time with his camera trying to get the shots of the kestrels. We hope to be back, thank you!
We had the most magical stay at The Edge. It was the perfect spot for my honeymoon and my birthday celebrations. The beauty of the view and relaxation is exactly what we needed as a newly married couple, we will definitely be back. Thank you!
We have travelled to The Edge from Germany for my wife´s birthday and we have certainly not been disappointed! This home is so lovingly dressed and the view of the sea and the beach is fantastic! We have seen so many hidden coves and sunsets, we´ve loved it!
The Edge really does have the wow factor. We have spent a very relaxing few days here, no need to venture out, enjoying the fabulous views from the hot tub. A lovely way to spend a birthday and fourty five years married.
Unique extras
Enhance your stay with a unique experience from one of our preferred suppliers. From professional in-house chefs to luxury at-home spa therapists and wine delivered to the door, see what's on offer for your bespoke escape.
Press
Below are a selection of features in which The Edge and Unique Homestays has appeared. If you would like to feature the property in an editorial capacity, please contact the marketing team on +44 (0)1637 882014.
complete an image bank request
Not quite what you're looking for?
Find properties:
All Properties > UK > Cornwall > Whitsand Bay > The Edge
Related Collections
Disclaimer: These particulars, whilst believed to be accurate, are set as a guideline so should not be relied upon as a statement of fact. The photographs show aspects of the property at the time they were taken and it should not be assumed that the property remains precisely as displayed. If there are points of particular importance that need clarifying before you book, please contact us.