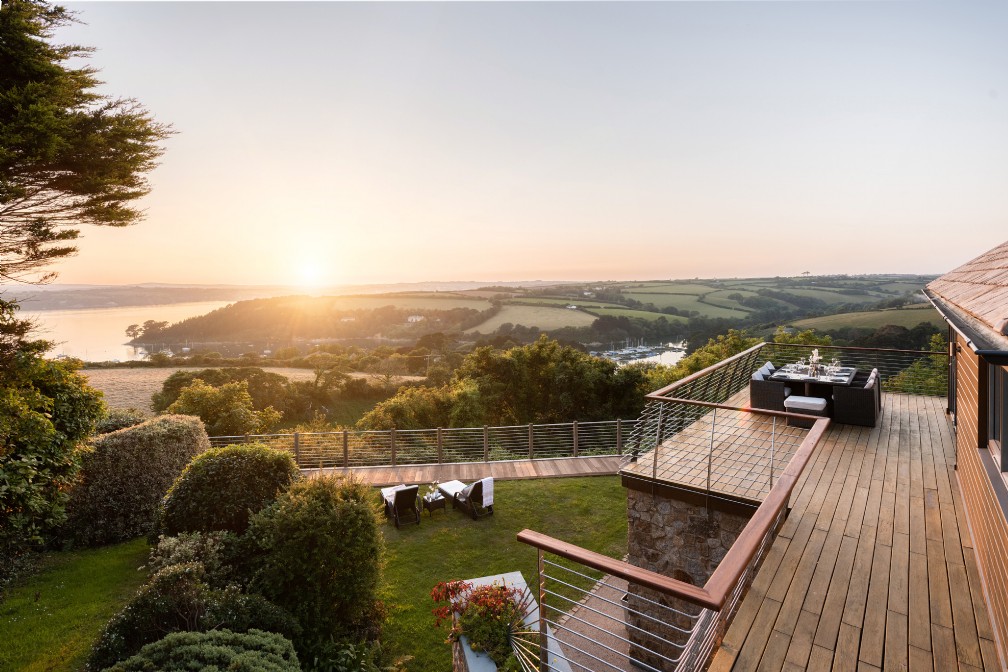 River House
Watch the gulls soar and boats drift by from your hilltop vantage point overlooking Mylor harbour when staying at this luxury self-catering home in St. Just, on Cornwall's leafy Roseland Peninsula. Sleeping eight people, a break with the extended family on the water's edge is just what the doctor ordered. Start your day with the sun's crest scattering shards of light over the water and see it out with sundowners on the deck; River House is all about good food, good company and a whole lot of the good life.
Introduction
A contemporary home with space for all the family, this self-catering sanctuary in St Just In Roseland is one of a sort. Enjoying a hilltop setting, you'll find it difficult to tear yourself away from the mesmeric views, glorious throughout the year. In summer, give into some well-deserved R&R on the deck and let the breathtaking panoramas throw your worries to the wind. There's sailing, wild swimming and water sports to keep everyone entertained. In colder months, gather in the open-plan living area and crack open a bottle for evenings of anecdotes as the stars in the night sky wink conspiratorially above.
Inside
Blending clean lines and contemporary vibes, River House flaunts an abundance of glass, stone and sleek surfaces - all reflecting the natural beauty of the waterside location. The central atrium is encircled by a staircase which spirals from top to bottom, offering a unique focal point for design lovers. The generous bathroom-bedroom ratio is perfect for large groups still wanting privacy. Making sure everyone is well-rested, there are four large and luxurious bedrooms, each boasting far-reaching views and the finest of linens. The upper ground floor king-size suite has a private balcony, whilst the remaining three bedrooms (two of which are en suite) sit on the lower ground floor.
Outside
This luxury homestay benefits from views from every aspect; over the parish of St Just In Roseland and beyond, stretching down to the tidal creek of the Carrick Roads waterway and over the riverside gardens too. Above the tidal creek of St Just Pool, visit the iconic 13th century church, described by John Betjeman as "to many people, the most beautiful churchyard on earth". For a family day trip, hop over to the quaint village of St Mawes and wander along the waterside before stopping for tea and scones dolloped high with jam and cream. A holiday on the Roseland is all about getting outdoors and revelling in the beauty of Cornwall's softer side.
The Facts
SleepsUp to 8 guests
From £1,995 per week, £1,550 per short break
Day hire options are available
Alternative group optionsUp to 4 or up to 6 guests
Bedrooms and bathroomsThere are two double bedrooms on the lower ground floor, each with an en suite shower room, one with a super king-size bed and one with a king-size bed. There is a zip-and-link bedroom also on the lower ground floor which can be set up as a super king-size double or a twin, and the final double bedroom with king-size bed and en suite shower room can be found on the first floor. The family bathroom with bath and separate shower is on the lower ground floor, and a separate WC on the ground floor.
View bedrooms
Features

Gym

PetsSorry, no pets

Arrivals and departures

Arrival Day:

Tuesday or Saturday

Arrival Time:

4pm

Departure Time:

10am
Family

Yes, children are very welcome. One cot and one highchair are available.

Practicalities

There is ample parking for up to three cars. The house has a dishwasher and coffee machine, plus a separate utility room with washer and dryer. Please note the glass balustrade on the staircase cannot accommodate a stair gate. The gym is located under the house and accessed externally via the garden.

Homestay includes

Luxury Cornish produce welcome hamper, bottle of wine, TV and DVD player with DVDs, Wii console, iPad, WiFi internet, beach towels, board games, gas barbecue, linen and towels...

House book - your property and destination guideDiscover more little luxuries
Private cateringDiscover your options for private dining and fully catered breaks.
Additional extrasA handpicked selection of unique experiences are available at this property.


Prices & Availability
St Just In Roseland
Tucked way down on Cornwall´s south coast, on the banks of the River Fal Estuary near St Mawes, St Just In Roseland´s waterside location makes it the perfect base for exploring nearby picturesque inlets and byways, and its stunning old church is well worth a visit.

Getting there
On the Map River House is in St. Just on the Roseland peninsula on Cornwall's South coast; not far from Truro, Falmouth or St Mawes.
By Car From London, take the M4 toward Bath, take M5 South and A30 to Cornwall and follow the directions provided to the property.
By Train Truro train station has regular connections to Exeter and London and is approximately 30 minutes away by taxi.
By Air Newquay Airport is approximately 45 minutes from River House.
From the owner
"River House never ceases to capture our imagination and offers a world away from the rush of daily life. For us it was love a first sight."

River House was built by a local builder in 2009 using local, traditional materials in a contemporary style. It has been built to exacting standards and its hilltop vantage point maximises the captivating and breathtaking views it has to offer. For us it was love at first sight.
We first stayed at River House as guests in August 2013. As soon as we walked in and saw the sunset from the deck we knew what we had to do. When we found out that the property was on the market we jumped at the chance to become its new proud owners.
So now it's our home away from home! There's one thing we absolutely demand of all our guests: to have a really good time and watch as many sunsets as possible!
The Bishop Family
Owner recommendations
Live like a local, discovering the best hidden gem restaurants, walks and attractions during your holiday in St Just In Roseland with an insider's perspective.

To Eat
Tresanton Hotel, St. Mawes
Owned by Olga Polizzi, Tresanton has a wonderful restaurant if you are looking for fine dining. It is also worth a visit for afternoon tea or the home-made ice cream, especially if you can get an outside table overlooking the sea.

To Do
St Mawes Sailing Club
River House is just moments away from fabulous sailing waters at nearby St Mawes sailing club; the perfect base for motorboat and sailing jaunts surrounded by an area of outstanding natural beauty. Take to the water or paddle your toes!

To Do
Head to the Beach
Bucket n´ spades and picnic in tow, enjoy a good old-fashioned family day on the beach. With miles of golden sand surrounding your luxury homestay, you´re spoilt for choice when it comes to choosing where to spend lazy summers days.

To See
Cornwall´s Capital, Truro
The cathedral town of Truro is a short drive away and boasts boutique shops, cosmopolitan eateries and a lively farmer´s market every Saturday. Head in to treat yourself to a little something to take home and enjoy the buzzy atmosphere.
Guest Testimonials
River House is the most idyllic house, and the Roseland Peninsula is God just showing off! We had a fantastic time filled with quality moments with family, making memories that will be forever etched in our hearts. You have a truly special home, and thank you for allowing us to share a tiny moment here.
We had a fabulous stay at this lovely property. The weather was kind, despite a shocking forecast. Lovely views, very comfortable home, and we had a superb time. Lots of laughs, too many drinks, and a memorable long weekend!
Where to start? This was a perfect home-away-from-home for our group of eight. Each of us felt pampered in our bedroom, spoilt in the kitchen, and awed by the ever-changing view from the lounge and deck. We enjoyed every kind of weather, the horizontal rain was especially spectacular. We had Dave Sargent come and cook for us on one special evening, and oh my goodness what a treat! Thank you so much for the welcome hamper, it was heartily enjoyed.
What an amazing place to come and celebrate my 50th birthday! A beautiful house to relax in and amazing views to look at. Unfortunately, we didn´t see any sunsets due to the rain, so we will just have to come back and try again! Thank you for allowing us to spend some time in your gorgeous home!
Wow! What a beautiful house with views of the amazing scenery. We have had a fabulous time in your home from home. We loved the little church and the tea hut across the road from it. We found the ferry was a great way to get about and have certainly made the most of our time in beautiful Cornwall. We found The hidden Hut - great food. The Idle Rocks was a real treat, rather pricey but the most amazing food I have ever tasted. Thank you for sharing your home with us.
Wow! What an amazing house and views that you can never tire of. Thank you for letting us use your home for our holiday, we have had a wonderful time. We visited St Mawes and enjoyed a boat trip over to Falmouth, another lovely place. Thank you again, we hope to return.
Thank you for sharing your gorgeous home with us. A stunning stay enjoying the fabulous view, barbecues on the terrace in the sunshine and exploring the breathtaking Cornish landscape. We enjoyed making happy memories of our little girl´s 1st family holiday in spectacular River House - we feel very lucky to have had the privilege to be guests here.
A really stunning home. We have been blessed with the weather which has made our stay perfect. The views are amazing and we even managed a barbecue in September. We´ve enjoyed wonderful walks and the comforts of this home which helped to create a lovely chilled week.
Wow! What a beautiful house, we have enjoyed every minute of staying at River House. The amazing views top it off! We have made lots of special memories here, one of them being my boyfriend asking me to marry him (which of course I said yes) on the balcony with a perfect sunset. We visited Tresanton for lunch which is a must, it was delicious.
First time in Cornwall and what a time we had. Fantastic house, spectacular walks and superb food both at the Idle Rocks and here at River House from a private chef we hired! A true indulgence with great friends - why have we not been before? We will most certainly be back.
Thank you so much for letting us ´live the life´ in your gorgeous home. It has been the most amazing week away which we have been able to share with lovely friends. We take away many wonderful memories which is what holidays are about. What a wonderful view to wake up to every morning, thank you!
We had the most amazing time at River House. We were celebrating my 60th birthday, I honestly could not think of a better way to mark the moment. The house and settings is simply beautiful, we were also blessed with good weather. The hamper was fabulous. From the moment we arrived and until our reluctant departure a week later, we had the best time ever.
Stunningly beautiful property in a fabulous location. Such a wonderful venue for a special birthday celebration with friends, beautifully catered for one evening by ´Sargies´ who we highly recommend. The rib boat trip from St Mawes harbour to the Pandora Inn was a particular highlight. Have loved this holiday and will return! Thanks to the owners of River House for their care in providing such an amazing place to enjoy the area from.
We have thoroughly enjoyed staying in this wonderful home from home and wish it was ours! What a beautiful house with stunning views and so well appointed too. For seven adults and a one year old, the house was excellent, comfortable and perfect for us. We love the area and have enjoyed some great meals. An amazing holiday!
A week just isn´t enough! Stunning house - loved St Mawes and our fishing trip was the highlight of our week (Fish and Trips, not to be missed). Nothing better than cooking our catch on the deck and watching the sunset. Thank you for sharing your beautiful home with us - we are so sad to leave but will be back again soon!
What a place to re-charge! So peaceful. We enjoyed the house, the outside space and the walks from the house. Really enjoyed St Mawes with fantastic food at the Idle Rocks and also the Cove at Falmouth. We´re really sorry to be leaving!
Wow! What a beautiful house with the most stunning views and sunsets! We have had a really lovely week with all but one day on the beach (Pendower and Porthcurnick). On the overcast day we went to Falmouth on the ferry from St Mawes and visited the National Maritime Museum. We go back happy and rested with slightly tighter waistbands! Sad to leave but hope to return!
What a lovely week! From the moment we came down the steps into your magnificent lounge and saw the spectacular view we knew we would have a really good time. During our time at the house we have visited The Hidden Hut (delicious pasties), had lunch on the terrace at The Tresanton Hotel, fish and chips from The Watch House (a must) but of course, the time spent on the deck was very special. Very many thanks and we hope to return one day.
This lovely house was the most perfect venue to celebrate my birthday with my special family. The house is so spectacular with comfort, warmth and views and will remain a lovely memory for many years to come.
We have had a wonderful few days relaxing and enjoying the house and the Roseland Peninsula! River House has everything you could possibly need, great luxury and certainly one of the best properties we have stayed in.We recommend the walk from Porth Farm to St Anthony´s Head and Place Quay, followed by fish and chips from Watch Out at St Mawes, absolute bliss. Thank you to the owners and all at Unique Homestays.
We´re very sad to be leaving, having had a lovely week in your wonderful home. The weather has been kind, and the sunsets spectacular. The house was so well-equipped we didn´t want for anything, and the lovely hamper was such a treat. It was the little touches which made our stay just that little it more enjoyable. We have so many amazing memories and hope to return in the near future.
Thank you for letting us stay in your beautiful River House. We have thoroughly enjoyed every moment of what the home and area has to offer. The sunsets have been magical! There is everything you could possibly need and more here, and we have felt very spoiled. The location is perfect and we feel privileged to have experienced it. Thank you.
River House is quite simply the BEST property we have ever stayed in. The luxurious bedrooms and bathrooms really made our stay an extra-special one. Also the excellent kitchen facilities were a real treat.
We thoroughly enjoyed the property and had a great week at River House. We loved the interiors, the design, the thought behind it and the space. The view was stunning and we really enjoyed ourselves. This is certainly an experience that we would like to repeat.
Our first holiday in Cornwall and we are wondering why it took us so long! This house is beautiful in itself; every detail has been carefully considered and every gadget meant we never caught ourselves saying "I wish I´d brought..." We have had stunning weather which has made our stay even more special. The view and location are what will make it truly memorable and there have been days when we simply didn´t leave as it is almost too perfect.
We have had a truly fantastic week celebrating a 50th wedding anniversary, an engagement, a birthday and a baby´s first holiday! We were really touched by the thought that went into our lovely welcome hamper and appreciated the call from the owner to check we had settled in. The house is spectacular and we found it difficult to leave. Pendower beach is wonderful and St Mawes so very pretty. We cannot thank the owners enough for letting us stay in their home, return visits are already being discussed!
We have nothing but superlatives to describe River House. Despite three days of continuous stormy weather, the views across the estuary were ever changing and captivating. We have never seen so many rainbows in a day. The house was furnished to the highest standard and great thought and care had gone into it´s presentation. The location, close to the ferry made it ideal base to tour the north and south coast. We cannot recommend River House highly enough.
River House is stunning and we absolutely loved it. The owners were wonderfully welcoming and helpful. There are so many super touches to the house - it was perfect in every way.
Unique extras
Enhance your stay with a unique experience from one of our preferred suppliers. From professional in-house chefs to luxury at-home spa therapists and wine delivered to the door, see what's on offer for your bespoke escape.
Not quite what you're looking for?
Find properties:
Britain in Wonderland > Grand gatherings > UK > Cornwall > St Just In Roseland > River House
Related Collections
Disclaimer: These particulars, whilst believed to be accurate, are set as a guideline so should not be relied upon as a statement of fact. The photographs show aspects of the property at the time they were taken and it should not be assumed that the property remains precisely as displayed. If there are points of particular importance that need clarifying before you book, please contact us.