Firefly
With an inimitable nomadic appeal, handcrafted-meets-upcycled at Firefly, a luxury woodcutter's cottage that affords guests a characterful stay near Mawgan Porth in Cornwall. With a back-to-nature aesthetic, there's an understated essence to this unique self-catering cabin. From time spent beside the wildlife pond to eves immersed in the hot tub, Firefly affords a getting-away-from-it-all haven for solo travellers seeking a creative escape and couples looking for a dog-friendly retreat.
Introduction
Clever craftsmanship meets luxury woodcutter's cottage at Firefly, a simple timber shack hidden away in the hamlet of Trebudannon, near to Mawgan Porth. Designed with connectivity in mind, age-worn wood meets concrete in this modern rustic creation. The open plan living space - complete with open fire and Aga - is the heart of the house, and has been a haven for artists, foragers, and those seeking escape from the everyday. With a spacious veranda, outside fire, hot tub and wildlife pond, if it's a fresh air retreat you crave, this unique self-catering cabin in Cornwall has dog-friendly countryside walks from your doorstep and breathtaking coastal walks fifteen minutes away.
Inside
Rusticity reigns at this Cornish self-catering cabin; think a recycled corrugated roof, rope lights, and reclaimed walls and floors. From pottery collections to the willow weave artwork and vintage books, there's a story behind each of the carefully chosen artefacts that Firefly showcases. While there's a simple and understated essence to the design, no element of luxury has been compromised; from the spacious king-size bed and velvet sofa to the rain shower and double-ended bath. The home encourages a return to the simple life, complete with board games, wildlife spotting, and fire feasting; and its 'hidden' television is designed to make your time together distraction-free.
Outside
Immersed in its countryside setting, Firefly is as much a retreat at which you hunker down for the duration of your stay, as it is a base for exploring the coast and moors of Cornwall. If you've relaxation in mind, then you'll lose many an hour just 'being' on the veranda at Firefly. Whether you're wildlife-watching at a vantage point overlooking the pond, creating a fired al fresco feast, or enjoying yoga on the deck, the vast barn doors create a free-flowing indoor-outdoor living space. The hot tub is tucked away in a private nook leading from the bedroom, so there's always an end-of-day soak to ensure a restful slumber after the dogs have tired you out with stick-throwing on golden sands.
The Facts
SleepsUp to 2 guests
From £1,250 per week, £950 per short break
Day hire options are available
Bedrooms and bathroomsOne bedroom with king-size bed, one en suite wet room with concrete bath and rainfall shower.
View bedrooms
HousekeepingAdditional housekeeping is available on prior request
Features

Hot tub

PetsTwo well-behaved dogs are welcome, or three on prior request
Each pet is charged at £60 per week or part thereof
Arrivals and departures

Arrival Day:

Friday or Monday

Arrival Time:

4pm

Departure Time:

10am
Family

Babes-in-arms are welcome. One cot and one highchair are available.

Practicalities

This well-equipped self-catering cottage has ample parking for two cars, plus an Aga, Belfast sink, microwave, dishwasher, washer-dryer, fridge freezer and toaster. There is a fully enclosed garden that´s perfect for dogs. Please take care around the shared freshwater pond in front of the property.

Homestay includes

Hot tub, smart TV with Freeview, Netflix, Sonos sound system, iPad, WiFi internet, an outside fire with grill, local produce, linen, hammam towels for the hot tub, logs and kindling to get you started...

House book - your property and destination guideDiscover more little luxuries
Private cateringSeeking a celebratory dinner or fully catered escape? Our recommended caterers will work with you to create personalised menus for your stay. Details are shared through our house book on confirming your booking.
RetreatsFrom foraging weekenders to crash courses in cold-water therapy, our bespoke retreats bridge the gap between luxury and back-to-nature philosophies. Create a hand-crafted stay that puts connectivity at the fore.
Eco-friendlyAir source heat pump, recycled materials and furnishings



Prices & Availability
Newquay
Firefly is located in the tiny hamlet of Trebudannon between Newquay and Mawgan Porth on the north Cornish coast. Vast stretches of golden sands, world-class eateries and the UK's best surf breaks are all within easy reach of the cottage.

View nearby properties
Getting there
On the Map Firefly is 10 minutes from Mawgan Porth, Newquay, Watergate Bay and Lusty Glaze beaches in North Cornwall.
By Car From London, take the M4 toward Bath, take M5 South and A30 to Cornwall and follow the directions provided to the property.
By Train The nearest train station is in Newquay, less than a 10 minute drive away. There are more frequent services from London to Truro and Bodmin Parkway which are both approximately a 20 minute drive away.
By Air Newquay Airport is around 10 minutes drive away.
From the owner
"Creating Firefly was a real labour of love, with many an hour spend trawling reclamation yards and designing one-off features for the cabin. For me Firefly offers an idyllic haven from which to escape the everyday, it´s a truly immersive space."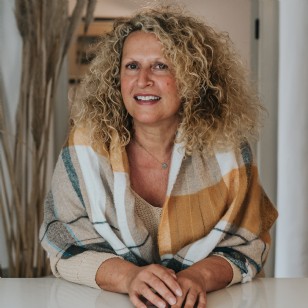 I worked closely with a team of local craftsmen and a designer to create this traditional 'cabin in the woods'. Although we were working within the remits of the previous stable dimensions, it was a new build by design, and as our aim was to create the antithesis of 'new' it was an interesting challenge! We wanted to afford the impression of a previously undiscovered cabin that had been unearthed and brought back to life. 
The benefit of starting from scratch with Firefly was that we were able to introduce unique features, such as the huge barn style doors that completely open up the side of the building onto the veranda, a modern twist that doesn't detract from the traditional cabin essence. We used reclaimed items wherever possible, all the floor, walls and ceiling were re-purposed, and every single item that features within the cabin was chosen with the ethos of the whole in mind.
It has been wonderful to watch this 'wild dream' realised and to finally have my own woodcutter's cottage. I love spending time here, it's genuinely a restorative place to be. I grew up in Trebudannon, so walking the familiar tracks long before the world is awake is second nature to me; I feel fortunate that I'm able to share Firefly with guests. 
The Stanleys
Owner recommendations
Live like a local, discovering the best hidden gem restaurants, walks and attractions during your holiday in Newquay with an insider's perspective.

To See
Bedruthan Steps
A 10-minute drive from Firefly loom the stately rock stacks of Bedruthan. These mighty granite pillars have been carved out by the relentless action of thousands of years of wind and waves, and now provide a stirring spot for a sunset stroll.

To Do
Camel Trail
Why not hire a tandem on the Camel Trail from Wadebridge to Padstow? The popular Camel Trail is a great day out, especially when combined with fish and chips on the quay and a stop off at the fantastic Camel Valley Vineyard!

To Do
Dive Newquay
Ever wanted to try your hand at Scuba diving? You can explore Cornwall´s top wrecks and reefs, take a snorkelling tour, experience a wildlife sea safari and more at Dive Newquay, just a 15-minute drive from Firefly.

To Eat
Rick Stein´s Restaurant, Padstow
Enjoy simple seafood dishes with classic flavours at Rick Stein´s Seafood Restaurant. There is a seafood bar right in the middle of the restaurant where you can watch chefs assembling platters of oysters, langoustines and sashimi.
Guest Testimonials
Our first trip away with our new dog and what a delightful place to go. Firefly was so warm, cosy and really well set up, we could not have asked for more. Superb location for beaches, Coco loved her first experience of the sea, now home seems so dull for her. Plenty of wonderful restaurants locally. I will definitely recommend this to friends and family, thank you so much.
We wanted to say that Firefly didn´t disappoint. We have enjoyed lovely cosy evenings, learnt to use an Aga, quiet times on the veranda, hot tub time, but above all we have a collection of beautiful memories of a unique and wonderful stay. Thank you, we would recommend this beautiful place to all.
Excellent location for touring Cornwall and the perfect holiday home to come back to, cook dinner then relax in the beautiful hot tub. Thank you for such a memorable stay, we´ve had a wonderful time.
It was the perfect, blissful and relaxing week here. We completely recharged after a very stressful year and it was perfect, just what was needed. We loved this completer experience of being alone and secluded instead of booking a hotel.
Thank you so much for the loveliest stay. It has been so relaxing and peaceful, with everything we have needed. This is the most prefect place to just ´be´and do nothing. Its something we haven´t done in a very long time. The cabin is utterly stunning. The interior and ambience is unique and adds to the energy of the surroundings. We have really kicked back and relaxed. Bliss.
It was our second time staying at Firefly and certainly won´t be our last! A little slice of heaven. Thank you for creating such a wonderful little oasis, we love it here!
A lovely warm cabin to shelter from the rain and late March storms. Such a unique place and very well thought out with all you need, even an Aga. It was a real treat- warm and toasty, really enjoyed the hot tub too. Beaches were braved and the dogs loved it too.
I had a wonderful birthday stay at Firefly. The property is beautiful and the location is excellent. I recommend everyone to get out on the coastal path, down to the beaches and definitely give horse riding a try! Thanks again, I will miss the open fire and Aga. Lots of love.
What an amazing cabin, we absolutely loved it. Just wished we could have stayed longer. Being designers we really admire the whole ambience and style of what you have created. We really appreciate all the touches, that make it stand out. We made it to Fistral Beach for fish and chips but that was our only outing as we made the most of Firefly and just chilled out and enjoyed the cabin. Thank you for creating such a fabulous place and for the hamper of goodies. We hope to visit again.
We have had an absolutely wonderful stay here at Firefly for our honeymoon. The weather has been appalling and it has only made it more cosy. The decor and interior finish here is outstanding. We love all the interesting and exceptionally curated bits and pieces around the cabin.
We have had a fantastic week in this amazing cottage! Cooking with the AGA was a bit of a challenge at first but we got used to this quickly and loved it. The AGA heats the whole house it was always very cosy and warm. The hot tub is very relaxing after a day of walking the coast path. We can highly recommend a cycle tour on the camel trail. The trail is lovely in either direction. Thanks for sharing this beautiful home and the lovely welcome hamper.
It was a wonderful stay. The amount of effort you guys have put in is clearly seen through the tiny details. We enjoyed the say thoroughly and are grateful to have experienced this kind of countryside lifestyle. It really could not have been better.
It was incredible. Every detail was thought through. We couldn't have asked for a better stay. It was the best stay we've had in the UK. Such a special and memorable break for our very belated honeymoon and first family holiday. Thank you.
We have loved staying at Firefly! It was the perfect place for our honeymoon. The hot tub is amazing, I am hoping to convince my husband that we need one! We have enjoyed some fabulous dining, Rick Steins in Padstow and the Longstore in Charlestown we highly recommend. We´re very sad to be leaving this little slice of heaven but hope we will be back!
Our second holiday with Unique Homestays. We flew down to Newquay and what a fabulous time we have had to recharge the batteries after what has been an awful 18 months. Firefly is an amazing cottage, we love all the quirky details, the well-equipped kitchen and beautiful garden. We found a wonderful local fishmonger and butchers and barbequed all but one night! The hot tub is fabulous and we loved the Champagne on arrival. We left feeling refreshed and energised. Thank you again so very much and we will be back!
Wow! What a fantastic way to get away after lockdown. A beautiful home in a fantastic location and we have returned home feeling refreshed and in our happy place. We love the design of Firefly, every little detail has been thought through. We can´t wait to come back!
We´ve had a wonderfully relaxing and lazy honeymoon at Firefly. What a romantic place full of charm, beautifully designed and incredible attention to detail. It was all we would have hoped for and more. Thank you.
We recently became engaged and wanted to spend some much needed time together. We visited Fistral Beach and had a Cornish pasty, but other than that we spent the whole time sitting in front of the log fire and drinking wine. We didn't even need the TV! We got so much wedding planning done and the hot tub is such a treat no matter what the weather! Thanks so much to the whole team, we had a fantastic stay at Firefly!
We have been to Cornwall many times, but Firefly has been by far one of the best places we have ever stayed! We have even discovered some new beaches! It has been the perfect location to explore and a true haven. Thank you for sharing this unique experience.
We have had a great week at Firefly. This place is very special and like no other! We loved the hot tub, sitting out on the decking, the fabulous shower and very comfy bed. Thank you for the lovely welcome pack and for giving us the opportunity to stay in such a great place. We are sad to be leaving, but hope to be back again! Thank you.
What a beautiful retreat! We were able to relax just sat out on the porch in all weathers and let time just pass us by while enjoying this home. The music on the iPad, the well-appointed kitchen, the hot tub and fire were all fantastic. A great stay in a location that was within easy reach of everything we wanted. The Unique Homestays team could not have been more helpful and on hand within minutes! A great level of service which we very much appreciated.
The perfect place for us to recover from our wonderful but mad wedding weekend with our two miniature Dachshunds. They both thoroughly enjoyed running along the beaches every day! Thank you so much for creating this amazing hideaway, we hope to be back soon!
We had an amazing stay at Firefly, it is such a magical place. Not only did we really enjoy our time there but it was wonderful meeting the owner. Thank you to everyone who made our time at Firefly so wonderful, we can´t wait to start planning our next Unique Homestay!
Thank you for letting us stay at your truly special cottage. We genuinely felt as if we had stumbled across a woodcutters cabin, the interiors are authentic, rustic and certainly very unique! While the back-to-nature feel is evident in the use of materials through the property, the key comfort elements - from mattresses to sofas and linen are high quality and luxurious. We enjoyed a restful and romantic stay, and we´ll definitely head back for a winter break to make the most of the real fire!
Wow, what an inspiring break! Thank you so much for letting me enjoy your unique home, it was the perfect place for me to get some relaxing alone time far removed from my chaotic city life. I loved reading by the pond, painting seascapes on the Cornish cliffs and gathering some inspiration for my blog visiting the local hidden gem attractions. The interiors have certainly encouraged me to get creative with up-cycling myself. Next year I´ll be bringing the dogs along for their summer holiday! Thank you.
Unique extras
From private chefs to luxury at-home spa therapists and adrenalin-fuelled retreats, once you've booked your stay we'll introduce you to our owner-recommended suppliers to create a truly bespoke, memorable escape.
Press
Below are a selection of features in which Firefly and Unique Homestays has appeared. If you would like to feature the property in an editorial capacity, please contact the marketing team on +44 (0)1637 882014.
complete an image bank request
Not quite what you're looking for?
Find properties:
Luxury Self-Catering Cottages > UK > Cornwall > Newquay > Firefly
Related Collections
Disclaimer: These particulars, whilst believed to be accurate, are set as a guideline so should not be relied upon as a statement of fact. The photographs show aspects of the property at the time they were taken and it should not be assumed that the property remains precisely as displayed. If there are points of particular importance that need clarifying before you book, please contact us.