Luxury self-catering accommodation in Cirencester
Perfectly central to southern edge of the Cotswolds, Cirencester has an equal measure of town history and stunning walks to entertain visitors.
When on holidaying in Cirencester, there's nothing quite so delightful as spending the afternoon sauntering around the charming Cotswolds villages choosing your favourite cake shop, or deciding whether you prefer the honey-coloured streets over the landscape of rolling hills which comprise this Area of Outstanding Natural Beauty. Whether it's a visit to the Corinium Museum, Brewery Arts Centre, Cirencester Park or the Roman Amphitheatre, Cirencester has plenty to offer during your self-catering holiday. 
It's incredible to think that during Roman times Cirencester was second only to London in terms of size and importance and you can still see the grassed-over ruins of one of the largest amphitheatres in the country. The amphitheatre could hold about 8,000 spectators. After the Roman army left Britain, it was fortified against Saxon invaders. Cirencester's market square – the heart of the town – is surrounded by Victorian architecture, and the nearby streets showcase a harmonious medley of buildings from various eras.
Cirencester, Gloucestershire, The Cotswolds, UK
Blending style with a big dose of ingenuity results in something truly quite magical here at Filly Island. This unique cottage near Cirencester is sat upon a tiny island accessed by a humpback bridge. Pre-loved finds are revivified to bring about the unique interiorscape at Filly Island. 
Sleeps: Up to 2 guests
From: £895 per week, £695 per short break
Pets: Two medium well-behaved dogs are welcome on prior request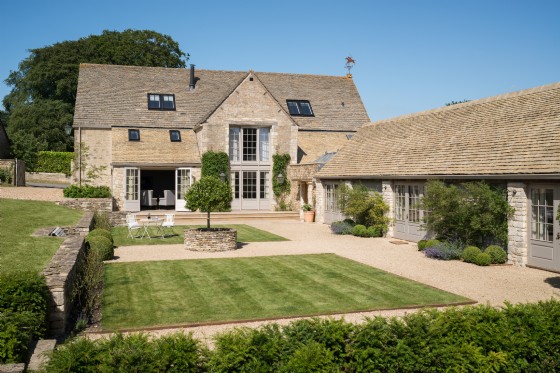 Cirencester, Gloucestershire, The Cotswolds, UK
Within a scene of tumbling hills, patchwork countryside and bluebell woods, this luxury self-catering homestay near Cirencester offers a picture-perfect escape in the rolling Cotswolds.
Sleeps: Up to 10 guests
From: £10,000 per week
Alternative Group Option: Up to 6 guests
Pets: Two small well-behaved dogs are welcome
Features: Cinema den, table tennis

Ampney Crucis, Cirencester, Gloucestershire, The Cotswolds, UK
Georgian in style and grand in nature, this self-catering Cotswold manor offers a true countryside escape perfect for multi-generational groups.
Sleeps: Up to 12 guests (6 adults and 6 children)
From: £3,950 per week, £2,850 per short break
Pets: Sorry, no pets
Features: Outdoor heated swimming pool and hot tub (both May - September), gym, tennis court, trampoline, small football pitch, table tennis and tree house

Not quite what you're looking for?
Find more properties:
view on map