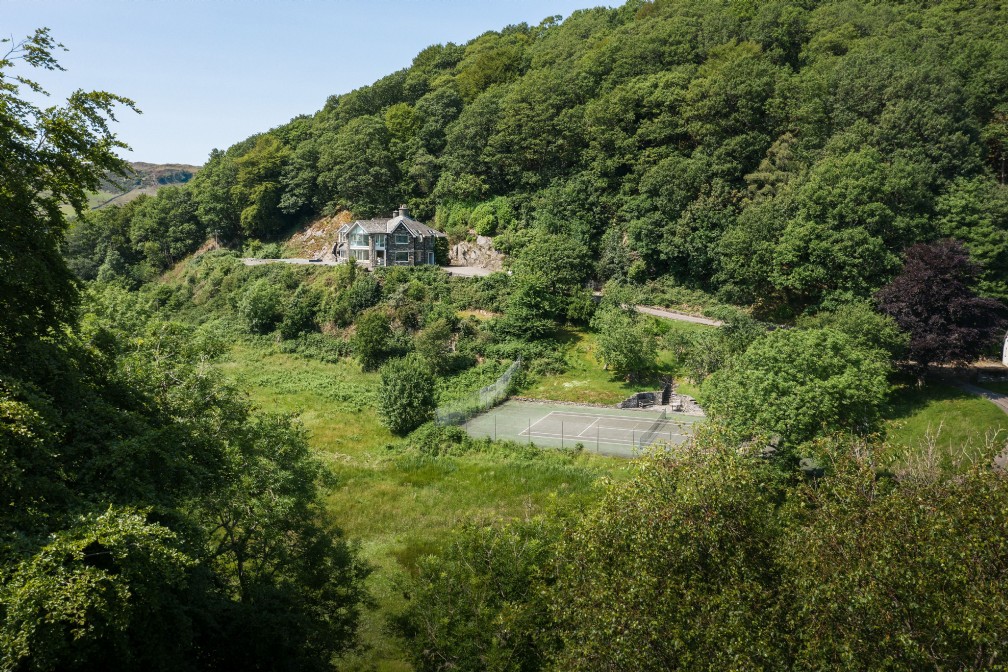 Skyline
Like a bird soaring the skies, this luxury self-catering home sits high above the Cumbrian village of Staveley behind a gated entrance, boasting both peaceful seclusion as well as 180 degree views across the valley to the fells. With a traditional Lakeland stone façade, sleek contemporary interiors and tennis court along with 11 private acres of fields and secret woodland to explore (and its own helipad); this is the ultimate secret escape for lovers of the Lake District.
Introduction
Feel the tingle of anticipation build as you near your luxury Cumbrian retreat, here in the breathtaking Lake District National Park. Skyline strikes an impressive figure set high up on the crag, making the most of the paradisaical vistas with floor-to-ceiling windows throughout. The sophisticated interior styling and perfectionist attention to detail ensures that this luxury self-catering home will inspire even the most discerning guest. A five-minute stroll from Skyline, the vibrant village of Staveley and Staveley Mill Yard is bustling with a bevy of artisan producers, two village pubs, a microbrewery and quirky cafes - ensuring a true taste of The Lake District.
Inside
The open-plan living area creates an atmospheric space for pianists to 'tinkle the ivories' on the Steinway grand, a moving soundtrack to accompany the dramatic views outside. In summer the views are best enjoyed with the patio doors wide open, whilst in winter the marshmallow-like sofas offer a comfortable embrace in front of the woodburner's radiant glow. When tiredness reigns, the marble staircase leads to each of the five luxury bedrooms. Especially notable is the vaulted super king-size master suite, resplendent in its majesty with a gorgeous en suite and three glass walls offering views over the fells.
Outside
Approached via a long sweeping driveway, Skyline sits within 11 secluded acres of woodland and gardens, with a gated entrance ensuring privacy. Enjoy a mini-tournament with your fellow guests on the full-size tennis court - followed by a well-earned gin and tonic on the sunny terrace. Guests with a penchant for exploration will be spoiled for choice with the walking opportunities on offer within the Lake District National Park and Yorkshire Dales. Enjoy a stomp across the valleys and fields before returning rosy-cheeked to enjoy a lively family supper as the sun sets on a Lake District holiday to remember.
The Facts
SleepsUp to 10 guests
From £3,250 per week, £2,450 per short break
Alternative group optionUp to 6 guests
Bedrooms and bathroomsThere are five bedrooms; three first floor double bedrooms, one with super king-size bed and en suite bathroom with separate walk-in double shower, and two with king-size beds with en suite shower rooms. There also is one first floor twin bedroom, one second floor double bedroom with king-size bed, one first floor family bathroom with overhead shower.
View bedrooms
Features

Tennis court, Steinway grand piano, a helicopter can land on the drive (with prior arrangement), hot tub hire is available (by prior arrangement)

PetsTwo well-behaved dogs are welcome on prior request
Each pet is charged at £110 per stay
Arrivals and departures

Arrival Day:

Friday or Monday

Arrival Time:

4pm

Departure Time:

10am

Times may vary due to Covid-19 requirements, please refer to your booking.

Family

Babes-in-arms and children are very welcome. The house has a snug with beanbags, PS3 and TV. One travel cot and two highchairs are available. Please note, parents with young children and those who are less able should take care on the staircases.

Practicalities

Skyline has parking for several cars as well as a helicopter landing space, and three helipads located a short drive away. The house has two dishwashers, two log-effect gas fires and a utility room with a washing machine and tumble dryer. Due to the composition and wide base of the marble staircase, unfortunately, a stairgate cannot be affixed. Please note, due to the unique hillside location of Skyline, there is a steep, rocky drop from the patio. The owner kindly requests that dogs be kept in the gated hallway overnight.

Homestay includes

Luxury welcome hamper, snug with beanbags and PS3, separate TV, WiFi internet, gas barbecue, linen and towels.

House book - your property and destination guideDiscover more little luxuries
Additional extrasA handpicked selection of unique experiences are available at this property.
RestrictionsParties considered on prior permission from the owner
Get in touch



Availability
Staveley
A picturesque South Lakeland village nestled at the foot of the scenic Kentmere Valley, Staveley is sandwiched between the rivers of Kent and Gowan in the Lake District and offers outdoor pursuits aplenty.

Getting there
On the Map Staveley is blissfully private but just a five minute walk from Staveley village between Kendal and Windermere within the Lake District National Park, North West England.
By Train There is a rail connection to Windermere and Oxenholme mainline, from where London is in reach in just over 2 hours 30 minutes. Direct one hour trains also travel regularly between Manchester and Staveley.  
By Car Staveley is approximately 4.5 hours from London, 1.5 hours from Manchester and 2 hours from Newcastle.
By Air Carlisle airport is just over an hour from the property, Manchester airport is one and a half hours away.
From the owner
"We hope Skyline offers an unforgettable retreat for families and friends alike. If you like the outdoors, the secret woods behind the house are amazing for exploring and wildlife spotting, before returning to relax on the terrace!"

Skyline was originally built in 1920 by David's grandfather who owned the woodturning mill in the village. The house was sold in 1970, and it took 40 years for us to buy it back into the family.
David has turned his grandfather's old mill into a thriving business (Staveley Mill Yard) which is just a short walk from the house and attracts visitors from all over the UK and beyond. The Mill Yard has the largest mountain bike shop in the UK, a fabulous artisan bakery, the Hawkshead micro-brewery that makes its own beer (which you can enjoy in the bar!), a yoga and pilates studio and much more - well worth a visit whilst staying at Skyline.
The peace and quiet and overwhelming presence of nature will make you feel completely away from everything, yet it's just a five-minute stroll into the village down a woodland path. Skyline was completely modernised and renovated to take advantage of the stunning views; we now mainly reside in Key West in the States, and dream about Skyline from there.
David & Annabel
Owner recommendations
Live like a local, discovering the best hidden gem restaurants, walks and attractions during your holiday in Staveley with an insider's perspective.

To Do
Staveley Mill Yard
Guests will find an array of shops, eateries and local producers here, including the UK´s largest bike shop. Once a former bobbin mill, Staveley Mill Yard is a collection of industrial and retail businesses which together have created a vibrant working community.

To See
Wray Castle
Visit the mock-Gothic Wray Castle which sits on the shores of Lake Windermere. The grounds are open to the public and are worth visiting to see the specimen trees: wellingtonia, redwood, gingkoa, weeping lime and varieties of beech.

To Eat
Wilfs Cafe, Staveley
More than just a café, Wilfs serves great home-cooked food in a tranquil, riverside setting with decking overlooking the River Kent. There is plenty of room inside for when the weather is less kind, and the cafe is open seven days a week.

To Do
On the Literary Trail 
No visit to the Lake District is complete without a visit to the World of Beatrix Potter Attraction, home to Peter Rabbit and all the gang. Fans of the Swallows and Amazons stories will enjoy retracing the footsteps of Arthur Ransome.
Guest Testimonials
Skyline has given us the most enchanting and beautiful spot to enjoy a special family reunion holiday. We all love the design of the house with its neutral schemes and beautiful light. We have been fortunate enough to have wall to wall sunshine! Boat rides, pony trekking, barbecues, paddling in the river, daily walks to the mill for freshly baked bread, fun games of tennis and The Steinway have all been enjoyed immensely. We will never forget the 180-degree beautiful views and enormous terrace. Thank you, we will be back.
Having just returned home after spending the weekend in Skyline, I wanted to thank Unique Homestays for helping to make our weekend very special. The hamper was a great surprise with its many treasures and delicacies. Skyline is indeed a luxurious property, which retains a 'homely' feel. The views from the property are truly magnificent and all information provided was helpful. It was a perfect location for our family get-together. The grandeur of the property and the idyllic surrounding made it the perfect venue for our special occasion.
Great location - so close off the motorway and near many lakes destinations - yet you feel miles away from everywhere. Extremely peaceful, loved the deer that were on the property of a morning. Very clean and great local information provided in their handbook.
Such a beautiful house! We had a fantastic time celebrating my 30th with family. We didn´t mind the wet weather, it meant we didn´t feel guilty staying in with the lovely fire sitting on the super comfy sofas.
We had a wonderful weekend in your stunning home! It was a return visit for Jim who visited 50 years ago! The views are breathtaking and the home is well set up.
This place is everything we could have imagined and more. The perfect place for a family get together. A stunning house in a picturesque setting, we didn´t want to leave!
A wonderful week, the house is beautiful, views are outstanding and the weather was great. We could not have asked for anything more.
Beautiful home with stunning views. The house was well equipped with everything we needed and more. Lovely hamper for our arrival. Enjoyed the piano and using the tennis court. Excellent food at Hawkshead Brewery and the Artisan Bakery. We enjoyed scenic walks into Staveley and it´s also a great base to explore the local area. We had a fantastic time.
Great times, great house, great memories, great weather and great scenery. We especially enjoyed the garden and tennis courts. Staveley is a delight and we made use of all the local activities during our stay.
Lovely home with beautiful views and we enjoyed the tennis courts. A lovely base to explore from, Hawkshead Brewery and The Eagle and Child were excellent. We will definitely be back again soon.
We loved this place. The location was great; lovely views of the sunset and within walking distance of town and the restaurants.
I am writing to thank you so much for allowing us to stay at your beautiful property, we had a wonderful time. The house and surroundings were superb and we could not have chosen a better place for our family get together.
Marvelous location with superb views. We´re sorry to be leaving as everything about the place is very special. Kentmere Valley is also idyllic and the Staveley eating venues are excellent! Thank you.
Firstly, thank you for the beautiful hamper which was a real surprise. This is by far the best property we have ever stayed in and the views from every window are mesmerising. We felt very spoilt having a tennis court and the house is immaculate and very well equipped. We took our boxer dog to the Watermill Pub and they gave her biscuits, water and lots of love which we appreciated along with the lovely meals for ourselves. We´ve had an amazing time and cannot thank you enough for allowing us the opportunity to experience your beautiful house!
The six of us have had the most amazing holiday at Skyline. The house is so beautiful and the views are to die for. Some great walks which always ended in the Eagle and Child. BBQ´s with friends out of the patio in the sunshine was just idyllic. Thank you for some amazing memories!
Wow, what a lovely place. Skyline is stunning, as are the views. Perfect for relaxing, entertaining and having fun. We had a lovely weekend with some great friends, we would love to return again in the near future. Thank you.
We have had a wonderful stay in this beautiful home, the views are just stunning. We loved playing Tennis and walking into Stavely. Would recommend the food at The Eagle and Child pub, very nice and homemade. Thanks for having us, I am sure we will be back!!
We had a wonderful weekend with nine of us, all different ages, enjoying everything. This special house has offered a memorable weekend where every day stress and demons are somewhere else. We will always remember March 2015. Thank You!
We had a super weekend at a fantastic house with stunning views. We went for some good walks with our spaniels Jasper and Ozzy. We also had local food at The Eagle and child and would definitely recommend L´Enclume restaurant in Cartmel, it was a bit of a drive but well worth it. We really like the huge open living space and the huge bath and shower.
What a fabulous house to spend the most amazing weekend with my family in. Everything we required was available which made skyline a home away from home. The youngsters enjoyed the tennis court and the views were stunning too. Overall, a most splendid location for this beautiful house. I could not have asked for a better place to spend the weekend in The Lakes with my nearest and dearest. We will be back soon hopefully.
What a wonderful well equipped house with breathtaking views. The kitchen was perfect and had everything we needed. This has been the best stay we have ever had.
This was our first time self-catering and we weren´t quite sure what to expect but wow, such a cool house and so well equipped. Well done Skyline, a hard act to follow!
A beautiful home with fantastic views. We would love to take the massive windows home with us, it is so light and bright here. We look forward to returning!
Best holiday home ever. View amazing, walks amazing, village amazing, everything was just wonderful. Thank you very much.
What a fantastic place for a 50th birthday celebration. We were very lucky with the weather which made the views even more perfect. Such a great house to chill out with my friends. Thank you!
An altogether "out of this world" house. Oh to live there! Bedding especially was very luxurious matching the overall feel of the standard of the property. Views were to die for, totally amazing!
This was a surprise family get together for my wife´s 60th birthday .. and boy did this place NOT disappoint! We had the most perfect time together. A huge thank you to Unique Homestays and the owners for helping organise this unforgettable experience. We hope to return.
What an amazing place to stay. Have had a great time here, would love to stay longer. The views are out of this world!! Such a beautiful house - wish it was mine! Thank you very much for such a lovely, relaxing holiday. Hopefully will be back soon :)
This property certainly has the WOW factor, and the tennis court was an amazing bonus which kept the family entertained even though we are no budding Andy Murrays. My sincere congratulations to the team who made this such a memorable experience ... and one which I hope to repeat.
Loved it all, the house is out of this world, the area is great and the views are breath taking. Thank you for a lovely week.
We could see the property had amazing views, was in an ideal location and had a tennis court. The house itself was spectacular!
The house was private and quiet. We always book high quality houses with the same degree of comfort as our own home. We are always looking for peace and quiet as we live in London so this place was just right.
Unique extras
Enhance your stay with a unique experience from one of our preferred suppliers. From professional in-house chefs to luxury at-home spa therapists and wine delivered to the door, see what's on offer for your bespoke escape.
Press
Below are a selection of features in which Skyline and Unique Homestays has appeared. If you would like to feature the property in an editorial capacity, please contact the marketing team on +44 (0)1637 882014.
complete an image bank request
Not quite what you're looking for?
Find properties:
Collections > Baby-Friendly Breaks > UK > Cumbria > Staveley > Skyline
Disclaimer: These particulars, whilst believed to be accurate, are set as a guideline so should not be relied upon as a statement of fact. The photographs show aspects of the property at the time they were taken and it should not be assumed that the property remains precisely as displayed. If there are points of particular importance that need clarifying before you book, please contact us.