Luxury family holidays
Children pick out wonder and awe in the smallest detail. These family-friendly locations come with muddy puddles, rock pools and garden games for all.
Little ones see everything through rainbow-tinted spectacles, and travelling with children should be a halcyon experience. What was once mundane becomes a shiny sparkle: the smallest puddles can turn into an exciting ocean voyage across stormy waves; those gnarled and twisted trees on a woodland walk are now tall turreted towers that must be scaled. There's nothing like exploring a new area with a child-friendly luxury holiday home as a base, heading out wellies on and a little hand clasped in yours, pointing in awe at clouds shaped like giraffes and glow worms lighting up the night. All the better enjoyed with grandparents, multi-generational group gatherings allow parents to sneak off and enjoy moonlit dips in heated swimming pools, or pop open a bottle of bubbles under starry skies while sinking into a garden hot tub. Time spent together is time well spent, after all, and memories are made of this.
Claydon, Banbury, Oxfordshire, The Cotswolds, UK
An English country home that truly embraces its idiosyncrasies, Little Red Lock's wooden picket fence and waterfront position on the Oxford canal oozes tranquillity, while inside its brick walls, a carnival of eclectic rustic charm awaits.
Sleeps: Up to 6 guests
From: £1,950 per week, £1,495 per short break
Alternative Group Option: Up to 2 guests
Pets: Two well-behaved dogs are welcome
Features: Hot tub, fire pit, kayaks and life jackets for the canal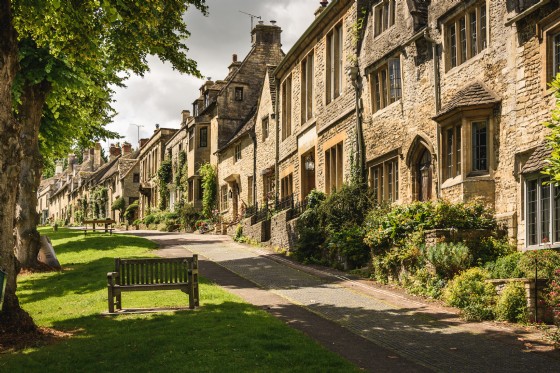 Burford, Oxfordshire, The Cotswolds, UK
Treacle-toned Cotswold stone, iron gates and heavy antique doors hint at this striking home's colourful past. Once a court house and a later jail, Atticus can be found jostling amongst a row of fine period buildings at the end of Burfords' golden high street.
Sleeps: Up to 8 guests
From: £2,950 per week, £2,295 per short break
Pets: Two well-behaved dogs are welcome
Features: Baby Grand Piano and fire pit

Witney, Oxford, Oxfordshire, The Cotswolds, UK
Muted greens and blues, thick drapes and stone floors, this Oxfordshire farmhouse oozes tranquility, with all the luxurious home comforts a weekender could wish for.
Sleeps: Up to 12 guests
From: £2,995 per week, £2,395 per short break
Pets: Two well-behaved dogs are welcome on prior arrangement
Features: Television room and trampoline

Not quite what you're looking for?
Find more properties:
view on map