Luxury coastal cottages
Toe-dipping in the shallows, coastal walks under flaring sunsets, hibernating indoors while storms crash outside; our unique coastal homes offer sanctuary in all weathers.
We do like to be beside the seaside, don't we? Sweeping sands and long coastal rambles, sitting in the shallows watching as the children jump over foaming waves… Days by seaside are as iconic as the soft-whip ice cream with which they go hand-in-hand. With freckled, salt-kissed faces and tousled hair, retreat to the serenity of a luxury coastal holiday cottage, where the only thing left on the agenda is to relax with a full glass of delicious wine from the fridge, as children sleep and the sun melts into the ocean. 
Homes by the sea can be enjoyed in all weathers, as autumn and winter bring a different kind of romance. Blazing summer days invite skinny dips and afternoons of sunbathing under a vintage parasol, whilst cooler months bring pumping surf and temperatures just right for heart-racing dog walks across soaring sand dunes. Wrap up and storm-watch from the tops of rugged cliffs, or sip giant hot chocolates under blankets as those wild Atlantic winds whip sea foam against the windows, fire crackling alongside.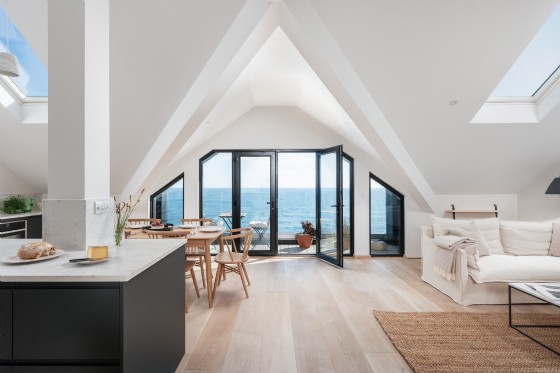 If you see beauty in simplicity, Villa Boden is for you. Kept in the family for over twenty years, two sisters have re-imagined their adored Cornish beach house, embracing Nordic design concepts and taking a modern approach on luxury hygge living.
Sleeps: Up to 6 guests
From: £2,595 per week, £1,950 per short break
Alternative Group Option: Up to 2 guests
Pets: Two well-behaved dogs are welcome

Not quite what you're looking for?
Find more properties:
view on map