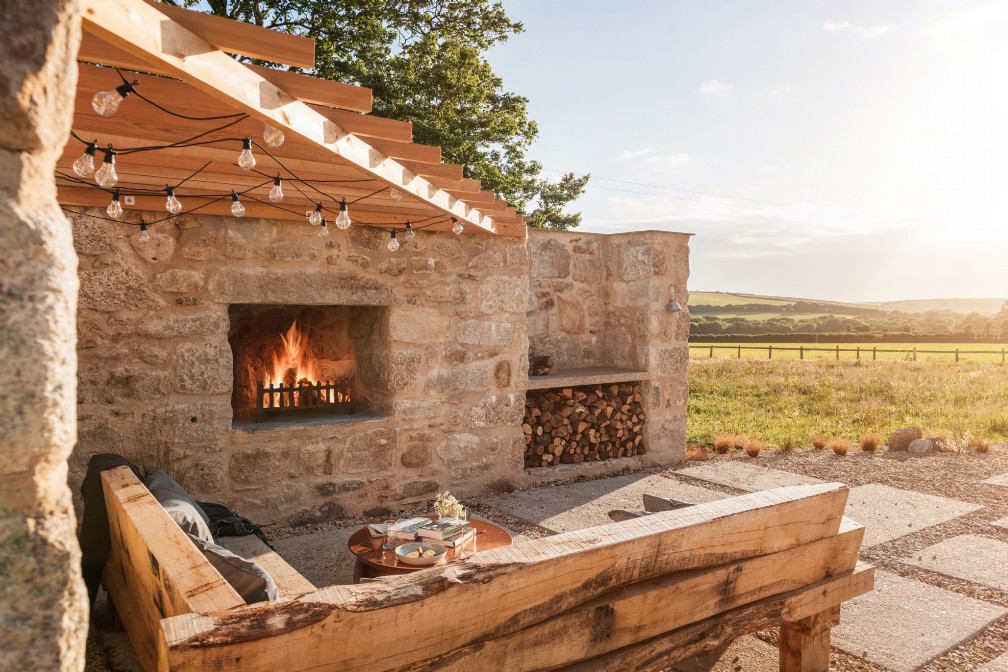 The Meadows
There's a hint of Balearic island style to this rustic stone retreat. Tucked away within a secret location seven miles inland from Crantock and Watergate Bay in rural north Cornwall, this luxury self-catering barn is a haven for babymoons and romantic escapes. With a pacifying whitewashed aesthetic, hot tub and floating egg bath overlooking the swaying wildflower meadow, this is country living on modern terms.
Introduction
Carve through the Poldarkian scenery of Bodmin Moor, follow Cornish stone hedgerows and rattle over a cattlegrid to reach this sublime self-catering escape near the north Cornwall coast. Tucked into private grounds within an old farm settlement, this agricultural barn conversion is a haven of modern style. Spend days stomping through the scenery and evenings trialling the local restaurants; choose from fresh fish by the beach in Newquay or crab and chips in Padstow. Alternatively, for those wanting to close the doors on the outside world, simply settle by the log burner with a bottle of red and let the days blur in a romantic haze.
Inside
A design-led interior pairs poured concrete floors and worktops with lime-washed wood to bring about a clean, contemporary aesthetic that is soothing and relaxed all at the same time. The open-plan design incorporates high apex ceilings for plenty of space and light, with large glass windows to merge what is outside and in. From the cushions by Chickpea to the crockery by Pippi and Me, local producers have been used wherever possible. Brass monsoon showers twinkle in the sun, and a floating resin bath sits by a tall window in the master suite offering a serene spot to observe the morning mist lift from the meadow.
Outside
Flanked by fields of wildflowers, the rockery garden looks west towards distant hills dotted with windmills pirouetting in the Atlantic breeze. Paving stones bordered by heady lavender beds lead from the bedroom doors to the hot tub, inviting starlit evenings in the open air. As evening falls and the burning sunset fades, couples can dry off by the outside fire with a Cornish G&T. For excursions, discover the rare poppy fields by Polly Joke beach, or throw down a blanket and watch the sunrise over Watergate Bay with a barista-made coffee in a paper cup. Here, you will savour the simple things.
The Facts
SleepsUp to 2 guests
From £1,650 per week, £1,295 per short break
Bedrooms and bathroomsThe master suite features a king-size bed, with french doors leading to the garden and a large freestanding resin bath at one end of the bedroom.
Features

Hot tub, outside fire

PetsTwo well-behaved dogs are welcome
Each pet is charged at £60 per week or part thereof
Arrivals and departures

Arrival Day:

Friday or Monday

Arrival Time:

4pm

Departure Time:

10am
Family

Babes-in-arms are very welcome, the dressing room converts to a peaceful nursery, with a cot and highchair set up on request.

Practicalities

There is parking for two cars on the private gravel drive beside the barn. The garden is private and opens onto fields. With everything needed for a luxury self-catering escape, the kitchen features poured concrete tops and built-in appliances including two under counter fridges with freezer compartments, a dishwasher and electric oven plus a washer-dryer, Nespresso machine, kettle and double Dualit toaster. As well as the log burner, underfloor heating runs throughout.

Homestay includes

Luxury welcome hamper with local produce, organic gin, luxury linen and towels, bath salts, linen bathrobes, Wi-Fi internet, logs and kindling to get you started...

House book - your property and destination guideDiscover more little luxuries
Private cateringSeeking a celebratory dinner or fully catered escape? Our recommended caterers will work with you to create personalised menus for your stay. Details are shared through our house book on confirming your booking.
RetreatsFrom foraging weekenders to crash courses in cold-water therapy, our bespoke retreats bridge the gap between luxury and back-to-nature philosophies. Create a hand-crafted stay that puts connectivity at the fore.
Eco-friendlyElectric car charging point, bee bricks in build



Prices & Availability
Retyn
This tiny hamlet is a rural paradise, seven miles inland from the golden surf beaches of Newquay and Watergate Bay on the north Cornwall coast. The closest villages are St Newlyn East, Crantock and Mitchell - with pubs, strawberry fields and golden beaches for all weathers.

View nearby properties
Getting there
On the Map The Meadows is located in the tiny rural Cornish hamlet of Retyn approximately seven miles inland from Watergate Bay, Newquay and Crantock.
By Car From London, take the M4 towards Bath, the M5 South and the A30 to Cornwall, the house an easy four miles off the A30 from Fraddon.
By Train The nearest train station is in Newquay, around a 10 minute drive away, but there are more frequent and direct services from Bodmin Parkway, a 20 minute drive away, to London Paddington.
By Air Newquay airport is a 15 minute drive away, where taxis and car hire are available in advance.
From the owner
"The Meadows was part of my parents farm, which they bought when I was two. With a small number of cows and horses it was more of an idyllic country home than a working farm. Five years ago, the farm was broken up and sold and I took on the challenge of renovating one of the barns - a project only possible due to the support and guidance from my family and friends."

Back when my parents bought the farm in 1988, our modest smallholding comprised of a farmhouse, two simple but sizeable barns and a few smaller barns that were more tumbledown in stature. 
Five years ago, my parents decided to relocate, and so the farmhouse, large fields and this plot were all due to be sold. As a child I have fond memories of playing football, climbing trees or flying my kite in the meadow. I could therefore see the huge potential this barn had with its stunning views. 
Although I had little knowledge or experience with building, I had spent many hours watching Kevin McCloud pick apart similar projects and thought I could do the barn justice. I had a small obstacle in that I was imminently due to relocate to Hong Kong, which meant the whole journey from planning to completion has had to be managed from 9500 miles away.
The project has most certainly been a labour of love. I am particularly proud of how it was converted by local tradesmen, incorporating Cornish stone, slate and reclaimed timber, as well as environmentally-friendly details such as the Green and Blue bee bricks which we hope will encourage the bee population.
The Haines Family
Owner recommendations
Live like a local, discovering the best hidden gem restaurants, walks and attractions during your holiday in Retyn with an insider's perspective.

To Do
Watergate Bay
With a sweeping expanse of golden sand at the foot of the cliffs and some excellent eateries to choose from, a trip to Watergate Bay is a must. Hire surfboards from the Extreme Academy, walk the pooches on the dog-friendly beach or settle into some live music over a cocktail at Watchful Mary´s - the newest addition to the chic collection of hangouts in the bay.

To Eat
Basket, Newquay
New to the artsy food scene in Newquay, this tiny independent coffee house is the perfect pitstop on your way to the beach. Load a paper box up with slices of homemade banana bread and chocolate-dipped florentines, before heading on your way to find a sheltered spot for brunch in the dunes.

To Eat
Paul Ainsworth at No. 6, Padstow
Paul Ainsworth and his team have something quite special here in the narrow backstreets of Padstow Harbour. Featured in the 2020 Michelin Guide, Paul´s Georgian townhouse offers attractively presented dishes and first class flavours served-up in six individually styled dining suites. Be sure to book ahead.

To See
Bedruthan Steps
The huge granite stacks rising from the beach were once, according to legend, stepping stones for the Giant Bedruthan. Access to the beach can be restricted by tide and rockfall but the coast path along the top is stunning. Pack a picnic for the secluded beach at low tide or pop into The Scarlet for a Champagne cream tea en route home.
Guest Testimonials
A truly beautiful property that exceeded our expectations! Very well designed and perfect layout- love the interior style features. Thanks to the House Manager who made us feel so welcome on arrival. We have had a lovely week here and have been blessed with some sunny days. We´ve enjoyed lots of coastal walks with our dog, and eaten in some lovely places- especially in Padstow. We hope to come back in the future!
Wow! What a wonderful stay we have had at The Meadows! My birthday has been made so memorable, cards and a cake on arrival, wonderful touches to make us feel completely spoilt. And the barn itself, peaceful, beautifully designed and furnished. Every little detail is thought of. To the owners and House Manager, a massive thank you! We feel more relaxed than we have in years and are now recharged ready to get back to the business of our lives back home. We hope to be back soon.
Thank you for such a warm welcome at The Meadows. The music was on, fresh flowers, and candles ready to light! The place was spotlessly clean and much bigger than anticipated- especially with a dressing room! The weather hasn´t been brilliant but managed sunny beach walks every morning and hot tubs in the rain in the evening! In Cornwall, the rain soon blows over!
A wonderful spot for adventure in Cornwall. We loved it here, thank you for all the lovely thoughtful touches and for making this place available for us all to enjoy! I´ve loved watching the flowers outside the window all week! And the sunsets have been amazing every day.
Our third wonderful stay at this amazing property. Hopefully, we'll return in 2024! Great weather so made the most of the views and the sun trap! Thank you to the House Manager for the little touches!
A truly stunning place, both outside and in. One that is very hard to leave! We are booking 2024. Such a peaceful and private location. A rare opportunity to unwind. We spent the mornings walking Frida on Watergate Bay beach, having the best flat white from The Hangout. Lunch at The Fish House in Newquay was epic and dog-friendly. Thank you so much for the little touches, toothbrushes, fizz, ball and treats for Frida, thanks again!
Thank you so much for a wonderful break at the beautiful Meadows. Really thoughtful touches all over the place elevated this to a truly special place to stay. A great place for our 25th anniversary and to celebrate longer together on the planet than apart. Rolo was particularly thankful for the treats and the special spaniel racetrack around the wildflowers. Bedruthan Steps and The Kelseys were highlight dog walks. Thanks, we will be back!
We had a lovely stay at The Meadows for our honeymoon. We got married on the 1st of July in Suffolk on the grounds of our barn that we are converting. The Meadows is giving us lots of inspiration for our renovation project. It is finished to a high standard making our stay feel luxurious. The view is breathtaking and the free-standing bath, hot tub and outdoor seating area are a nice touch. Thank you for all of the little details- flowers, sparkling wine, food hamper and engraved toothbrushes.
Have been to quite a few Unique Homestays properties and The Meadows is now top of our list! Had a fantastic time, all the little touches were amazing! Thank you for going above and beyond.
We´re so happy we chose The Meadows for our honeymoon! From the moment we entered it was magical-the stunning interior design, the view, and all the special touches like honeymoon bubbly and gluten-free cake- thank you so much! The location is great for exploring Cornwall too, and even with lousy weather it´s been our best-ever holiday- we can only imagine how good it would be if it was hot and sunny! We´ll be back to try it out!
We´ve had a wonderful few days here at The Meadows. It's such a beautiful property set in such stunning surroundings... Perfect for rest and relaxation. Thank you for the thoughtful treats- we didn´t get around to consuming them all but we´ll take them home as souvenirs of our stay! A special thanks to the House Manager for ensuring the place was immaculate on arrival, she was always available when needed to respond to queries and questions.
What an incredible week we have had here. I write this while sitting in the garden- where we have spent a good lot of this week enjoying the glorious sunshine. Lucy the Cavapoo settled quickly and we felt safe with her wandering around the secure garden. We would love to come back here and would recommend staying here without hesitation. The decor is comfortable and creates a calm atmosphere. Also loved the outdoor fire and the hot tub, I could go on and on. Thank you!
This was our second time staying here. Everything was just as wonderful as last year. Hope we shall be back again! Thanks to the House Manager for everything. Fantastic place to stay- wonderfully designed and immaculately presented- nowhere else like it.
We´ve had the most perfect few days in The Meadows for a honeymoon following our Hampshire wedding on the 16th of September! An incredible stay, everything is so well thought through and so many beautiful and thoughtful touches. Perhaps we´ll be back for our first wedding anniversary but in the meantime we´re all back home to the chaos of our two small boys and dog! Wish we could bottle the calm, relaxation and the stay we´ve had here.
This is genuinely the nicest cottage we have ever stayed in. It was absolutely perfect! The housekeeper was also incredible - extremely responsive and the property was absolutely immaculate. We want to come back again and again!
We had an amazing time at The Meadows. Could not fault any of it! Stunning property.
Our stay here couldn´t have been any more perfect and we are both truly grateful. The attention to detail and the little touches are so lovely. The Meadows is absolutely stunning! We´ve had the most amazing little holiday here and have been able to switch off completely and take it all in. The view of the sunset every evening was just perfect. Thank you so much for everything. Hopefully, we will be back one day.
Thank you for an amazing stay! The little touches here and there really made it all the more special. You have an amazing property here and we cannot wait to come back to The Meadows!
What a total treat! We´ve had the best honeymoon here and are leaving feeling so relaxed. Who needs to go abroad when you have gems like this in the UK?! The design is flawless, and the little touches throughout are the cherry on the cake. Thank you so much for the fizz! Our first cork popped as husband & husband! We´ll be back!
The Meadows is absolutely gorgeous! Everything has been done to a very high standard - the bedding is lovely and soft, the toiletries provided are really nice, and the finishing touches, like the fizz, scones and mince pies just made our arrival really special. Thank you.
A stunning property in an idyllic location! The lovely, thoughtful touches like the hamper, candles, bath salts and wildflowers from the meadow were wonderful. Thank you.
Our stay was wonderful, the property is incredibly beautiful and all of the personal touches were so lovely - engraved toothbrushes, pasties left with instructions for how to bake and how they are made, little flowers sprinkled throughout the house... We couldn´t have been happier!
Unique extras
From private chefs to luxury at-home spa therapists and adrenalin-fuelled retreats, once you've booked your stay we'll introduce you to our owner-recommended suppliers to create a truly bespoke, memorable escape.
Press
Below are a selection of features in which The Meadows and Unique Homestays has appeared. If you would like to feature the property in an editorial capacity, please contact the marketing team on +44 (0)1637 882014.
complete an image bank request
Not quite what you're looking for?
Find properties:
Collections > Eco-Friendly Escapes > UK > Cornwall > St Newlyn East > The Meadows
Related Collections
Disclaimer: These particulars, whilst believed to be accurate, are set as a guideline so should not be relied upon as a statement of fact. The photographs show aspects of the property at the time they were taken and it should not be assumed that the property remains precisely as displayed. If there are points of particular importance that need clarifying before you book, please contact us.