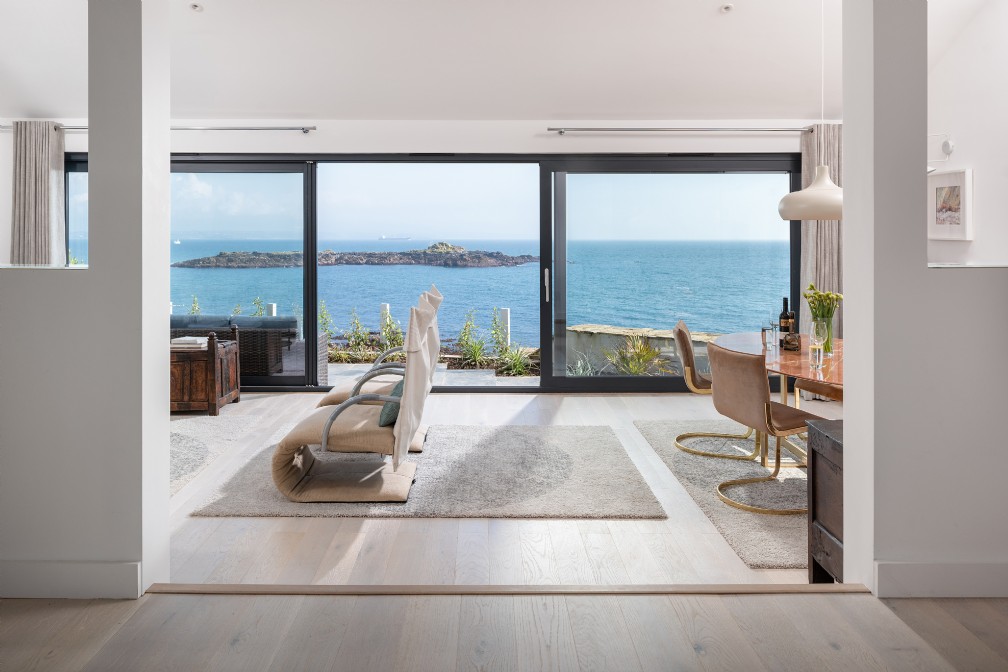 Holanen
Experience Cornwall like never before at Holanen, where clever contemporary design rises from the rocks to form a sleek self-catering home overlooking the open ocean. With the tide crashing just below, kittiwakes calling overhead and vibrant sunsets colouring the enormous sky, this luxury modern holiday home in Mousehole is the perfect manifestation of man meets Mother Nature.
Introduction
Descend from the higgledy-piggledy lanes of Mousehole village in West Cornwall and enter a composed abode designed entirely around "the best views in the village", according to many. Clean lines and modern designer flourishes merge seamlessly with antique furniture collected from far-Eastern shores, while bright art adorns the walls. Spend slow mornings watching dolphins surf the waves and nights wrapped in blankets on the terrace, the glow of St Michael's Mount shining across the bay. 
Inside
With sunny terraces, sea views and cashmere-topped beds to sink into, Holanen is a luxury coastal retreat which allows all worries to ebb away with the tide. While original paintings from local artists punctuate the white walls, a carefully collated collection of furniture gives this home a timeless feel. Flooded with light and perfectly positioned to enjoy vibrant sunrises paint the watery horizon, guests will return to reality with a relaxed mind and calm soul.
Outside
With a panoramic view sweeping from the bustling village of Mousehole, across the Lizard Peninsula and out to sea, enjoy time basking on Holanen's sun-drenched terrace with nothing in mind but where the next glass of wine is coming from. Banks of heady rosemary, swaying grasses, exotic succulents and sea holly fill the terraced garden with staggering views to the rocks below, while pods of elegant porpoises and a colony of curious seals play in the surf. Venture further to walk the coast path, dine in the village's excellent restaurants and swim in Penzance's art deco lido.
The Facts
SleepsUp to 4 guests
From £1,695 per week, £1,295 per short break
Alternative group optionUp to 2 guests
Bedrooms and bathroomsOne double bedroom with king-size bed and en suite shower room, one zip-and-link bedroom which can be set up as either a twin or a super king-size double. One family bathroom with bath and overhead shower.
View bedrooms
PetsSorry, no pets

Arrivals and departures

Arrival Day:

Friday or Monday

Arrival Time:

4pm

Departure Time:

10am

Times may vary due to Covid-19 requirements, please refer to your booking.

Family

Yes, children aged 10 and over are very welcome but careful supervision at all times is needed due to steep drops and prickly plants.

Practicalities

There is parking for two cars at the front of the property in clearly marked spaces. The kitchen includes an oven, hob, fridge, freezer, washer-dryer and dishwasher.

Homestay includes

Luxury welcome hamper, local walking guides, books, maps and tide tables, Smart TV, Netflix, Sonos speaker, iPad, Wifi internet, wood-fired barbecue which doubles as a fire pit, linen, towels, logs and kindling to get you started...

House book - your property and destination guideDiscover more little luxuries
Additional extrasA handpicked selection of unique experiences are available at this property.



Prices & Availability
Mousehole
A tangle of fishermen's cottages, winding alleyways and a tiny harbour with bobbing boats: just add an ice cream and this is a classic Cornish idyll.

Getting there
On the Map Located in the picturesque fishing village of Mousehole in West Cornwall, just three miles from Penzance. 
By Car From London, take the M4 toward Bath, take M5 South and A30 to Cornwall and follow the directions provided to the property.
By Train The closest train station is Penzance, with regular lines to London Paddington.
By Air Newquay Airport is approximately 35 miles from the property.
From the owner
"Spectacular sunrises across Mousehole Bay and hearing waves crash on the rocks below make living so close to the sea a real joy. Mousehole is a very special village and our aim was to make the house as unique as its extraordinary location in Cornwall."

Nick has been an architect for more than forty years but nevertheless, building this house has been a very special project. We first saw the site, alongside a dilapidated 1960s bungalow in 2014 and, although covered by bramble, Nick was immediately excited by its architectural potential.
Locals told us that we were looking at the best location in Mousehole because of the stunning views, the position within the village, the proximity to the sea, and not forgetting the shelter from the prevailing westerly storms.
A large part of Nick's practice was involved with commercial and medical buildings but he always enjoyed designing unique homes in extraordinary locations in both the UK and France. Here his aim was to work with the site's geography, neighbours, and in sympathy with the coastal environment whilst maintaining stringently high standards of design and build.
Since the house was completed in early 2019 we've filled it with the sort of art, books and furniture that we love. You'll also see some of the antique chests, cupboards and fabrics which we've picked up on our travels.
Nick and Tim
Owner recommendations
Live like a local, discovering the best hidden gem restaurants, walks and attractions during your holiday in Mousehole with an insider's perspective.

To Eat
2 Fore Street
Awash with white and blue, this chic French-style bistro on the harbour front enjoys views across Mount´s Bay as far as Lizard point. Try the brunch menu in their pretty courtyard and book ahead to dine in their popular restaurant.

To See
Porthcurno
Porthcurno has a spectacular (though busy) beach and stunning walks along the cliff. It also houses the Telegraph Museum, which is great for children and tells the story of when the village housed the largest telegraph station in the world.

To Do
Saltwater Swimming
Mousehole has two small, safe and sandy beaches protected by the harbour walls. Beyond the harbour is a shallow childrenīs pool which has been created between the rocks. See if you can find the localsī favourite swimming spot "Dicky Danielīs".

To Do
Minack Theatre
Even if you donīt see a show, a trip to the world-famous Minack Theatre comes most recommended. If you do book ahead for a performance, the done thing is to arrive early with a picnic; you´ll notice candelabras, lobsters in hampers and Champagne in paper cups!
Guest Testimonials
We´ve had a wonderful week at this amazing property, a real gem in Cornwall! The views are just incredible even on a rainy, misty day. Holanen gave us everything we were hoping for during our stay; so comfortable, so convenient in the gorgeous Mousehole, and everything has been thought of. We loved reading about the project, the vision, and how Holanen came alive! We hope to be back very soon!
A real treat to come back to Holanene two years after our first visit. The perfect spot and a welcome break. Still perfect - lovely meals and some beautiful coastal walks. Thank you for your flexibility and all the extra work that has gone into making the property Covid safe.
The moment we arrived at Holanen we fell in love with the home, the views, and the entire atmosphere; stress simply melted away. It´s truly been a perfect retreat after such a restricted period of time! The owners were mindful and welcoming, and everything in the house has clearly had a lot of thought put into it. Mousehole is a lovely town, peaceful, and a perfect base to explore from. We cannot wait to return one day in the future, and we leave feeling refreshed and rejuvenated!
A truly fantastic home with breathtaking views. Our week was a carryover from last year due to the pandemic and it was well worth the wait. The direct views of the sea (and so close!) are just so relaxing to the point we rarely ventured out, instead opting to stay in and enjoy this incredible location.
This was our second visit so we knew what to expect, and Holanen lived up to those expectations, yet again. This trip was especially welcome after a long period of lockdowns. Lovely house, lovely town, lovely views!
Well, at last! After so many changes and moving our booking due to Covid, we were determined to come to Holanen and weīre so grateful to you! What a tonic! I burst into tears of relief and delight on arrival. We have certainly been rejuvenated by daily swims in the harbour, walks along the South West coast path, lots of deep sleep and time to simply be. Thank you so much for sharing this glorious, private spot. We have been very happy here.
Wow, wow, wow! Knowing that a break over the new year was likely to bring changeable weather, we hoped that booking Holanen with its magnificent view would make it feel like we were outside enjoying the scenery, even when we couldnīt. It hasnīt disappointed! Every day the scenery changes with the weather. Every hour there is something new to see. A truly magnificent location and a spectacular self-build. Thank you for sharing your home with us.
We´ve had an amazing stay at Holanen. The view is beautiful, the house is cosy and welcoming; it´s the perfect place to have a holiday. Keep your eyes peeled for seals and dolphins! An early morning kayak or swim in the harbour is magical. Thank you so much, we´ve had the best time here. We loved it so much, we hope to come back again soon!
It takes your breath away when you walk in! I guess you never get used to it, the views are constantly changing. We have had a fabulous week enjoying your lovely design. We loved it so much, we´re coming back next year!
We knew the moment we walked inside that we would have an exceptional stay here. I haven´t stopped congratulating myself for finding such a beautiful and tranquil place to escape the madness of Covid London. The house and views are amazing and Mousehole is a treasure; we´ll be back!
You must be so proud of what you have achieved here. Holanen has it all; style, attention to detail, views to die for, but more than that, the feel of the place is something else. We have had such a special few days and decided not to go anywhere, but here. Many, many thanks.
We loved our stay at Holanen, it was a stunning location and stunning property! So much so that we have already sourced doors and wood burner for future reference for our own project in the Cotswolds! All the information they gave us was really helpful, everything was covered in the notes. We would certainly book again; a very special place and the attention to detail is brilliant.
We all had the most wonderful time in your beautiful house. Thank you so much for having the vision to create it. This is the most fantastic location and the view from the terrace will stay with us forever.
Wow, wow, wow! Holanen is perfection and Mousehole marvellously mesmerising. Everything was exceptional and that view is just delightful. We had a wonderful stay and cannot wait to come back. Thank you.
Thank you for creating our dream holiday home, we have loved staying here! It has been the perfect antidote to all the stress and fear of Covid-19, we could breathe and live again. We have been mesmerised by the view and lulled to sleep by the gentle wash of the tides on the granite rocks below. We´ve listened to the seagulls call across the waves and watched the seals laying in the sunshine. We´ve been swimming (a leap of faith!), walking, eating, drinking, talking and laughing. In being close to nature, we have returned to our natural selves. Joyous and grateful. Thank you.
We feel so lucky to have stayed in your insane home, what a place you have created! The most welcoming and comfortable yet stylish and cool retreat. Every day the view amazed us, we are most jealous you get to see this every day! We very much hope to come back again one day. Thank you.
Thank you for a memorable stay in your lovely home, the views are so breathtaking it will be difficult to ever forget. We loved the open space and the various relaxation options both within and outside the walls of the house. We will miss hearing the sounds of the ocean in the morning and trying to spot the seals! Thank you for all the recommendations on where to visit and for the very warm welcome to Holanen.
Holanen is truly spectacular! When you walk in that door and see the view right across the living space, it´s breathtaking! The place was immaculately clean and beautifully presented.
Magical, breathtaking, tranquil, peaceful, luxurious. All words that describe this heavenly place. Holanen is everything and more that you see on the website and offers a seascape that is dynamic; both in form and colour. We had the joy of seeing the seals mirror our lazy day, the delight of watching an energetic pod of dolphins moving along the coast and the casual meandering of harbour porpoises. Thank you for developing such a delightful property and making it available for travellers to enjoy. This place is a pool of tranquillity in an otherwise crazy world.
Wow! Our stay at Holanen was amazing. The Christmas lights here are so colourful! It rained most days but that didn´t stop us from enjoying the incredible views from the house. Plus, the seal came to visit us! We´re going to miss this.
Magical! The most beautiful space, perfectly designed for enjoying the amazing view, sea breeze, waves and Mousehole atmosphere; a heavenly escape. We all had the most magical and inspiring Christmas. Thank you for all the little touches that made our stay so wonderful. Many thanks and we hope to visit again soon!
We were here for a 60th birthday celebration, we wanted somewhere to truly relax overlooking the sea, and beautiful Holanen exceeded our expectations. We had to tear ourselves away to leave. What a house. You have done an incredible job to provide such an amazing, comfortable property. A perfect birthday weekend!
As soon as we walked in, wow! Simply amazing views and a beautiful house. We spent most of our time looking across the bay, watching the waves, boats and birds - how it all changes with the light, the sun and the rain. Gazing at the sunrise first thing in the morning with cup of tea in hand, watching the fishing boats is truly memorable. The fishermen are real heroes. The time here has been wonderful, we love the sound of the waves and all that sky, we just donīt want to leave! Thank you for opening up your home!
We have greatly enjoyed both this lovely house and its fabulous location. We haven´t done much as it´s been very relaxing simply being here! We hope to come again, thank you.
We have spent a wonderfully relaxing time in this fantastically well-equipped house with its superb location and views. It´s beautifully and extremely comfortably furnished and the perfect spot for some time away from it all. There are lovely walks along the coastal path if you can drag yourself away from the house! Thank you very much.
Unique extras
Enhance your stay with a unique experience from one of our preferred suppliers. From professional in-house chefs to luxury at-home spa therapists and wine delivered to the door, see what's on offer for your bespoke escape.
Not quite what you're looking for?
Find properties:
Collections > Couplesī Retreats > UK > Cornwall > Mousehole > Holanen
Disclaimer: These particulars, whilst believed to be accurate, are set as a guideline so should not be relied upon as a statement of fact. The photographs show aspects of the property at the time they were taken and it should not be assumed that the property remains precisely as displayed. If there are points of particular importance that need clarifying before you book, please contact us.