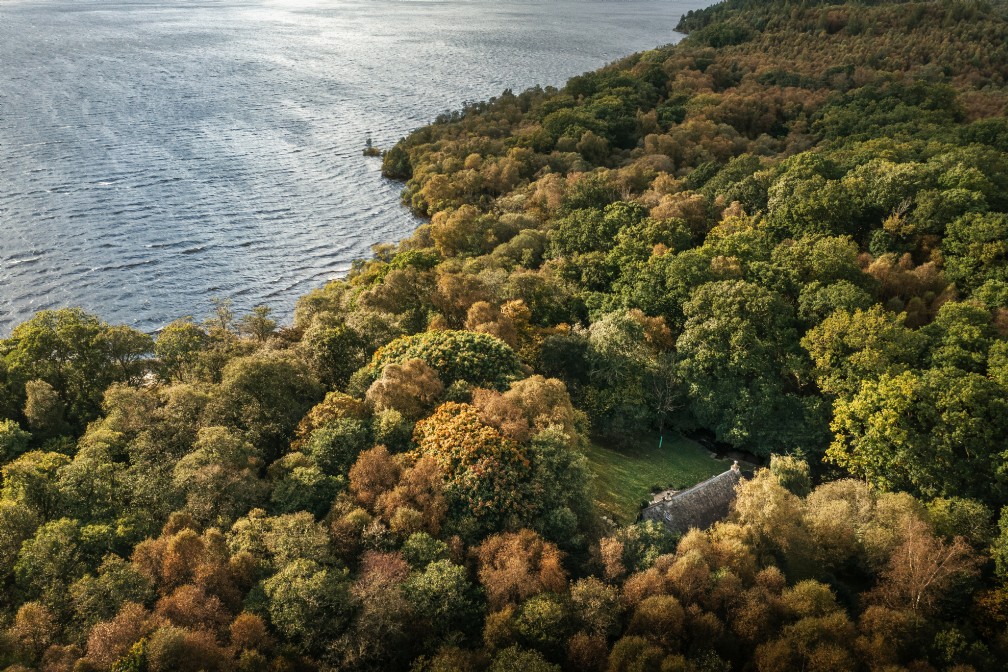 Little Eden
Romantic and remote, yet still within an hour of Glasgow, this luxury self-catering Highland cottage is as far from city life as one can possibly get. Bordered by untamed woodlands, a secluded inlet on Loch Lomond and a kaleidoscope of Acer trees which burst in shades of crimson, Little Eden is the most blissful of Scottish retreats.
Introduction
Starting life in around 1800 by serving the tiny hamlet of Ross as a grain mill, Little Eden has been transformed from a simple dwelling to the finest of self-catering cottages in the Highlands. Tucked away on the shores of Loch Lomond, there are few places in the world where sunsets are as magnificent and walks are as abundant as they are here. Walk out from Little Eden in any direction and face adventure before returning to your private retreat to revel in the tranquillity and achingly beautiful surrounds.
Inside
From languorous mornings under the rafters in the cosy king looking out onto the river to evenings curled up by the log burner, Little Eden is a true Highland sanctuary. Proudly authentic yet irresistibly cosy, you can look forward to the utmost comfort and class throughout. Head out and about by day and in the evening return to roost. Perfect for warming up after long Highland hikes and Scottish pursuits, the ground-floor family bathroom has a dual shower along with a claw-foot bathtub.
Outside
Tumbling down towards the Loch Lomond shore in a blaze of bluebells and leafy green trees, Little Eden's grounds are a Scottish secret garden just waiting to be discovered. Settle under the trees for a breakfast picnic, bird-watch across the loch or take it back to youthful times and make daisy chains in the dappled sunshine. When the day darkens, retreat to the rear of the cottage for long nights surrounded by fiery Japanese Maples under one of those famous Scottish sunsets, feet nicely toasting by the fire pit.
The Facts
SleepsUp to 4 guests
From £2,295 per week, £1,695 per short break
Alternative group optionUp to 2 guests
Bedrooms and bathroomsThere is a double bedroom with king-size bed and twin bedroom on the first floor, a WC in the utility room and a ground floor bathroom with double walk-in shower and separate bath.
View bedrooms
Features

Two fire pits and secluded bay on Loch Lomond, perfect for launching kayaks

PetsTwo well-behaved dogs are welcome
Each pet is charged at £60 per week or part thereof
Arrivals and departures

Arrival Day:

Friday and Monday

Arrival Time:

4pm

Departure Time:

10am

Times may vary due to Covid-19 requirements, please refer to your booking.

Family

Yes, children over 13 are very welcome. Parents are advised to supervise children in the garden, which features three ponds and access to the loch and river.

Practicalities

Parking is available for two cars; please note the access track is not suitable for low-slung cars. The modern kitchen includes an induction hob and oven, coffee machine, dishwasher and microwave. There is also a separate utility room with a washing machine. As well as the log burner, the cottage has underfloor heating.

Homestay includes

Luxury welcome hamper, LG TV, DVD player, Sonos speaker, coffee pods, iPad, WiFi internet (remote, rural speed - consider it part of the Highland charm!), charcoal barbecue on the river terrace, linen, towels, logs and kindling for the fire...

House book - your property and destination guideDiscover more little luxuries
Additional extrasA handpicked selection of unique experiences are available at this property.



Prices & Availability
Glasgow
Scotland´s second biggest city, Glasgow is known for its world-famous art school and was also the birthplace of designer Charles Rennie Mackintosh; venture into the mountainous surrounds for stunning scenery.

Getting there
On the Map Little Eden is located on the eastern shore of Loch Lomond, the cottage is just 25 miles from Glasgow or 70 from Edinburgh.
By Car The cottage is less than an hour from Glasgow, two from Edinburgh or eight from London.
By Train The closest train station is Balloch, at the foot of Loch Lomond, just 15 miles or a 30-minute drive from the cottage.
By Air Glasgow International Airport is 30 miles or a 50-minute drive from Little Eden.
From the owner
"We just love our lochside haven for all its unique and magical features. You can wild swim in the loch at the foot of the garden, stargaze without distraction on clear nights, or stroll 2km along the West Highland Way from the foot of Little Eden´s garden to the Clansman Pub at Rowardennan for supper."

Our lovely highland cottage on the bonnie banks of Loch Lomond was originally built around 1800 as the mill to the small hamlet of Ross. Much later, first evidence of it being used as a dwelling took place around 1895.
We first saw the cottage a few years ago when we walked the West Highland Way; we were charmed by the accessible but wonderfully rural location of the cottage, being tucked away on the less travelled eastern shores of this famous loch, yet only 50 minutes from Glasgow.
After buying Little Eden, we refurbished the interior to create what we hope you will find a comfortable and cosy retreat. It's now kitted out with lots of mod cons, yet boasts back-to-nature appeal.
Located in the Trossachs National Park and surrounded by SSSI woodlands, the landscape is heavily protected for the purposes of conserving and encouraging native and local wildlife. These include otters, capercaillie and western acidic oak woodland. Red squirrels and pine marten can often be seen as well as various types of deer too.
Owner recommendations
Live like a local, discovering the best hidden gem restaurants, walks and attractions during your holiday in Glasgow with an insider's perspective.

To Do
The Spa at Cameron House
Voted Scotland's best hotel spa for three years in a row, Cameron House Spa is a must. Leave your troubles at the door and enjoy luxury ESPA and Carita treatments, or while away a couple of hours in the steam room and hydrotherapy pool.

To See
Glasgow
Scotland´s largest city, Glasgow is a unique destination for a day out. There are numerous activities, restaurants and experiences to enjoy including Glasgow Cathedral, the People´s Palace and Gardens and Glasgow Science Centre.

To Eat
Luss Seafood Bar, Luss
In the heart of the picturesque Luss village, Luss Seafood Bar serves the finest Scottish seafood and seasonal produce in a menu created by award-winning chef David Hethington. Take the water bus to make your trip even more fun.

To Do
Loch Lomond Seaplanes
A breathtaking flight over the magnificent Loch Lomond and Trossachs National Park, the seaplane takes you on an unforgettable 40 minute experience in excess of 60 miles. Grab yourself a window seat, sit back and enjoy the views.
Guest Testimonials
We loved this little cottage and the location so much; just a wonderfully quaint retreat, so restful and quiet. Plus, there are great walks in all directions. We are already planning our return to Little Eden next year.
A gorgeous cottage in a truly stunning location. We loved being able to walk down to the Loch so often and whenever we wished! The cottage is beautiful, restful and peaceful. All in all, a perfect holiday.
A big thank you for sharing this stunning cottage. It´s beautifully furnished and meticulously maintained. Little Eden truly is a wonderful discovery! Passing the days kayaking, swimming in the Loch, gentle walks, and picnics on the green at Drymen were so special. Thank you!
Little Eden is a beautifully restored cottage on the Loch Lomond shoreline and is a superbly appointed cottage offering all you might need. The welcome hamper was very much appreciated after a long trip; it´s such a lovely touch! Thank you.
Thank you so much for sharing this stunning cottage. We have had a fabulous week here enjoying the amazing location and relaxing by the cosy fire. Our holiday was delayed by 12 months due to Covid, but it has been worth the wait to celebrate our 25th wedding anniversary (now 26th!). We have loved our walks from the cottage, kayaking on the loch, and the highlight was seeing our first red squirrel! Thank you again, from us and our two very content Yorkies, for the chance to stay in your beautiful home.
We have had a fantastic week despite the indifferent weather. Little Eden is a wonderful place to stay with lots of walking and some fantastic hikes. We felt completely at home from very the first moment. Many thanks for making it so lovely and welcoming. Dusty, our dog, loved the burn and the loch, as well as the many walks!
Little Eden was very aptly named! We loved everything about this lovely little cottage. The hiking and swimming were fantastic, the welcome basket generous, and the peace and quiet exactly what we needed. We look forward to a return trip!
Perfect, our own little paradise! Fabulous location next to the loch meaning that we didn't have to carry our paddleboards far, we have enjoyed every minute. Ideal for social distancing, we have hardly seen a soul. Stunning house and garden in a beautiful location, what more could you want?!
This is our second time at Little Eden... They say never repeat a success but our return trip to Little Eden was just as successful as the first! We have been able to shut out the outside world and simply immerse ourselves in the tranquillity of the cottage and surroundings. Thank you!
We've had a fabulous week, walked our socks off and came back to a perfect cottage with the warmest welcome! An excellent place to stay and a real home-from-home! Thank you for sharing it and a big thank you to the housekeeper for the best 'first impressions' attention to detail! We'll be back.
Just a fantastic base for exploring the stunning area. We highly recommend the walks from the books provided, notably Loch Katrine and incredible views from Craigmore. Just loved returning and lighting the log burner, as well as watching the colours change over the Loch. Thank you, Little Eden and Scotland! It's been a cracker!
What an idyllic spot for a cottage! Four days were too short. The cottage itself is cosy, comfortable, and very thoroughly kitted out. The provision of essentials and luxuries were much appreciated!
We have had an amazing stay at Little Eden. The perfect spot to kayak from the doorstep onto the beautiful loch. The weather has been wonderful, fabulous for lazy days. This is a perfect cottage for a family of water babies. We hope to be back very soon.
We wanted a property in a rural location off the beaten track in Scotland that allowed us to take our dog. Little Eden is beautiful. A big thank you to the housekeeper, who is so very helpful and made the cottage so inviting for our arrival!
Unbelievable! One of the loveliest places we have ever stayed in. We absolutely adored the gardens and the walking path that has been created around the property, it's a gorgeous walk to do with the dogs in the evenings before retiring to bed. A massive thank you from us to the owners for allowing us to stay in their amazing home.
Thank you for a magical week! It went by entirely too quickly. We loved hiking all day and retiring by the fire in the evenings. Our dog Mary especially loved getting us up at 6am to run down to the loch! Such special memories!
We definitely recommend Little Eden. It's a wonderful property and is a credit to its owners. The styling and attention to detail is of very high standard, and had everything we needed to enjoy our stay. The welcome hamper was a lovely touch, and even catered for our family pet with accessories and treats! Thank you.
When we arrived it was like entering a fairy-tale, and that feeling stayed with us the whole week. The word amazing does not cover it! From the garden, the views, the attention to detail, the bed (which was like sleeping on a fluffy cloud!)... it was all like a beautiful dream. Thank you so much! We regret having to wake up and leave this unique place!
Wow! What a stunning cottage Little Eden is. We´ve enjoyed every minute, it has been so peaceful and relaxing. Great walks and stunning views of Loch Lomond, the perfect setting. The cottage is fabulous and every thought and design is superb. Great little find for peace and quiet and we hope to return sometime soon. Many thanks.
What a wonderful, cosy cottage in a stunning location. We have had a number of fine days enjoying walking up Conic Hill and Ben Lomond, gaining fantastic views of the Loch. We loved lighting the fire in the evenings whilst watching the evening light disappear on the Loch. We ate out in Luss after taking the waterbus from Balmaha, would highly recommend! A great week!
We had a perfect week here! The weather was beyond stellar with sunny days, little wind, and spring blossoms in full bloom, colour, and smell. What a very special place here with a perfect garden, lovely walkways, and great access to the trail system. So peaceful and relaxing.
Little Eden is a perfect little hideaway in a beautiful location. Every detail has been thought of and everything is of the highest quality, even down to the wine glasses. We would not hesitate to recommend this home to anyone!
What a perfect spot! We've had a great week in this wonderfully cosy cottage and have thoroughly enjoyed the gorgeous surroundings. The children loved playing in the stream and down at the Loch. We all enjoyed following the West Highland Way up to the Clansman Bar for lunch, enjoying ice cream at the St Mocha Coffee Shop, and delicious food at the very friendly Oak Tree Inn. We are sad to leave and hope to return!
We have just spent the most wonderful, relaxing week in Little Eden. This is our third Unique Homestay and this is one of our favourites. It usually takes us quite some time to relax and unwind but the cottage and gardens wrap you up into such a cosy and comfortable state of being, it was sheer bliss! The cottage was also incredibly stocked! The gardens and surroundings really are perfection. We are so sad to be leaving and cannot wait to re-book!
Thank you for sharing a fabulous property. The weather threw everything at us; clear skies, sunshine, snow and rain! The house was stunning and it has been so easy to relax. Thank you so much.
We have had a fantastic stay and we loved the cottage and its position! We´ve had great walks around The Loch; the scenery is fantastic in this area. We were even surprised with two days of sunny, warm weather which allowed us to be out and about all day! All in all, a fantastic stay. Thank you!
We had the perfect week away. What more can we say? The location of this property is out of this world and the property itself is exceptional. We had a magical week away from the world and although we could have walked for miles we have to admit that we had a few days in our pyjamas watching films and staring at the view. Thank you for letting us share this piece of paradise.
Perfect, what more can we say? We came here for half term and planned to do lots of walking but struggled to get out of our pj´s and leave this magical place. Our favorite restaurant was the Oak Tree Inn, really friendly and great food and wine! As others have already said, the only complaint is that we haven´t stayed here long enough. Thank you for sharing this wonderful place.
We don´t want to leave! We have had the most amazing week in this idyllic cottage; the perfect way to celebrate our 5 year anniversary. The location is ideal for dog walking and the scenery is stunning. We spent most of the week walking, sitting in front of the fire and watching the snow fall! The cottage had everything we needed and more, and the attention to detail and amenities provided exceeded our expectations. The whole week was a special holiday and we hope to return soon!
This cottage is an absolute dream! We came here to escape the stress of university, school and work and to have a relaxed Christmas. It has been the best Christmas we´ve ever had! The scenery here is stunning, it all seems to come right out of a fairytale. The interiors of the cottage are so well thought through and there was absolutely nothing that was missed. We even had a Christmas tree and the most wonderful presents which made our perfect Christmas here, even more perfect! Thank you so much, you really have created a little piece of paradise!
Little Eden is absolutely amazing! There really are no words to describe it. The cottage exceeded all our expectations! Everything was thought of, the interiors of the cottage are so stylish and yet cosy at the same time. The location is stunning and we couldn´t have chosen a better place to celebrate Christmas!
We both had a lovely weekend at Little Eden, thank you very much. The cottage was amazing and everything we needed was catered for. We won´t hesitate to use Unique Homestays again in the future.
Unique extras
Enhance your stay with a unique experience from one of our preferred suppliers. From professional in-house chefs to luxury at-home spa therapists and wine delivered to the door, see what's on offer for your bespoke escape.
Press
Below are a selection of features in which Little Eden and Unique Homestays has appeared. If you would like to feature the property in an editorial capacity, please contact the marketing team on +44 (0)1637 882014.
complete an image bank request
Not quite what you're looking for?
Find properties:
Collections > Couples´ Retreats > UK > Scotland > Glasgow > Little Eden
Disclaimer: These particulars, whilst believed to be accurate, are set as a guideline so should not be relied upon as a statement of fact. The photographs show aspects of the property at the time they were taken and it should not be assumed that the property remains precisely as displayed. If there are points of particular importance that need clarifying before you book, please contact us.