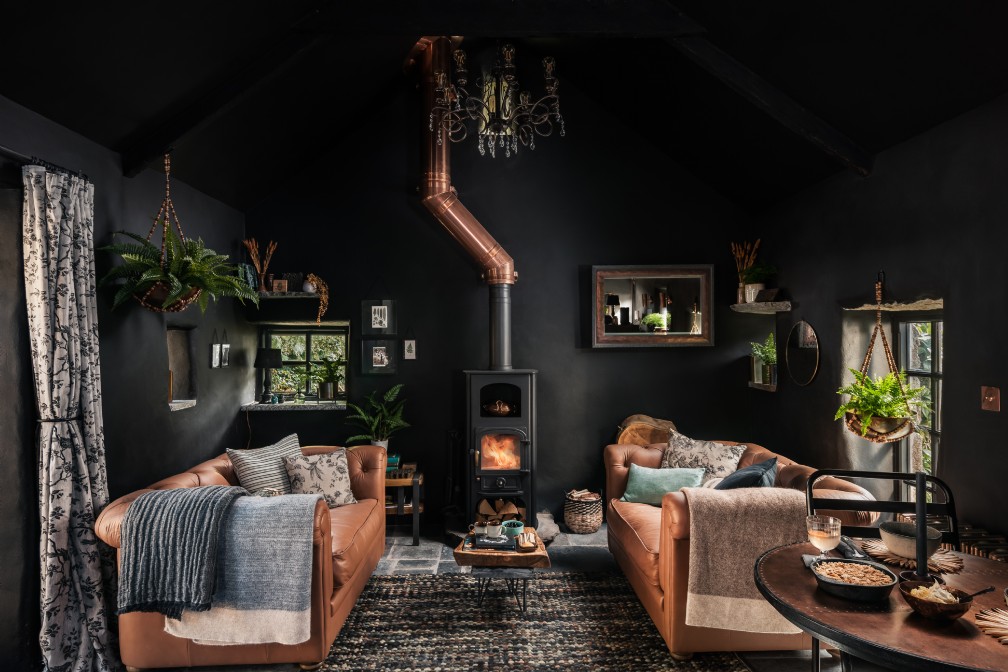 Little Inka
Giving soul to Cornwall's founding elements of granite, slate and copper, this unique luxury wilderness cottage on the edge of Bodmin Moor encompasses the very essence of the UK's first and final county. Moody glamour envelops within, mimicking the deep, plunging darkness of the moor's night sky, while, in the adjoining cabin, a window carved out of the ceiling over the king-size bed ensures an unrivalled view of the elements throughout the seasons.
Introduction
Bringing the towering granite tors of Cornwall's boundless moors and shimmering copper of the county's underbelly together in one sensual self-catering retreat, Little Inka is a hidden cottage escape where lovers can entangle within one another, far from the rush of everyday life. A sunken courtyard with fire pit and hot tub encourages guests to live a life outside, keeping eyes turned upwards and trained on the glittering Milky Way; a sparkling, untouchable road making its way across the cosmos.
Inside
A home of two halves; the inky walls of the original stone cottage are bejewelled with tender ferns and contrasting nature prints, while chestnut leather sofas shine like a beacon of comfort in front of the roaring woodburner. Through the light-filled en suite (where trailing succulents, oxidised copper and natural textures abound) the bedroom is housed in a converted shepherd's hut. Here, a deep, forest green coats the walls, copper cladding arcs the ceiling and a sumptuous bed invites early nights and drawn-out breakfasts under the patchwork blanket.
Outside
Beyond Little Inka's sheltered courtyard, happy alpacas roam the fields, trails twist through hidden pockets of wildness and Bodmin Moor's windswept hills and raging rivers invite adventure, peace and the grounding sense of awe which comes with being just a speck against nature's vast landscapes. Amid the tors and ancient settlements, pretty pubs covered in clambering creeper serve rich Sunday roast dinners and a hard-to-choose-from selection of native ales. After filling your boots with local fare, trip back to your luxury moorland abode to sink into the hot tub as the light fades into the horizon.
The Facts
SleepsUp to 2 guests
From £1,350 per week, £995 per short break
Bedrooms and bathroomsThere is one bedroom with king-size bed and rolltop bath at the cottage, along with one en suite shower room with walk-in shower and twin sinks.
View bedrooms
Features

Hot tub and fire pit

PetsSorry, no pets

Arrivals and departures

Arrival Day:

Friday or Monday

Arrival Time:

4pm

Departure Time:

10am
Family

Sorry, no children or babies.

Practicalities

There is parking for up to two cars outside the cottage. The kitchen includes an electric oven and hob, dishwasher, microwave and wine cooler. There is a separate utility room with washing machine and tumble dryer behind the shower room. The owners and their dogs live on site and tend to their alpaca herd in the adjoining fields daily.

Homestay includes

Luxury welcome hamper of local treats, bespoke alpaca experience, Cornish gin, Sonos move, 32" TV, coffee machine, WiFi, linen bathrobes, scented candles, handmade soaps, logs and kindling to get you started...

House book - your property and destination guideDiscover more little luxuries
Private cateringSeeking a celebratory dinner or fully catered escape? Our recommended caterers will work with you to create personalised menus for your stay. Details are shared through our house book on confirming your booking.
RetreatsFrom foraging weekenders to crash courses in cold-water therapy, our bespoke retreats bridge the gap between luxury and back-to-nature philosophies. Create a hand-crafted stay that puts connectivity at the fore.
Eco-friendlyElectric car charging point


Prices & Availability
Bodmin Moor
Rising mounds of imposing granite, deep valleys brimming with coiling forests and remote villages hunkered around community inns roaring with welcoming laughter; Bodmin Moor is as wild and free as it is intriguing.

View nearby properties
Getting there
On the Map Little Inka is located in the Cornish village of St Breward, on the northern edge of Bodmin Moor.
By Car From London, take the M4 towards Bath, the M5 South and A30 to Cornwall, following the directions provided to the property. From London, Little Inka is roughly four hours and 30 minutes by car; one hour and 15 from Exeter.
By Train The nearest train station is Bodmin Parkway 12 miles away, which is around 30 minutes from the property by taxi.
By Air Newquay airport is around a 30 minute drive away, while Exeter Exeter airport is just over an hour from the cottage. Both have car hire available in advance.
From the owner
"On clear nights when you can see the stars, it´s really quite heavenly to relax in the courtyard surrounded by candles with a little glass of something."

We think ourselves so lucky to have found this magical place and love and appreciate it every single day. While we are close enough to both north and south coasts, our alpaca farm and home are truly a sanctuary. A place where you can feel at one with nature.
Little Inka was built from local granite in around 1850 and started life as a tool shed and workshop for the resident farmer. By the time we moved in, the property needed a bit of love, and so we set our imaginations to work.
The cottage incorporates some of our favourite things; the shepherd's hut, copper bath, sliding steel door and plenty of one of a kind, functional pieces handmade here on the farm. Outside, the three parts of the cottage showcase the elements of earth, fire, metal, wood and water, ensuring nature is at the core of your stay.
If you just want to get away from it all and hide away in Little Inka, we think that would be wonderful. There's nothing like taking a step away from the world to reconnect, rest and make memories together.
Whatever you decide, we hope you leave refreshed and happy.
Wendy & Tom
Owner recommendations
Live like a local, discovering the best hidden gem restaurants, walks and attractions during your holiday in Bodmin Moor with an insider's perspective.

To Do
Tailored alpaca experience
Whether you´d like to feed the alpacas breakfast, take them for a walk or spread out yoga mats in their field for a morning stretch, your hosts can create a bespoke experience with their herd. To be arranged on booking.

To Eat
The Old Inn, St Breward
Chunky chips, smooth pints of cool ale and roaring fires galore; The Old Inn in St Breward (just a 15 minute walk from Little Inka) is the perfect antidote to soggy stomps across Bodmin´s wild moors.

To See
Padstow
The prettiest town in North Cornwall (made all the more famous by Rick Stein and his glut of eateries hidden within the tangle of lanes), it´s not all food here. Take a boat trip across the river to Rock, hike the coast path, or simply watch the comings and goings of the harbour.

To Do
Pony trek across the moors
Head on over to Halagenna, where the horses cast for the Poldark series lodged, and experience the moors by horseback. Gallop through rivers and over hills, beneath ancient trees and through stone circles; a magical experience.
Guest Testimonials
Thank you to the owners, just simply thank you. We had an amazing week in this fabulous cottage. Loved the ´hooting´ Owl, Finches, Robins, Wrens and Blue Tits hopping in and out of the bushes. We walked up to the moor, to the pub, popped to the coast, but best of all enjoyed visiting the alpacas early in the morning. Some of them were eager to come and say hello others too laid back to be bothered, alpacas never fail to make you smile!
Our second stay at Little Inka didn´t disappoint. A lovely warm welcome from the owners, the fire already on to set the scene for a few days of switching off and relaxing. We will definitely return, its become a welcome retreat.
We had a lovely few days of late summer, early autumn relaxation. Dark, quiet and very private, just what we wanted. Thank you to the owners for a very friendly introduction to Little Inka, we were then left alone for the duration of our stay - it was like staying in a work of art.
We had a wonderful time learning about the alpacas, the owners were very friendly and gave us information about local places, but complete privacy and allowed us to relax. The cottage was so quiet, warm, and lovely.
We´ve had the best time here on our honeymoon! I´ve loved renting bikes and cycling to Padstow, we ate at Burger and Fish which was amazing, we also ate at The Rocket Store which is the best seafood I´ve ever had - delightful! Surfing at Polzeath was another highlight. But mainly, Little Inka has been lovely, the hot tub, the shower, the stars! Just magical and so very beautiful. Thank you so much, we´re already planning our next trip!
Thank you for such a wonderful place to stay. So calming and chilled out. Loved it. Couldn´t possibly enjoy all that Little Inka and the local area had to offer in one week, but I will definitely be looking to revisit. Thank you also for allowing me to join you in feeding the alpacas and the tour of the farm.
The owners were friendly, approachable and very accommodating. They were at the end of a phone if needed but also let us get on enjoying our holiday. Very knowledgeable about their Alpacas and we loved meeting them. We would recommend Little Inka with no hesitation.
There is such generosity here from the beautifully considered design to the quality of the materials throughout and the warmth of the welcome. We arrived looking for some rest after a tough few months and we are leaving restored and uplifted by this magical little place. Thank you to the owners and your mesmerising Alpaccas.
There are no words I can say that can fully explain how in love we are with this beautiful home you have created. Simply stunning in every way, we do not want to leave. You have thought of every detail. This was our honeymoon having gotten married after 13 years together and it was definitely the right choice. The Alpacas are wonderful, thank you so much for letting us meet them, it was such a lovely experience. We can´t wait to come and stay again in the future.
We wanted somewhere special to celebrate our 25th wedding anniversary and Little Inka was the perfect place. From the warm welcome to the lovely scones and welcome pack filled with delicious goodies. The highlights have been Rick Stein´s seafood restaurant, bike riding on the camel trail, and visiting Tintagle, Polperro, Port Issac, and Mousehole. Star watching from the bed was magical. Little Inka is a very special place that we will remember forever.
It has all been said before, so all we can do is agree with your previous guests. Thank you for your lovely welcome (and welcome hamper). Thank you for sharing your wonderful holiday retreat. We´ll be back to try some of your recommendations but mostly to enjoy the peace and tranquillity of Little Inka - already rebooked!
We can´t thank you enough for such a lovely stay. Little Inka is such a special place offering much-needed peace and tranquillity. Your eye for detail and the special touches provided everything guests could ever want. We loved meeting your Alpacs and hearing about the journey to build this wonderful retreat. The hot tub was put to good use, and the welcome hamper was delicious and very much appreciated.
Thank you to the owners and all our new fluffy friends. We have had the most chilled few days in your little slice of heaven. Little Inka is by far, the nicest property we have ever stayed, and we will definitely be back to see our new pals.
What an amazing place you have hidden away. We had a wonderful stay and felt very relaxed. Little Inka is truly a wonderful place to stay. So much thought has gone into every little detail. Being able to get up close to your cute alpacas was wonderful, we are taking home many photos. The hot tub was much needed after our walks around Port Issac, Tintagel, and Boscastle. We´ve followed your recommendations for pubs and can highly vouch for the St Tudy Inn and The Mariners.
Thank you so much for your hospitality. Little Inka was the perfect escape for our mini-moon. From the moment we arrived we felt at home here. It really is something special you have so keep up the good work. As we write this we are already wanting to extend our stay. I have a new found love for Alpacas, and am now slightly obsessed. We look forward to our return.
Thank you for building a little sanctuary in such a wonderful part of the country. This place is just perfect and we have spent a very memorable time here. Thank you for creating such a wonderful stay for us and I am sure this place will leave happy memories for future guests. We hope to visit again.
Thank you for being so welcoming when we arrived in the pouring rain, the cosy wood burner was very warming. Little Inka is indeed a unique place to spend some time, we have so much enjoyed the quirkiness and the relaxation. It is a great base for exploring the north and south coasts, we spent a few hours on our last day watching the waves on the rocks at Trebarwith Strand as recommended. Thank you for letting us meet your alpacas.
Thank you for creating this perfect oasis; it really is beautiful and the perfect place. Calm and tranquil. Your creation of Little Inka is absolutely wonderful in every way. The personal touches are quite exceptional. We have loved exploring the area as well as resting in the beautiful surroundings and the Alpacas are an exceptional addition too.
Thank you so much for a wonderful experience at Little Inka. Every last detail has been thought of, all with a touch of luxury and style. It is the perfect place to rest and relax and we have done both in abundance. Our holiday here will be remembered for a long, long time! Thank you for everything.
Since our first magical stay in February we have counted the weeks until our return and wow, experiencing Little Inka in the summer has been incredible. You have truly created the perfect peaceful retreat from which we can explore Cornwall from. Thank you for every thoughtful detail that made our stay absolutely blissful.
This is our second visit and we absolutely adore what the owners have created here. The location is so peaceful and just has all the facilities and luxury touches you could want. It is also lovely being able to see all the Alpacas and being able to see and speak to your hosts. Keep doing what you are doing, it's perfect!
Wow! What a place! Having stayed at many other Unique Homestays properties, we can certainly say that Little Inka is by far the best property! You´ve thought of everything, and it´s the most amazing place to while away a sunny weekend. We have just loved it!
Litte Inka is a truly magical place to stay. The attention to detail is unsurpassable and the owners are the perfect hosts. We really cannot fault anything about this very very special, and very beautiful, property.
A triumph! We will miss Little Inka immensely: it has been our favourite Unique Homestay so far. Such incredible attention to detail! We have loved and admired everything from the old Cornish materials to the well-thought-out touches. Thank you for creating such a beautiful sanctuary!
We love Little Inka! It´s an amazing place, very special and perfect in every way. We´ve had a brilliant time hiking and walking along the coast, as well as enjoying the property. It was so great to meet the alpacas and learn more about them. Thank you so much for creating this special space and for being such wonderful hosts. It´s so so appreciated!
Unique extras
From private chefs to luxury at-home spa therapists and adrenalin-fuelled retreats, once you've booked your stay we'll introduce you to our owner-recommended suppliers to create a truly bespoke, memorable escape.
Press
Below are a selection of features in which Little Inka and Unique Homestays has appeared. If you would like to feature the property in an editorial capacity, please contact the marketing team on +44 (0)1637 882014.
complete an image bank request
Not quite what you're looking for?
Find properties:
Collections > Luxury Solo Travel > UK > Cornwall > St Breward > Little Inka
Related Collections
Disclaimer: These particulars, whilst believed to be accurate, are set as a guideline so should not be relied upon as a statement of fact. The photographs show aspects of the property at the time they were taken and it should not be assumed that the property remains precisely as displayed. If there are points of particular importance that need clarifying before you book, please contact us.