Exclusive-use wedding venues
Chandeliers hanging from trees, colour-dyed lakes, dancing 'til dawn under the starriest skies imaginable: there are weddings, and then there are Unique Homestays weddings…
You're only going to do it once, so throw out all the stops and create a wedding every bit as unique as you are. Intimate or large, cliff top setting or between rolling hills, our wedding venues cannot be found anywhere else. For brides and grooms wanting a small wedding, let us help you create a romantic elopement to a faraway place. Choose one of our licenced wedding venues, or book a civil ceremony separately before hosting an intimate reception. Real homes make unique celebration venues in all seasons. Imagine a snow-covered thatched cottage with a candle-lit pathway, or a blazing midsummer day; bride waltzing down a wildflower aisle, wedding guests sipping fanciful homespun cocktails.
Whether dancing the night away beneath a thousand stars in rural Cornwall, feasting with friends at a castle in the Scottish Highlands or spending your wedding night in a hot tub overlooking the sea, a day to remember is guaranteed when taking exclusive hire of one of our unique wedding venues. Big wedding in mind? Opt for an opulent country manor tucked up a sweeping drive, a fairytale castle complete with moat and roaming stags, or a bohemian farmhouse with disco balls swinging in the surrounding woodland. Bespoke by nature, each Unique Homestay wedding or reception can be tailored to your every wish; no idea will be too large, no whim too far-fetched.
Farleton, Kirkby Lonsdale, Cumbria, UK
Promising a wedding plucked straight from the pages of a fairy-tale, this exclusive wedding venue boasts a smattering of rustic outbuildings creating a beautifully simplistic background for the day's festivities.
Sleeps: Up to 10
Capacity: Up to 100 guests
Civil licence: Yes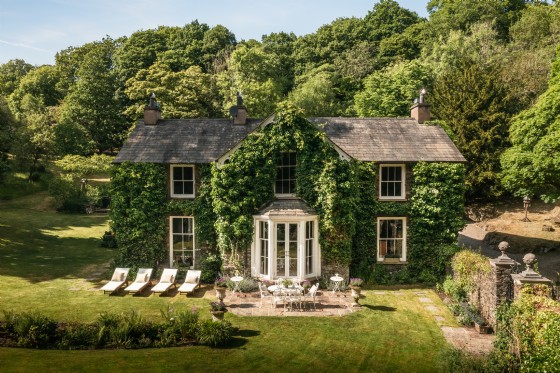 Windermere, The Lake District, Cumbria, UK
Nestled between the majestic mountains and forested hills of the Lake District, lies this luxury private lake home near Lake Windermere. Hosting grand weddings and unique celebrations, this magical wedding venue will be sure to delight.
Sleeps: Up to 12 guests
Capacity: Up to 70 guests
Civil licence: No

Not quite what you're looking for?
Find more properties:
view on map