We arrived at The Creamery in Devon on a Monday evening and was greeted with an amazing welcome hamper from the owners. The sun was out and lit up the barn, so I thought this was a perfect opportunity to shoot the home in the evening light. I loved the mix of old beams and new interiors, and the garden which overlooked the fields with dozens of grouse running around. After the photoshoot, our first evening was idyllic; we sat on the decking listening to wildlife during sunset. The best part was the location; it's secluded with no other houses close by, yet just a five-minute drive or a 20-minute walk to Abbotsham Cliffs.

Tuesday, I headed down to Westward Ho for some groceries and visited the nearby beach. As I got my camera out, there was a surfer just about to head out into the water which I was able to capture. Later that evening, my friends and I went to Abbotsham Cliffs; the sun was low in the sky, and we got lucky with some beautiful bursts of light on the landscape. The next day we woke to the pitter-patter of rain and decided to head towards Exmoor National Park. We found ourselves in Lynton, and the mood was incredible. The sea fog was rolling in and out, creating a wonderfully moody atmosphere. We then visited The Valley of Rocks, on arrival, the fog was thick at this point, and most of the landscape was covered, but we managed to capture the cliffs with the fog rolling in behind.

Thursday came, and the weather was the same, wet and foggy. I had seen the village of Clovelly online, which was only 20 minutes away from The Creamery, and wanted to see it in this weather. There is a big pebble hill that leads you down into the fishing village, the walk is steep, and the locals were going up and down like it was nothing. The village was so picturesque, and with the mood rolling in from the sea, it was perfect. Our final day arrived, and we decided to visit Tintagel Castle. The drive from the cottage was around an hour, and we said our goodbyes to the owners, thanking them for a fantastic stay. We got to Tintagel, and the sun was shining with the smell of freshly baked pastries from the local bakery.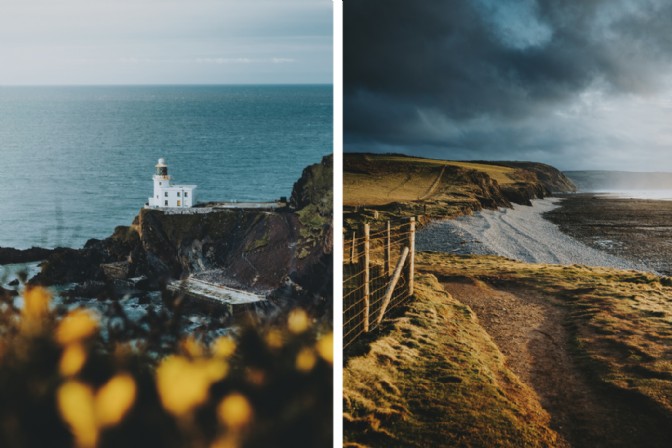 Word and images by Daniel Casson: danielcasson.co, @dpc_photography_