With the effects of the recent eighteen months still weighing heavily on many of our minds and bodies, the thought of a Christmas with friends and family again fills my heart with joy. This year, more than ever before, we will style our homes with brightly lit candles and tall needle-laden fir trees, fairy lights will twinkle through frosty windows while soft embers from the fire keep our bodies warm.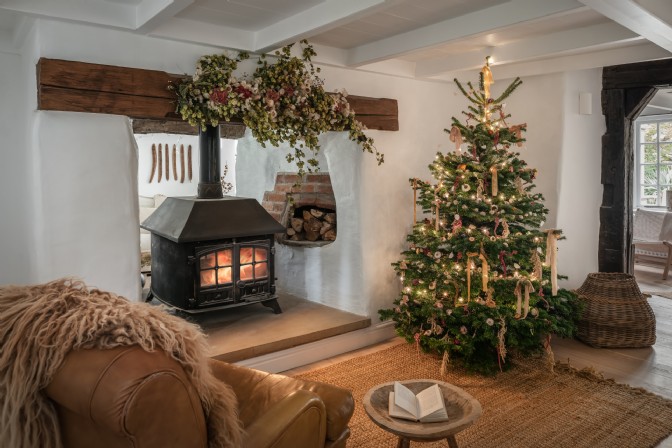 At Christmas I like to complement my decorations with natural elements, to soften the glitz and brighten the corners of rooms. Nature is really quite wonderful at creating her own shining beauty and a step outside in the depths of winter can reveal all sorts of twiggy glory to be brought inside.
As a grower and drier of flowers, autumn and winter are a time of harvest and gathering for me and my work, as my studio slowly fills with all the preserved flowers and seedheads from the growing season. The Hatch in Crantock provided the perfect backdrop for a naturally styled Christmas, with the muted tones of the interior allowing the gentle softness of dried botanicals to shine through. Here, I share three ways to style your home naturally this Christmas.
A Christmas table
I wanted to create a tablescape that twinkled and glowed in the candlelight, so I selected large branches of rosehips picked in red that were laid across the long dining table. Old man's beard (wild clematis), honesty disks, and curly cress seedheads were nestled in and amongst the rose hips to give an ethereal yet elegant look. Candles were safely placed at varying points along the display to light and sparkle.
A greener Christmas tree
This fresh cute tree from Croft & Cole has been entirely decorated with natural flowers and seedheads. I used copper-stranded fairy lights which give a warm glow in keeping with the natural vibe as opposed to blue or white lights. Strands of everlasting flower heads and clematis seedheads drape throughout the branches of the tree and long strands of love-lies-bleeding act as a natural form of tinsel. Botanically dyed silk ribbons finish the look for extra opulence and luxury.
Dressing a mantlepiece
For this design, I wanted to keep the display relatively simple and close to the wall as the room is slim in size. I created individual garlands of honesty seedpods and carefully laid them in connected strands across the mantle beam. The strands split off and climbed the wall much in the same way as a vine would scramble out in the wild. Structural seedheads placed in vintage vessels complemented the display.
A special thank you to Bex Partridge for sharing her Christmas styling tips. For everlasting Christmas wreaths, floral workshops, and home styling as seen at The Hatch, contact Bex through her website.