You really can't believe you are staying on an island, but that is exactly what you find when you arrive at Filly Island. It's located in South Cerney; a truly picture perfect village set in the heart of the Cotswolds. When you reach the cottage via a cute hump back bridge, you literally feel like you are stepping back in time in this magical hideaway.
Filly Island is  situated right on the edge of two rivers that meet at the end of the garden, one is a millstream and the other the River Churn.  Surrounded by water and hedgerows, the garden blends a soft green palate of trees, reeds, plants and beautiful wild flowers. We spent a week relaxing, enjoying nature's views, the humming wildlife and exploring the locality in this little piece of paradise.  Wow, what a spot.
We stayed in June for the owner's birthday, Mouse Martin, a well-known ceramicist who has used her passion and creativity to renovate and restore this old barn and just so happens to be a dear friend of mine. 
Built from ancient Cotswold stone, it was originally an old draycott that housed carts in the 18th Century. Mouse lovingly created a unique and original haven; she combed country sides, rifled through forgotten antique shops, hunted auction houses and rummaged the family attic to up cycle or recycle household items and antiques into artwork From ancient wood now used as the bathroom sliding door, to the vintage three silver forks, now a coat hook, or the old fashioned Slazenger tennis racket, made into a mirror. You can spend hours marvelling at the ingenuity behind the design.
On a beautiful sunny afternoon, we sat on the old wrought iron table and chairs, originally a wedding present to Mouse's parents, over 50 years ago. We sipped our Rosé and gazed out across the river.  It couldn't be more perfect, absolutely nothing to disturb our peace except for Mother Duck and her miniature ducklings whom came waddling up on to the island,  we hand fed them with left over bread from an old Kilner jar on the porch – just idyllic!
The house is furnished impeccably you just can't believe that everything you could ever want or need is presented so perfectly. Inside is a snug sofa, a well-equipped kitchen with dishwasher and washer/dryer for when you EX stream paddle in the river and an inspired dining table converted from an old mangle.
Honestly, you need at least three days to explore the cottage and wonder at how Mouse has magically transformed old treasures such as an ancient leather school trunk into a chest of drawers.  We didn't need to use the wood burner but if I would happily revisit in winter!
The bed is simply yummy, you don't want to leave it and thankfully you don't need to as you are on holiday. With lush rich Egyptian cotton sheets, plump goose down pillows, blinds made from old curtain sacks from the stately home, Bramham Park, North Yorkshire and a nod and a wink to good Old Britannia with a union jack bedcover. It's a honeymooners paradise.   Grab the Sunday paps and snuggle down…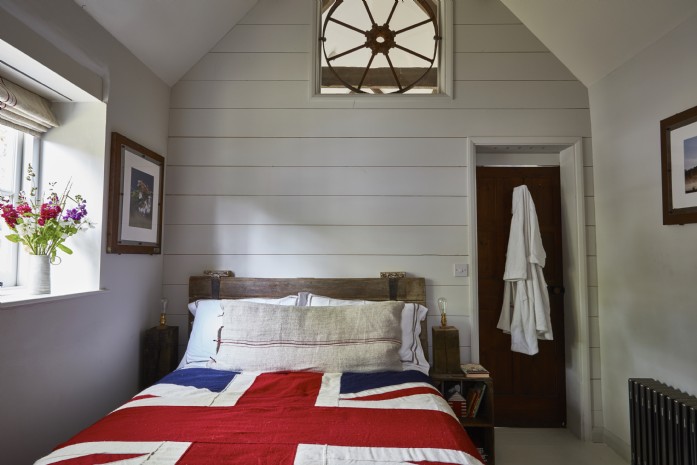 When you finally decide to get out of bed, there is so much to do around South Cerney.  Adopt a dog or bring your own and explore the beautiful countryside walks, there's the old canal walk, the 'meet the cows' walk – hopefully not a bull or simply walk to the local pub and sip a pint. We even caught a cray fish in the stream!
All dogs that come to stay are requested to record their name and age for posterity, listed on the old larder door that leads from the kitchen to the bedroom. This character old larder door wouldn't have been out of place in Downton Abbey, 'more tea Mrs Patmore'!
Everything is so cleverly thought out, from the moment we arrived our welcome package had locally baked bread by the neighbour, jams, tea, coffee and organic eggs.  Even the beautifully presented first aid box is kitted out with everything you may have forgotten, from needle and thread to cotton wool balls. If you do fancy a bit of shopping, there are Mouse's "Made By Hands" ceramics dotted around the cottage, you can order a bespoke one-off or pop to her studio for some retail therapy.
Sadly we had to leave but so inspired were we, that we wanted to head straight to the local antique shop (plenty of these in nearby Tetbury), pick out our own curious treasures and restore to something super clever.  Unfortunately we don't all have Mouse's talent.