In the lead up to and during the summer months, the words on everyone's lips seem to be all about the seaside, coast and sandcastles. But if you'd much rather turn away from the clamouring beach crowds and bound merrily off into the wild in search of luscious fields, verdant scenes, and clean, fresh air, then boy, have we got the perfect place for you.
Nestled snugly in the south west, Wiltshire is hugged on all sides by counties chock-full of character, history, and quintessential British charm. Here, an abundance of awe-inspiring vistas, spiritual landscapes, and prehistoric intrigues have willingly proffered contemplation and inspiration to artists, daydreamers, philosophers, and the free-spirited alike for centuries, so it's no surprise inquisitive wanderers from far-and-wide have long been drawn to this compellingly diverse landlocked county.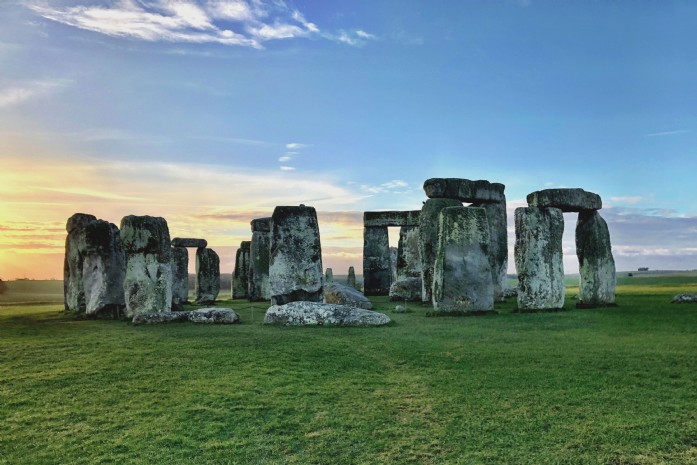 Oldies but Goodies
Flaunting the highest concentration of prehistoric sites in Europe, this captivating realm is bursting with ancient secrets and steeped in primitive mystery. For a truly ethereal experience, head to wonder-of-the-world Stonehenge to tread in the footsteps of our Neolithic ancestors, and marvel at the monolithic curiosity that is the giant stone circle. If Stonehenge piques your interest, then the nearby not-so-famous, but atmospheric nonetheless, Woodhenge is also well worth a stomp around for any budding anthropologist.
Where to stay: The Woodlanders
Beautiful Bath
If history is your thing but scrambling across the wilderness isn't, never fear, as exquisite cities lie within arms-reach of any Wiltshire escape. Lazily wander the streets of nearby Bath, built solely with pleasure and relaxation in mind, soaking in the Georgian architecture. A true shopper's delight, secret treasure troves tucked away down curious side streets are waiting to be discovered, while The Fashion Museum housed within the walls of the Assembly Rooms is an educational, not-to-mention fascinating, experience. Of course, it goes without saying that a visit to this beautiful city wouldn't be complete without a trip to the world-renowned Thermae Bath Spa to soothe the body and mind. When in Rome…
Where to stay: Avalon Manor
The Good Life
Foodies, rejoice! Wiltshire and its friendly surrounding neighbour-counties are renowned for their profound love of all things delicious. Local, sustainable, hearty and homegrown is always on the menu here, and the abundance of farmers markets you're sure to stumble upon are a testament to the simple, rustic, good way of life. Home to one of the most mouth-watering food markets in the south west, charming Frome in Somerset boasts an award-winning collection of delectable goodie stalls in the rather aptly named Cheese & Grain Market Hall, while the colourful street markets of vibrant Chippenham offer a harmonious amalgamation of both traditional and modern fare, each stand thoroughly jam-packed with tasty treats.
Where to stay: Faerie Door Cottage
Postcard Pretty
Preserved perfectly as a romantically wistful nod to days gone by, the unspoilt, picturesque village of Castle Combe offers a whimsical escape for lovers and daydreamers. The perfect antidote to claustrophobic modernity, this honey-hued beauty spot is often referred to as the prettiest village in England; an acclaim that is well and truly deserved! As if lifted straight out of a storybook, this tiny, charming village oozes warmth and character much grander than its fun-size stature. Amble along ancient streets, follow the gently meandering river, wander the nearby woodland, breathe in the sweetly scented air, let time stand still and most importantly, lose yourself in this fairytale-like bubble for a little while.
Where to stay: Burdock Fox