To many, architecture is something tangible; an arrangement of materials, a collection of spaces, a human-made environment where pillows are plumped and unripe bananas turn cadmium yellow on granite countertops. To the rest, architecture is a symbol of something more. A metaphor for human life, three-dimensional art pieces where memories become wedged like mortar between the bricks. Because beyond the struts and spandrels, beneath the titanium and terracotta, true architecture is a metaphysical beast.
Here, we celebrate our most intentional dwellings; the ones made to exist in harmony with their landscapes, despite their standout blueprints. Meet the architect-designed homes.
The RIBA award-winning Martello tower on Suffolk's Deben Peninsula.
To one who looks over Suffolk from some high standpoint, the county seems too good to be true. There's untrodden heathland carpeted with gorse, curious ecosystems where stone curlew and sand lizards play, and rivers that inspired paintings that now hang in the Tate. And somewhere amongst them, a Martello tower that's had a modernist overhaul. A place to close the armoured doors to the world beyond, get a fire going on the roof terrace, and hide out behind three-metre-thick brick walls.
Formerly a coastal defence tower designed to keep Napoleon Bonaparte's army out, Found Tower became a RIBA award-winning labour of love on the Deben Peninsula. A scheduled monument in an Area of Outstanding Natural Beauty, it stood derelict and on the 'at risk' register before its owners began their eight-year renovation in collaboration with Piercy & Co architects. Described as "an exemplary and unique conversion of this type of building" by Philip Walker of English Heritage, the tower has swiftly become one of Britain's most iconic homes.
The Devon treehouse that's one of The Times's wildest homes in Britain.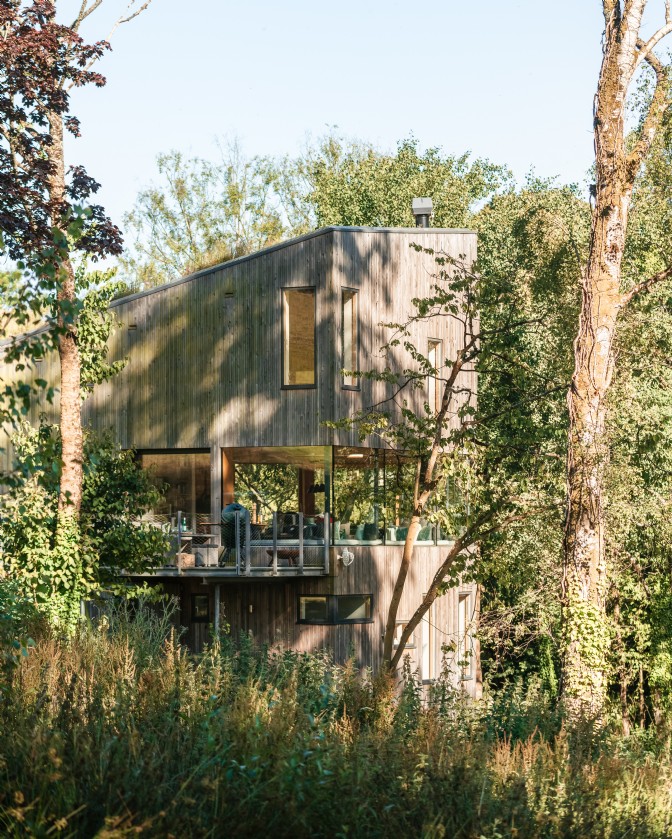 Mix a wildflower meadow, a rowing lake, and a grown-up's treehouse constructed from glass and timber to make Verte, a Devon diamond that could be the superhero's house in any Marvel comic. Modernism's answer to The Swiss Family Robinson, this is the home of every novelist's and ornithologist's dreams; a woodland treehouse so notable, it even got traction in the Hungarian press.
Masterminded by the aptly named Green family, and crafted on their familial Chevithorne Barton Estate by David Sheppard Architects, Verte is a glass and timber force. Made entirely from wood (except for the steel piles that allow it to perch upon the hill), the story of this sylvan build is as complex as one would expect of a "floating" home: from the early discovery that the plot was crisscrossed with underground springs to fears it might never be completed, Verte emerged triumphant from its famed oakland plot. Shortlisted for RIBA's House of the Year 2019 (winner of its South West Award), the resulting home is amongst the most tranquil in the nation.
The Grade I-listed Folly with stately links to Blenheim Palace.
Did some architectural sorceress find a castle, give it a dose of shrinking potion, and hide it away on the southern edge of the great Lincolnshire forest? This is The Summer Folly, a curious citadel with a past life as the hub of many a midsummer jamboree. Inside, it's a wellspring of frescoed walls, marigold alcoves, and a crescent window seat that makes easy work of becoming lords and ladies of the manor. Whimsical, patterned, and a true icon of British design, this shrunken castle has all the makings of an English architectural amulet.
On the grounds of (and with unlimited access to) Grimsthorpe Castle, Park and Gardens in Lincolnshire, The Summer Folly is well-known in architectural circles: the last creation of Blenheim Palace's architect Sir John Vanbrugh, its early 18th-century purpose was to host picnics and parties for guests of the estate. This faux-castle motif was the treasure of architects of the Picturesque era. Later, the folly stood derelict for many years until the 1990s when it was not just made liveable, but became a medley of Moroccan tiles, hand-painted murals, and shelves fashioned from fallen trees. Rescued by a couple on a pinpoint mission to "rescue a folly", their fingerprints can still be found in the brushwork… the ceiling is a Renaissance take on Pompeii, incorporating four panels with personal references to their lives and interests.
The Bond-meets-Milne cottage conversion owned by its architect.
Some hours spent on winding roads, and you'll come upon the heart of Gloucestershire. Then, through clusters of oak and beech trees, you'll see a glint, a sun's reflection; The Find is winking at you. It might feel like a wilderness, but it looks like somewhere Q would display Bond's newest gadgets. Those who stay here spend their days relishing in indoor-outdoor living, leaving only to pick up some cream and a strawberry punnet or two from the farm shop. Set within a 16-acre valley, The Find is a place to marvel at nature as transparent walls give way to woods and wildflowers.
Despite its best efforts to appear so, The Find is not a figment of the imagination. As if the architects behind the abodes of Winnie-the-Pooh and James Bond mixed up their blueprints, this is a home forged from glass and stone; a Cotswolds trinket that grew a modernist limb. Architected by Found Associates, the property extends around an original Grade II listed cottage dating from the 18th century; the heirloom wing now chiefly used by visiting family and friends. Sprouting all about those old bones are three single-storey pavilions, with an open plan living area to one side and bedrooms to the other. The architect of this home of beguiling juxtaposition also happens to be its owner who, speaking of the property's cathartic energy, said, "the history and the surrounds are intertwined, and we love to listen to the whispers of time."
The gravity-defying home where surf meets superstructure engineering.
This is Stratum, a curious could-be Rubik's Cube made from layers of Trebarwith stone and pearl-white render. If it's giving you a feeling of déjà vu, that might be because this iconic coastal home is childhood stone stacking in architectural form. A hideout on high designed for upside-down-inside-outside living, you'll find it within easy reach of one of the nation's favourite surf spots. Yet, it wouldn't be out of place nestled between the stilted oceanfront homes of Malibu's coast.
On learning about the availability of a duneland plot perched high above Perranporth, the now-owners of this coveted patch of Cornwall made hurried overnight plans to get to the county. A successful bid was made, and the rest is history. In a story of Covid-era construction that saw the core design team hired over video calls, Stratum was created by Justin Stephens of SPS Architectural within a timely 18 months… though not without challenges. From the news that there was no solid rock for the foundations to be built upon to the decision to create a fantastically engineered mezzanine, every inch of this coastal home was an extravagant undertaking.
The almost invisible eco-hideout that made it to the pages of Vogue.
There are two points of view from which to regard Serpentine — the drama and the discreet. The former points to the obvious grandeur: ocean panoramas, modern tech, bowed walls, and just a roly-poly from Finnygook Beach. The latter is exemplified in its design: a sedum roof sprouting with wildflowers, underground water pulled from a borehole, and an utterly unobtrusive design that makes itself part of Portwrinkle (and not its party trick).
With minds made up that the new-build home should bow to its environment, the owners of this Cornish plot sought out a team of expert innovators; and so, Serpentine's down-to-earth design became the work of eco-architects ARCO2. The result is a home that is humble without being timid: clerestory windows, partial-height walls, orbital bedrooms, and enough lightheartedness to warrant an ocean nook (fondly known as the "gin and tonic corner"). Despite best efforts to keep concealed, Serpentine made a fast name for itself; winner of a Cornish Buildings Group Award and Champion of Champions at the International Green Apple Awards, the home even made it onto the radar of Vogue and through the lens of famed fashion photographer Mario Testino.