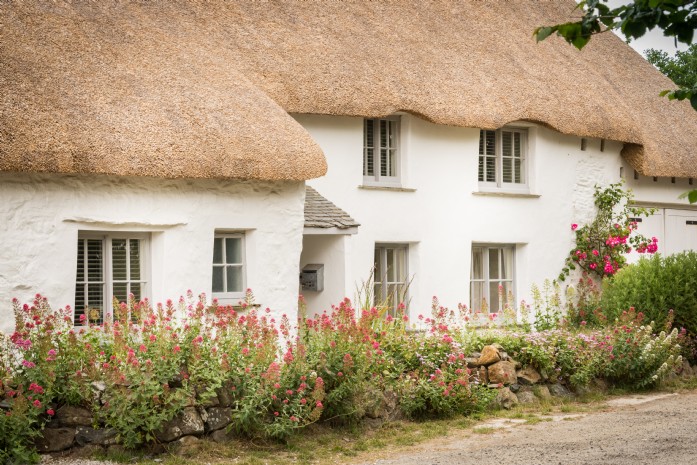 Now Simon you are one of our more unique owners in that you actually bought an existing Unique Homestay! Tell us about how you found the property?
I had been looking to invest some money in property for a while and was drawn to look at the house on an internet search following childhood trips to Cornwall and a visit to the Lizard peninsula a few years back. The photos on the estate agents site and those on the Unique Homestays portfolio were quite different, so it took me a while to realise they were of the same house!
What were the main things that made you fall in love with Smuggler's Cottage?
It is a pretty thatched cottage in an incredible location with two beaches (Poldhu and Polurrian), a vibrant village in Mullion and the golf club all within walking distance yet it is also so peaceful. The cottage is quirky and has real charm as well as enough mod cons to make a stay comfortable.
Did you carry out many changes once you'd purchased the cottage?
The cottage needed a little TLC, with the thatch being redone in March of this year, as well as a fairly extensive rewiring job and a few replacement windows. Inside there was not too much to change although we wanted to create a cosier atmosphere in the communal areas which we are happy we've achieved. There was not too much to change internally but the outside of the building needed some repair and maintenance. I was lucky to be given the details of a company called South West Thatching and Toby and Jack were simply outstanding. I couldn't be happier with the final result and I still catch up with Jack when I am down in Cornwall for a pint in the pub in Mullion.
No it's all finished, how would you sum up the cottage in three words?
Idyllic, stylish and cosy.
Why did you decide to let the cottage out as a holiday home for other guests?
I work up in Oxford so from the start of my property search I had always envisaged letting it out for those weeks when myself and the family were not able to enjoy it ourselves. I had used Unique Homestays previously as a client and stayed in a lovely property on the Lizard Peninsula, so a crucial part of my second home plan was to continue to use the company.  
Tell us what is it like being a Unique Homestays owner?
I have had a hugely positive experience. Everyone is very easy to deal with and there has been remarkably little administration to do. I am lucky to have a great local housekeeper and a handyman who look after the place incredibly well. The Unique Homestays team have been charming and helpful at every turn. 
What do you most enjoy about your own personal holidays at the cottage?
I love the water so being so close to the sea makes a welcome change. I take every opportunity to get into a wetsuit and also play more golf than I should – I find the course at Mullion absolutely beautiful if a little difficult when the wind blows properly. The Lizard is such a stunning part of the world. Trips down, especially in the company of family and friends, are always relaxing as well as huge fun. I have lots of happy memories of the cottage and its surroundings already and hope that there will be plenty more to come.