Embodying all that is English about England, the neighbouring counties of Gloucestershire and Somerset offer a myriad of opportunities to experience pretty village culture, long hikes in the hills, cider drinking and of course, the ever-growing, ever-outrageous Glastonbury Festival. Exuding quaintness and eccentricity in equal measures, artists and musicians, potters and authors have upped from their city-slicking dwellings in favour of a life between rolling hummocks and ancient forests.
In these country landscapes life waltzes to a slower rural rhythm, ever-flowing with the seasons, harvests and folk festivals. Vibrancy and appeal walk hand-in-hand with both Somerset and Gloucestershire and while sleepy communities trundling under the hazy scent of freshly cut hay is still the norm, Michelin starred restaurants, artisan boutiques and treasure-filled flea markets housing exciting designers and the odd celeb are equally as likely to be stumbled upon. These hillocky shires are no longer a blur of green and B-roads on route to a holiday by the sea, but destinations in their own right. And what mighty destinations they are indeed.
Where to stay
Quietly tucked away down a winding lane near the market town of Shepton Mallet, Pilgrim offers a warm welcome to guests looking for some peaceful rejuvenation in rural idyll. The charming cottage windows reveal a pastoral landscape of rolling hills and views over the Vale of Somerset; a welcome tonic for guests cutting free from city living.
Modernity flirts with tradition at this sophisticated, contemporary and RIBA award-winning hideaway in the Cotswolds. Set within a serene sixteen acre wooded valley near Cheltenham, this dynamic pairing of unique architect-designed luxury properties offers sublime relaxation and escapism.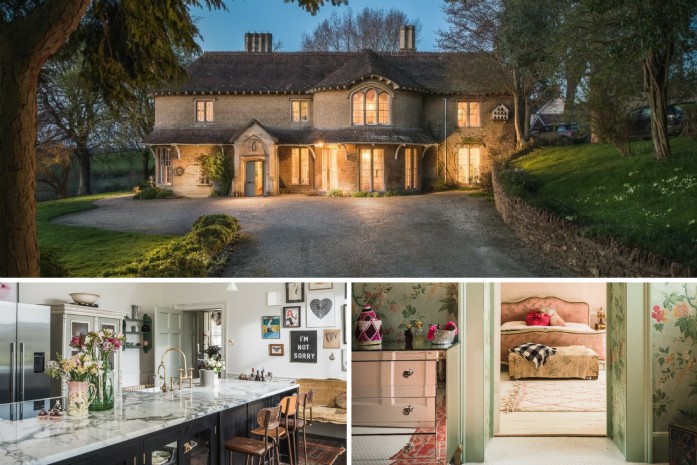 Dating back to the early 1800s, boho Pearl's Place in Frome gleams with vintage finds, hand-finished touches and many a beaded or lace nod to the roaring twenties. Deep colours and layers of texture flank every window and wall, while antique chandeliers drizzle from ornate ceilings. The perfect destination for a girl's get together!
A unique fusion of the historic and the avant-garde, this 500 year old smallholding near Cirencester has been renovated to offer sophisticated entertaining in this most exquisite of homestays. Set in 30 acres of majestic private grounds, The Polo Farm exudes all the warmth of a traditional Cotswolds manor house, with the addition of elegant, designer interiors.
Whisk the family back to the era of Bronte novels, carriages and romance with an indulgent stay at in Ilminster. A stunning Arts and Crafts manor house which fuses an inimitable grandeur with welcoming ambience, Goldhorn is an idyllic destination for celebratory escapes and impromptu weekends in the Somerset countryside.