Pulling the curtains on summer, we embrace the season of bonfires and feasting, of hunting and gathering, and preparing for hibernation as we reveal our top trends for autumn/winter 2019.
The layered home
Tell a story of autumn by adding layers to your interior. Warm, gingery amber and mossy green are key tones for the remainder of 2019, best matched with navy for those wanting a sophisticated finish. Floral print fabrics add chintzy charm, while statement lamps can bring instant modernity. Wrap up and make the most of outside living before the temperature plummets. For dining spaces, try overlapping floor rugs and lay dining tables with rustic linen napkins, chunky crockery and skinny taper candles. More is more as we prepare for hibernation.
Collect and collate
If you haven't started an art collection then who even are you?! With high streets teeming in second-hand shops and student art exhibitions now a regular occurrence in most cities, it's easier than ever to find original artworks to suit your taste. Abstract is a good place to start, as bold blocks of colour and geometric shapes are predicted to make a confident return in 2020. If you're not a fan of mass colour, have some fun by collecting abstract ceramics for the mantle, or inspire your children to create some naïve charcoal drawings to frame and hang. 
Grazing tables
It's the high-flying food fad designed for the Instagram generation and it's only going to get bigger as we head towards the festive spell. Cheese, charcuterie, bread, antipasti, fruit, nuts, raw vegetables, dips, chutneys, edible flowers… the list is endless when it comes to creating the work of art that is a feasting table. "Dazzle your dinner party guests with a vibrant plethora of produce" tempts Samantha Heard, owner of The Cornish Grazing Company. Samantha tips seasonal berries to feature heavily in autumn/winter displays. As well as being delicious, Sammie says that blackberries, redcurrants and cranberries also complement the creamy tones of cheese - creating a feast that looks too good to eat, almost!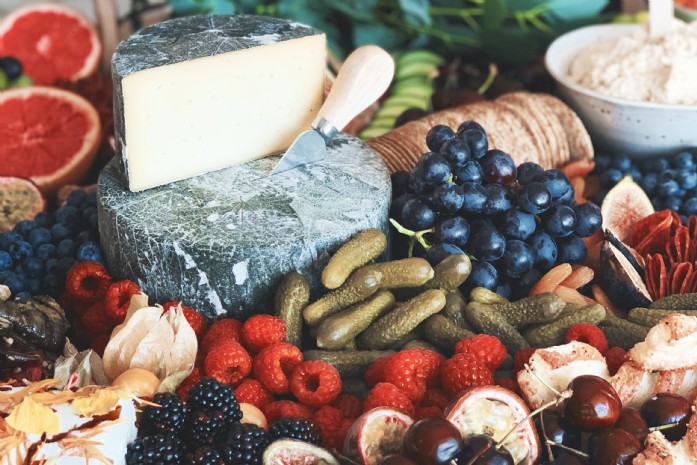 All the nudes
Peaches and cream, American tan tights and the sun-bleached terracotta roofs of Southern France; today, shades of nude take the imagination far beyond boring beige. It's the lingering interiors trend that's barely there but oh-so-impactful. We love China Clay Pink by Little Greene, creating a neutral backdrop on which you can get as playful, or simple, as you wish.
Biophilia
Despite an increasingly machine-driven society, 2019 has been a year that truly sparked the nation's desire to find connections between humankind and nature. Biophilia is now a term attributed to a love for all things living, and biophilic design therefore looks to incorporate natural elements with a view to benefit overall human wellbeing. Dip your toe into the trend by staying at a real home designed around its environment. New for Autumn 2019, we love Ebony Wood on the edge of Snowdonia National Park.