Climate control is at the forefront of every agenda and a key buzzword in the campaigns for change is 'rewilding', which is the process of restoring natural habitats. The year Unique Homestays announced a partnership with Rewilding Britain, donating for every booking made in a bid to support the movement and also reconnect the nation with the wonders of the natural world.
September 2019 saw the establishment of the Team Unique Volunteering Scheme, an initiative that sees employees help Unique Homestays make a change. Each employee receives the opportunity to volunteer one working day a year, contributing to a total of at least 200 hours to local charities. Armed with pitchforks, trowels and shovels, members of the team have been spending time helping at Newquay Community Orchard and here are some of their accounts.
"My afternoon was filled with some restorative yoga. Bending and stretching like the beautiful branches on the trees I had helped prune earlier, I felt rewarded for the work I had carried out that day".
Sophie Collins, Sales Team Supervisor
"The knowledge of everyone involved at Newquay Community Orchard was all inspiring. What I thought would be a hard day's labour, quickly transpired to be herbology classes, plant care lectures and an endless list of agricultural wisdom that came home with me. A truly educational experience all round".
Luke Stray, Homestay Specialist
"Nothing quite lifts the spirits like seeing something being achieved and this is definitely what Newquay Orchard has created. We got stuck in straight away tackling the weeds from around the apple trees, followed by an afternoon of sanding and painting. We were all made to feel welcome and appreciated by the team and the volunteers and seeing what they are working towards gave us all a united sense of purpose. We couldn't have wished for a more perfect day to showcase everything that Newquay Orchard is offering the community… we were even treated to home-made pumpkin chilli!".
Reanne Burnett, Finance & Operations Executive and Jude Hawe, Finance & Administration Executive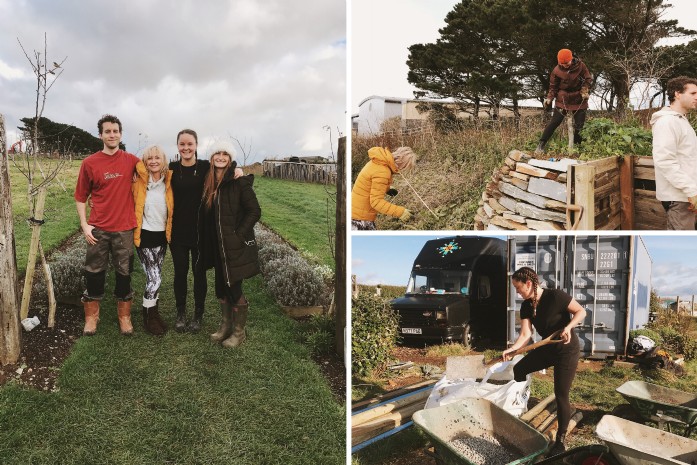 "It was fantastic to spend some time at Newquay Community Orchard to see the hard work that goes into making it the special place it is. At the Orchard, people from all walks of life come together to create a friendly and welcoming space, and to support each other through whatever trials life may throw at them. From woodworking classes to gardening to plant care, the staff and volunteers are always happy to share their knowledge and time".
Rewan Taylor, Portfolio Team Supervisor
With plans to support more charities and causes next year, watch this space.