The new year lends the perfect excuse to indulge in a little 'you' time. With landscapes and landmarks free from swarming visitors, Spring is the season when Britain is as peaceful as it is pacifying in its wild, majestic beauty. To make things even more appealing, we have teamed up with the UK's number one retreat provider, Whitecalm, to offer bespoke healthy holidays in select homestays across our collection. From yoga and meditation to personalised programmes matched to your DNA – you can choose a wellbeing experience as spiritual or scientific as you wish. Read on to discover our latest feel-good retreats.
Anthology Farm, The Cotswolds


It's the rural setting that gives this place its charm: 500 acres of picturesque farmland offer an Arcadian backdrop for long, peaceful walks; fields piled high with golden hay in sultry summer months. The farm is part of a countryside stewardship scheme where much respect is paid to local arable life, including swathes of rare bee orchids. The outdoor tennis court is the perfect excuse for some friendly competition, whilst freestanding baths and a heated indoor pool will soothe tired muscles before an evening's yin yoga session under soft blankets and twinkling stars. Then there's the bedrooms...
Jagger, Kent

Just two hours from London, this unique beach retreat makes a blissful end to a week spent in the bustling city. Jagger's geometric design concept was inspired by the landscape, built with recycled concrete and clad with wood to create an energy efficient homestay where the triangular form, curved salt-glazed brickwork and vast glazing puts all the emphasis on the sea views. Jog over the dunes for morning scuttles in the tide, finishing with an invigorating dip in the ocean and at-home massage by the suspended fire.   
The Tapestry, The Cotswolds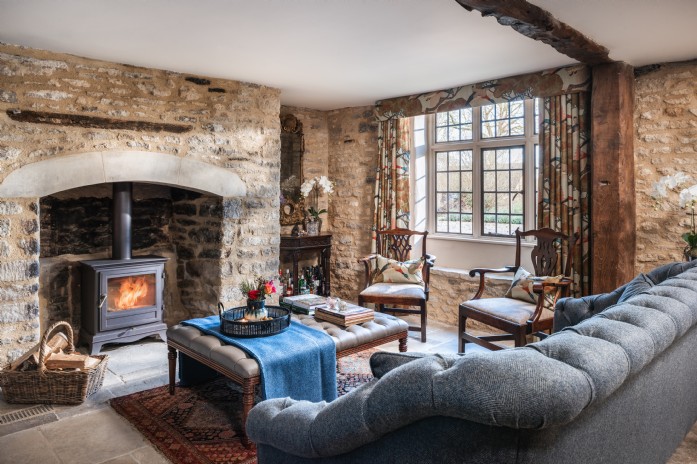 If you've always dreamed of rustic farmhouse living, this luxury retreat with its vintage verve and 320 acres of land is a fine place to start. The Tapestry oozes serenity, a trademark reflected in every gentle choice muted paint colour, every thick-lined curtain, every cushion-plumped sofa. Bring wellies for bracing country walks, and mulled apple juice to savour by the fire. From the seasonal ponds to butterfly strips and barley fields that frame the house, there's as much colour as there is calm to be found at The Tapestry. 
Zingara, Devon
It was 1820 when Dame Emma Tullock of Scotland took ownership of this Georgian deer lodge and bestowed upon it her vision of a true fairytale castle, adding wings and cladding it in Scottish Baronial style complete with stained glass windows. Here she threw many a party, but today the manor enjoys a much slower pace of life. Each bedroom is a sanctuary of calm, and outside a summerhouse houses table tennis, a punch bag and power plate to kickstart the day. There's also an on-site beauty salon, heavenly herb garden and yoga mezzanine for some 'mindfulness' time.
Roserai, East Sussex
This Grade-II listed manor, ensconced within a 10-acre estate, has all the makings of a luxury country retreat where wellbeing will be at the forefront of any break. When not snoozing by an open fire within the opulent interiors, there's a sauna, steam room, hot tub and outdoor swimming pool to float in, plus a rose garden to roam - taking in the heady scents of the rural idyll as you go.
Orlagh, Cornwall
Clad in Siberian larch with a wraparound deck offering views of the horizon as far as the eye can see, this Nordic-style beach house in Whitsand Bay is a welcome retreat from the wild Cornish winter. Changeable landscapes and long starry nights work in juxtaposition to the functional minimalist style, creating a beautiful connection between design and nature (best enjoyed from the steaming outdoor shower)...
View all homes with Whitecalm retreat packages currently on offer.