Picture this: the only light in the sky is a faint glimmer of pink which clings to the horizon as the sun holds onto the day and, as the darkness deepens overhead, so too it becomes brighter with a cosmos of galaxies and stars. A chill begins to whisper on your neck and you pull a soft knitted blanket tighter over your shoulders. In your hand is a steaming mug of mulled cider with a shot of spiced rum dropped in for good measure and lying on the grass next to you, looking in awe to a sky they've never seen so magical are your two children, giggling, pointing and sure as day that they've seen three shooting stars already. You smile into your mug and then up to the sliver of a new moon, vowing to hold onto this moment for a lifetime. Just then, your partner slips their hand in yours and you stand together listening, watching, breathing in the frigid air that so often comes with cloudless nights before joining the littles on the cool ground, whispering about astronauts and reaching to twinkling constellations.
Below are some of The UK's Dark Sky Reserves, along with our top holiday homes within them, where the skies are so big and stars so bright you could almost reach out, pluck one from the black and put it in your pocket for later.
Snowdonia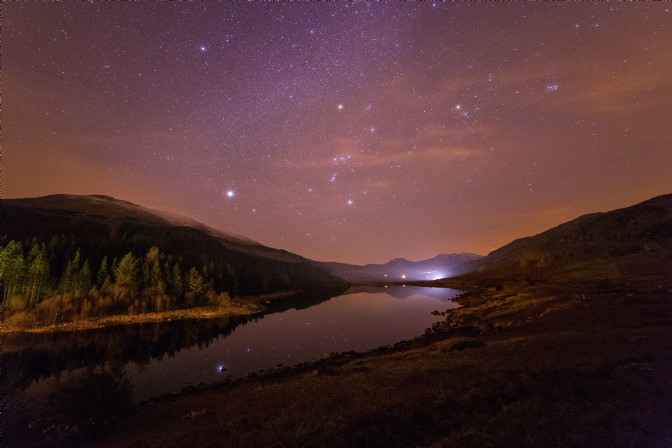 Glacial valleys sweep between distressed ridges, making Snowdonia the most dramatic of all the Welsh scenery. Although the tallest peaks are only 3000ft (914 metres) above sea level, their presence could rival the tallest mountains of The Alps if we were to go on attitude alone. Thousands upon thousands of hikers arrive every weekend to hike the Snowden massif, but the surrounding mountains offer a quieter, less trampled route to the clouds. With towns and villages hidden so deep within the valleys, pockets of light stay at sea level, benefitting the higher ground with uninterrupted shimmers from above.
Where to stay: Ebony Wood, Hinterland Cabin
Exmoor
Europe's first International Dark Sky Reserve, and maybe one of the most formidable National Parks in the country, Exmoor is a land where soaring cliffs meet heathered moorland and gentle meandering brooks amble by sky-high beacons. Wildlife is diverse here, and any walk or drive across the moors will likely reward with buzzards, red deer and the endangered Exmoor ponies. Sweeping and vast, the central moors are treeless and barren, holding their own unique beauty, while the coast contrasts starkly with boulders perched atop seemingly shattering cliffs and villages which cling precariously to the sea wall. On a clear evening, head to Anstey Gate, Wimbleball Lake or Holdstone Hill for unrivalled views of the skies.
Where to stay: The Pomegranate Tree
Brecon Beacons
Awarded Dark Sky status in 2013, the Brecon Beacons are a hiker's delight. A destination for outdoor lovers en masse, this National Park in southern Wales is tumbling with hills of grass and craggy rocks which peak out in the clouds. Glassy lakes and villages lost in time which seemingly emerge from the rocks themselves hide behind great mountains of limestone and moorland, while caves and waterfalls wait to be discovered at the end of tumultuous walks. At night, hills shroud the towns in shadows, making way for night to shine in all its glory.
Where to stay: Faraway House, The Wilds, Charity
North York Moors
Here be walking country, and there is no finer way to explore the deep valleys, sweeping moors and wild coast than by trusty hiking boot. The North York Moors' flat-topped hills dramatically drop down steep ravines and views stretch for miles upon miles before being stopped in their tracks by cultivated forests while ancient forts dot the uplands and offer historians a glance into a time long before. Each November, the National Park teams up with the York Astronomical Society to hold an annual stargazing event at the Sutton Bank Centre.
Where to stay: Bay View
South Downs
Britain's newest member to the National Trust family, the South Downs, covers six hundred square miles of woodland, chalky uploads and the spectacular white cliffs and candy cane lighthouse of Beachy Head.  Although located in one of the most densely populated parts of the country, you'd never know it, and wild walks on exposed headlands, along with gentle ambles through quiet woods, give any city dweller the taste of nature so essential for a soul to lighten.
Where to stay: Little Bear, Madam Butterfly, Cadence