Thereís something about water. Something that restores us to our calmest, most natural state. Its rhythmic ripples, steady swell and predictable tides give tempo to the day and afford regularity to an often chaotic world. Even during the darkest storms, the oceanís waves crash on the sand with ferocious momentum; steady as a heartbeat drumming in anticipation.
Whether a moorland river, Highland waterfall or off Britainís dramatic coastline, immersing oneself into cold water fills the body with tingling vitality. A natural high, form of meditation and immune booster, our lakes and plunge pools are a therapy not prescribed in doctorís surgeries, but an age-old connection to some of our wildest landscapes.
This month weíre inviting you to run far from the concrete jungles which sprawl across our land to dip your toes in the UK's effervescent shores and cascading streams.
Aquila
Nestled deep within the Lake District National Park on the sparkling shoreline of Haweswater, Aquila is a modern yet homely escape where water lovers will feel right at home. Inside itís all steel beams, leathers sofas and enormous views of the water, fells and sky, while adventure awaits just outside the front door.
The Looking Glass
In tune with its surroundings overlooking Mawgan Porth beach, this modern marvel is a true at-one-with-the-elements self-catering beach house. Floor-to-ceiling windows ensure the sea can be seen from every angle, while tonal blues, greys and whites mimic its ever-changing mood.
Wildwood Holt
Enveloped in birdsong and with a river running through its garden, this enchanting holiday home poses the perfect spot for families with little adventurers in tow. Spend mornings scooping and pouring with buckets and cups or playing Pooh Sticks off the bridge, before heading off to explore the Helford River, Falmouth or†Lizard Peninsula and their respective beaches.
Lost Cottage
Overlooking Lough Caragh between mist and mountains in Irelandís County Kerry, Lost Cottage is a true wilderness abode where wild swimming, fishing and kayaking will satiate the pull of any aquaphile. After a day exploring the Reeks District, slink into the sunken tub and watch the stars twinkle overhead.
Aurora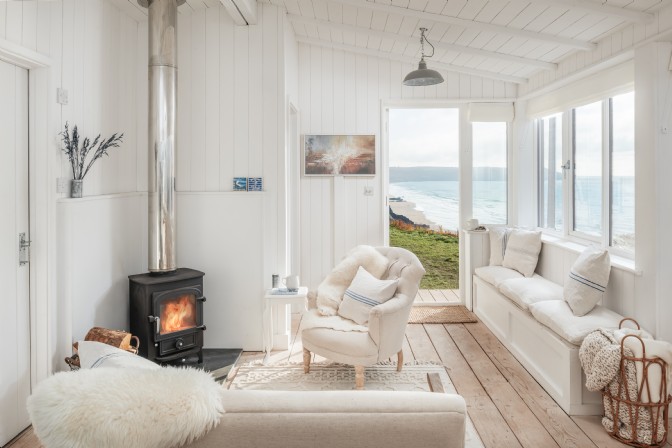 Clinging to Whitsand Bayís lofty cliffs, Aurora is a simple cabin which showcases the terrific seascapes outside. A panoramic horizon stretches from Rame Head in the east to Looe in the west while a topsy-turvy path leads from the cabin to Freathy Beach below. As spectacular during winter winds as on balmy summer stays, Aurora is a coastal dream for lovers.
White Beach Cove
A traditional Welsh cottage on Angleseyís remote north coast settled just a short ramble from a quiet, pebbled beach. Spend days on the island wandering the coast path, floating on the waves and barbecuing freshly caught mackerel for supper before retreating to White Beach Cove to slide into the warm bubbles of the hot tub.
Walden Lakehouse
Nestled on the middle lake of Irelandís iconic River Shannon, Walden Lakehouse offers luxurious privacy on the banks of a quiet jetty. Wake to swans gliding onto the water from the master bedroom before enjoying an al fresco breakfast overlooking the water. Hire a boat, cycle along the river banks or simply relax in the sounds of the water and forest combined.
Take the tour of the full Cold Water Therapy collection.