Musician and artist pair Andy and Fran stumbled upon The Boat House in its original Arts and Crafts form. They first spotted the property online and fell in love instantly with its far-reaching views and verdant surrounds of National Trust Woodland; this led to a short six-week turnaround from the first viewing to signing the contracts. Although it stands proud within our collection as a homestay today, their original plan wasn't to use it as a holiday let, but instead, rebuild this seaside home into a music and art studio. "We were captivated by the waterfront location and its seven acres of secluded private grounds and beach. We knew it would make a perfect place to set up a private recording base for me, and an art studio for Fran. After playing host to recording artists for so many years we both were looking for somewhere to set up shop and develop our creativity" says Andy. 
When Andy and Fran rebuilt the tumbled down boathouse, they decided on a multipurpose space which could work as both a studio and accommodation for guests. "The Unique Homestays connection happened by accident, in a way, as we never originally thought it would become such a serious business idea. However, the more guests we had, the more it seemed to generate demand and thanks to Unique Homestays, we are here today."
The owners designed The Boat House so that it can be set up as a recording studio in just over an hour, for them to use in quieter times of the year, supporting Andy's ongoing love of music. His passion started at an early age with classical piano studies beginning at six-years-old and an older brother who was heavily into folk and blues music. "After doing abysmally at academic studies, I decided to move to London in my late teens to pursue music, and at age 20, I signed a deal with a label in the United States." Andy then continued to tour and record music for several years as a solo artist with a hybrid of jazz, folk and blues compositions, following on to record for the music industry's biggest names such as Stevie Wonder, Radiohead, The Smiths and Tori Amos.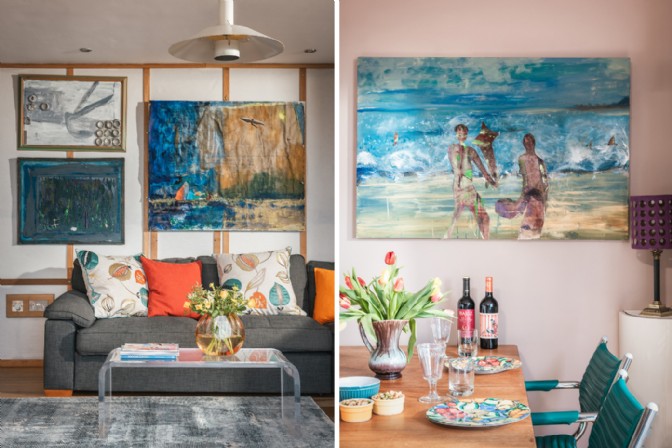 An overwhelming sense of creativity and character runs throughout this contemporary retreat in Cornwall, a welcoming space in which guests are met with the owners' favourite vintage furniture pieces and Fran's artwork, most of which are mixed media. "The piece that sits in the living area uses a recycled canvas and scraps of plastic waste collected from our private beach. The title, Setting Sun Sublime Sea, is ironic because we all know humans and their waste have endangered the ocean and the life within it. Thankfully I have noticed a dramatic improvement in the last decade, and now I rarely find waste on our beach. Generally, I now collect driftwood and shells to make sculptures." 
"Fran and I have been married for near on 50 years and partners in business for much of that time. Our move to Cornwall gave us both a chance to maximise our creativity." Andy and Fran welcome up to four guests into their home throughout the year.