Year after year, tributes are paid to the cultural icon Robert Burns, Scotlandís most famous poet and lyricist. Stretching back to the early 1800ís, this famous tradition began when his nearest and dearest came together to commemorate his life and his poetry. Each year since, lively dinner parties are held on 25th January to mark the annual Burns Supper, a night of traditional Scottish food, sing-songs and whiskey-fuelled speeches.
Renowned as the pioneer of the Romantic poetry movement, our Scottish love nests are the perfect places to gather together for cosy celebrations amongst the most awe-inspiring settings hidden deep within this majestic land.
Head to the Hebrides for a unique Scottish escape at Supernova. This converted chapel sits on the Isle of Skye, flaunting a smorgasbord of wind-scoured moorland, jagged mountains and sparkling lochs. Just under a mile away lies the world-famous Talisker Distillery so pull on your walking boots and head over for a tour before returning home armed with a bottle of single malt; a wee dram is essential in any Burns Night celebration.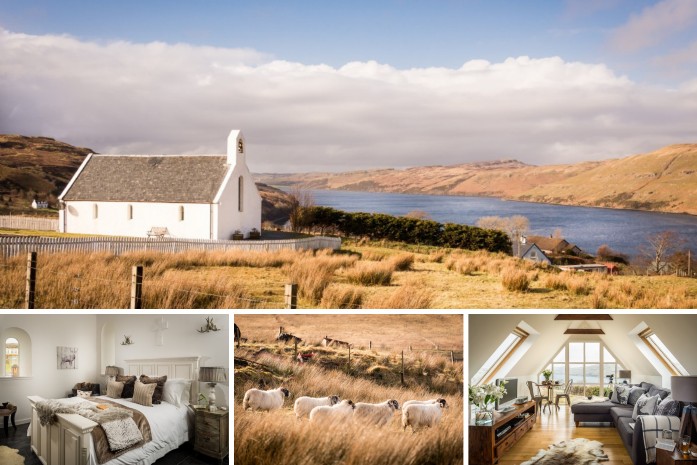 Adventure to Little Eden, where mountains plummet upwards and maroon clouds smear across the sky, mirrored in the waters below. After an evening of story-telling and poetry recitals, toast marshmallows on the firepit whilst shooting stars provide the ultimate Burns Night finale. With a dark sky policy throughout the Trossachs National Park, a clear night affords guests the most jaw-dropping star-gazing opportunity.
With a backdrop of snow-dusted mountains and far-reaching views over Loch Ewe, Skyfall sits within the most idyllic of locations. While the cock-a-leekie soup simmers on the stove, scroll through online music playlists to ensure the sound of bagpipes floats throughout the cottage or why not hire in your very own pipe player for a unique evening of entertainment?
With its private setting deep within the Scottish wilderness, Castaway flaunts an al fresco hot tub and its own private beach from which to watch dolphins rise from the glassy waters of Loch Broom. Collect your shopping by boat, purchasing neeps, tatties and freshly prepared haggis, the crowning glory for any Burns Night supper. Complete the festivities holding hands, singing Auld Lang Syne (Burns' most famous words) as the fire crackles in the background.
Scotland's wildernesses, highlands, lochs and glens sit amongst some of the most magical scenery across the globe, so whichever region you decide to visit this January, we're sure this wild kingdom of the world will inspire and delight at every turn.