Britain. Not an island synonymous with indoor outdoor living. That said, you'll be hard pushed to find a nation more willing to embrace the elements for a bracing hike or dog walk (we did invent the Mackintosh, after all). When it comes to the home, we're all for wine by the fire and crumpets warmed on the Aga, but we're also a nation with a burning desire to deepen our connection to nature. Whether in the form of grass roofs, spring-fed pools or greenery-filled orangeries, here are six homes that seamlessly connect those inside to the outside world.
Kilnwood, Somerset
Tucked into the rolling Mendip Hills and with views of Glastonbury Tor, this country house retreat in the heart of rural Somerset oozes organic charm. Restored from a life of labour into a luxury family home, natural materials played an important role in the sensitive renovation of these former agricultural buildings. Locally sourced tiles formed the terracotta roof and Somerset wood was used to craft furnishings. "Over the decades the barn has swapped hands between farmers, gardeners and potters" say the Liddy family, who bought Kilnwood in 2016. "As parents to five children we love being able to escape to this amazingly beautiful part of the world, within a few hours of central London where we spend most of our time, with space to run around and the cleanest air to breathe, and not having to catch a plane! The view from the outdoor heated shower on a clear summer's day has to be one of the best in Somerset."
Skyros, County Cork
Nestled at the foothills of Mount Gabriel, this modern piece of architecture is no eyesore, but a sleek contribution to West Cork's Star Wars-famous scenery. Clad entirely in Irish Kilkenny Limestone, inside is a minimalist haven of poured concrete and floor-to-ceiling glass. South-facing views flaunt intoxicating panoramas down the zig-zagging coast of the Mizen Peninsula, out to Roaringwater Bay and its collection of islands. The garden is intentionally simple, bringing no competition to the design nor the view. For those wanting a contemporary homestay that's truly immersed in its scenery, Skyros is a superb example.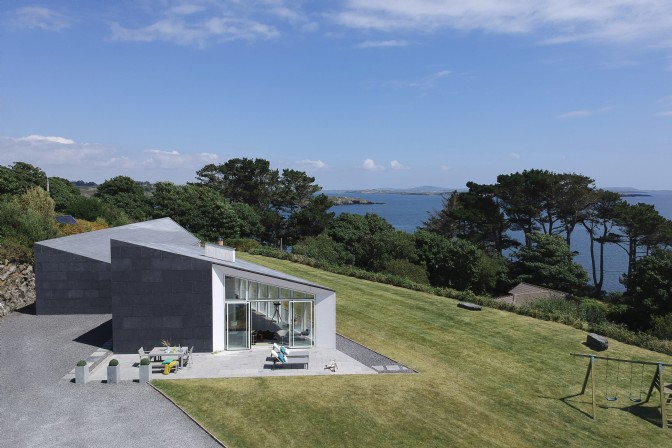 Montana, 
Lyme Regis
This modern home sits in an Area of Outstanding Natural Beauty within a serene hillside location two miles from the coast at Lyme Regis. The timber façade was crafted with Western Red Cedar, interspersed with large triple glazed windows which bring in the lushness of the wooded environs. Glass-walled shower rooms look out over the dense valley of firs, and there's botanical art thoughtfully positioned throughout. Bespoke oak furnishings, a concrete floor and wood-panelled ceilings add a Scandinavian flair. There's no end to Montana's eco credentials too: air source heat pump, solar panels, solar thermal hot water, eco-friendly septic tank... the list goes on. If you love all things natural and Nordic, Montana ticks all the boxes. 
Seren Mor, Pembrokeshire Coast 
There's something about the way the light dances on the tide below this contemporary creation on Newport Estuary. Described as "the most beautiful location for a house anywhere in the UK" by Sir Colin Stansfield-Smith, one of the UK's leading architects of the 70s and 80s, Seren Mor sits surreptitiously on the green cliffs of the Pembrokeshire Coast National Park. The team behind the project have managed to seamlessly blend perfect, modern architecture with the organic world, seeing them win a RIBA Welsh Architect Award for their efforts. "Because this sweep of South Wales coast has never quite had the reputation of the west of North", says Becky Lucas in her review for Conde Nast Traveller, a stay at Seren Mor feels like uncovering a secret."
Elemental, Scottish Highlands
"There is a primitive back-to-basics feeling here" says Seamus, the owner of this modish Scotland retreat, "living here is incredibly good for the soul, but also makes you realise we're not just here to observe the natural world: we're part of a larger ecosystem". Elemental was first built for a Danish family in the sixties, taking inspiration from Swiss-French architect Le Corbusier, a pioneer of modern architecture. The owners believe the space allows guests to feel closer to nature and, in turn, think twice about their impact on it. Sitting in a calming space made of clean lines and Scandinavian simplicity, the design works in perfect contrast to the rolling mountains and glens of the highland landscape all around.
Bohème, Somerset
If you read Harper's, Town & Country or Gentleman's Journal, you'll have heard about the 16th century cider mill that's been ever so smartly transformed into a luxury homestay in rural Somerset. Sleeping up to 20 guests, this farmhouse-style retreat has many guises; family home, yoga barn, fitness studio... it's hosted them all. The main draw? Over and above its decorative interiors, it's the house's eco credentials that attract environmental enthusiasts from afar. The 15-metre indoor pool is fed by a natural spring, there's Biomas heating and solar panels used for energy generation and a charger for anyone arriving by electric car - genius.