Little feet pattering through kitchens looking for treats, table-tops laden with wine bottles to share over dinner and laughter echoing up sweeping staircases; there's nothing like gathering with your nearest and dearest for a celebration of companionship and love. Think long rambles with the dogs and games of hide and seek in secret gardens as you gather the troops for a getaway in an opulent castle or country home this autumn. Below we round up our top picks.
Huntlington House
A Jacobean hunting lodge turned glam rock holiday retreat, this luxury Worcestershire home was made with grand celebrations and hedonistic souls in mind. Indulgence is the name of the game at Huntlington House and an indoor wellness area (including pool, hot tub, sauna and steam room) is the cherry on top of this already elaborate cake.
Dandelion
Vibrancy and traditionalism combine at Dandelion, where traditional flagstone floors, bright swathes of colour and shimmering disco balls come together to create a home that delights in the Cotswolds. Sleeping up to 12 guests (plus two children), this fun and energetic family home offers oodles of space for wining, dining and everything in between.
The Find
Clean lines, large windows and a rooftop terrace for stargazing; The Find is a modern home just outside of Cheltenham where large groups can sink into sublime relaxation. When winter rages outside, gather with pots of tea and trays of sweet snacks in the movie room, while dry autumnal afternoons beg for rambles through the surrounding Cotswold hills.
Atelier Rose
Hidden behind topiary pyramids in the quaint Herefordshire village of Leominster, Atelier Rose is the home of country dreams. Think evenings in the garden room's enormous William Holland tin spa bath, boardgames in the lounge and movie marathons on dark December nights. If your group is larger than 12, book in conjunction with neighbouring cottage Hollyhocks, where an extra six guests can sleep just a top over the hedge.
Benetfeld
Eccentric and luxurious, Benetfeld sits ablaze in all its red brick glory against Berkshire's green and pleasant lands. Inside, decadence reigns with modish furnishings, walls plastered with pop art and gleaming chandeliers. If the party carries long into the night, DJ decks can be found in one of the eight double bedrooms.
Rhapsody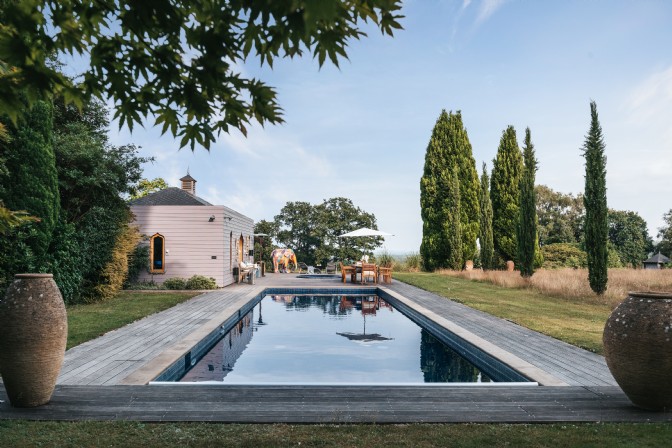 Surreal garden sculptures, topsy-turvy architecture and glass-like pools hidden within acres upon acres of grounds, Rhapsody is as though lifted from the pages of a CS Lewis novel. A Tudor country home that has seen its fair share of revelry over the years, spend time rotating between the pool, hot tub, yoga studio and floating glass reading room. All less than an hour's train ride from London in Haslemere.
Ariabelle
Up to 14 guests can take up residence at Ariabelle, found at the end of a sweeping tree-lined drive in West Sussex. Behind the French chateau-style shutters, find an Aladdin's cave of twinkling chandeliers, elaborate floor tiles and a wellness wing with palatial indoor pool. Grand group escapes don't get much finer than this.
Castle Trinity
What could be better than holing up in a castle for a weekend (or week!) of catching up with friends and family? For those in search of large group accommodation in Yorkshire, Castle Trinity is a world of ritz settled amongst 12 acres of sprawling grounds. Including a gym, pool table, piano, yoga room, steam and swimming pool, this castle will ensure the whole family a trip to remember.