Ah, summer: the season of cocktail parties, royal regattas, and what Britain does best in my opinion – music festivals. To save you from undergoing a serious case of FOMO, we've compiled a list of the UK's must-do festivals taking place over the next few months so you can get them in the diary. Sunglasses, cider and sequins at the ready? Good. Let's get the party started. 
Glastonbury The king of British festivals, the crème de la crème of all music events, Glastonbury is an almighty affair come rain or shine. With the weekend now well underway, this year is set to be a muddy one, but no less fabulous. Revellers can expect to be dazzled by a-list acts, such as Adele, Coldplay and Muse, along with many, many more.

When? June 22-26
Where? Worthy Farm, Somerset
Where to stay? Caspian Ranch

Camp Bestival This multi-award winning festival offers a family experience like no other. Hidden within the magical grounds of Lulworth Cove on Dorset's dramatic Jurassic coastline, Camp Bestival is full to the brim with entertainment. Discover mesmerising musical performances, unique cultural events and interesting attractions aplenty, all wrapped up in a ridiculous amount of family fun. 

When? July 28-31
Where? Lulworth Cove, Dorset
Where to stay? Featherdown, The Old Monastery
Port Eliot Festival This annual event is a giant, magical playground of imagination. Set in a place dubbed Cornwall's "forgotten corner" within the woodland of an ancient stately home, party goers will be welcomed into the ultimate fantasy land at this boutique music and literacy festival. Swim in the estuary, picnic under a 300 year old tree, catch an intimate gig in the estate church, explore the house, attend a cooking demo or boogie 'till the early hours – anything goes at Port Eliot.
When? June 28-31
Where? Port Eliot Estate, Cornwall
Where to stay? Moontide

Secret Garden Party This unique festival is unmatched. Set is the heart of the Cambridgeshire countryside; Secret Garden Party is one wild and wacky weekend where the atmosphere is top-notch. Expect to stumble upon sunflower fields, a castle floating in the middle of a lake, paint-splattered bodies and a boxing ring full dancing ballerinas rap battling. What more could you want?
When? July 21-24
Where? Abbots Ripton, Cambridgeshire
Where to stay? Tide Mill View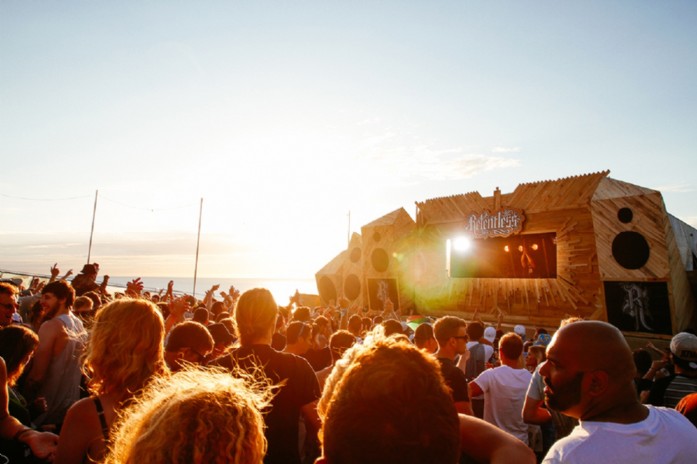 Boardmasters Surf Festival Since 1981, each summer the beautiful cliffs of Watergate Bay host the UK's ultimate surf and music festival, Boardmasters. An event for surfers, music lovers and adrenaline junkies alike, activities are endless at this popular coastal party. Try catching waves during the day on Fistral beach, watch the BMX-ers take to the skate ramp and dance non-stop by night to world-class DJs until the sun comes up.
When? August 10-14
Where? Newquay, Cornwall
Where to stay? Firefly, Siren

No. 6 Festival In possibly the most unique setting of them all is the magical No. 6 in Portmeirion, Wales. A fascinating and rather dreamy seaside attraction in its own right, No. 6 offers an unforgettable weekend of music, arts and culture. Try paddle boarding along the estuary, morning yoga classes, beach meditation, dreamcatcher making, mythology and circle ceremonies… the list goes on.
When? September 1-4
Where? Portmeirion, Wales
Where to stay? Eirianfa
Rewind The biggest 80's music festival in the world takes place amongst some of Oxfordshire's most glorious grounds at the end of August this year. Merrymakers can look forward to this year's tribute to Bowie and Prince on the Main Stage, followed by a variety of old school sensations. Don't forget your high white wedges and bright pink wig!
When? August 19-21
Where? Henley, Berkshire
Where to stay? The Creamery
Wilderness If you're looking for something more than just your standard festival set up, then Wilderness is the ticket for you. Creativity flows through the site in abundance, flowers bloom in every direction and some of the best looking folk in the country gather in sequins and flower head garlands around every corner. Better yet, the lake is perfect to wash those fuzzy heads in the morning before doing it all over again.
When? August 4-7
Where? Cornbury Park, Oxfordshire
Where to stay? Honeystone Manor
Cornbury This one-of-a-kind festival has something for everyone. Expect to groove on down with superstars, rockers, Morris dancers, fashionistas and farmers alike at this jolly ol' affair in Oxfordshire. Laugh yourself silly at a comedy show, be dazzled by the jazz sensation Jamie Cullam or sample some delicious delights from the variety of food stalls set to pitch up this summer.
When? July 8-10
Where? The Great Tew Park, Oxfordshire
Where to stay? Marmalade
Edinburgh Fringe Festival Although a much more cultural affair, this unique event which braces the streets of Edinburgh each year is the largest arts festival in the world. Performers take to hundreds of stages across the city and dazzle the crowd with elaborate displays of comedy, dance, circus, cabaret, musicals and more.
When? August 5-29
Where? Edinburgh, Scotland
Where to stay? Figtree