Fashionistas from all over the UK will know that this year marked 100 years of Vogue. Over the years, Unique Homestays are very proud to have had a number of our stylish homes appear within the pages of the fashion bible and so to celebrate its centenary, we've collated a selection of the most 'Vogueish' homestays within the Unique Homestays portfolio. From a rustic, peacock-themed barn conversion to an orangery embellished with dripping chandeliers, tropical palms and lemon trees, this exclusive collection of head-turning holiday accommodation is a true feast for the eyes, affording guests the chance to stay in some of the UK's most decadently stylish private homes.
Guinevere, near Shamley Green, Surrey
A unique mélange of old and new, the owners of Guinevere have restored their beautiful country home with eclectic extravagance in mind, to create a calming oasis for country escapes with a difference. This luxury bohemian hangout boasts knock-your-socks-off-interiors; flaunting vintage ethnic fabrics, modern artworks and a kaleidoscope of colours throughout.


Hummingbird House, near Lewes, Sussex
Style meets stile at Hummingbird House. Once home to music hall starlet Lily Elsie (the most photographed woman of Edwardian times), this unique Grade-II listed manor house steals the show with her subtle glamour and undeniable grace. The house was chosen by a Vogue writer this year, who stayed and featured it within her review of an evening at Glyndebourne opera.


Darcy House, near Cheltenham, Cotswolds
Designed as a dower house for Brockhampton Park's Lady of The Manor, this luxury Cotswolds cottage is stuffed to the beams with opulence. The interiors were designed with a vision of a petite French manor in mind. In the Champagne sitting room you´ll find a red velvet sofa, buttoned footstool, ornate gold bed and beautiful original panelling. And then there's the master suite, oh and the bathroom...


The Oyster Catcher, Mousehole, Cornwall
Along with its sister property, The Herringbone, this former net loft featured on vogue.com's guide to Mousehole and was dubbed amongst the most striking of vacation rentals on the harbour (which is picture-perfect in its own right). Ethereal and enchanting, the chalky whites and muted hues lend a peaceful ambience to this most exquisite of coastal abodes. Seaside chic at its finest.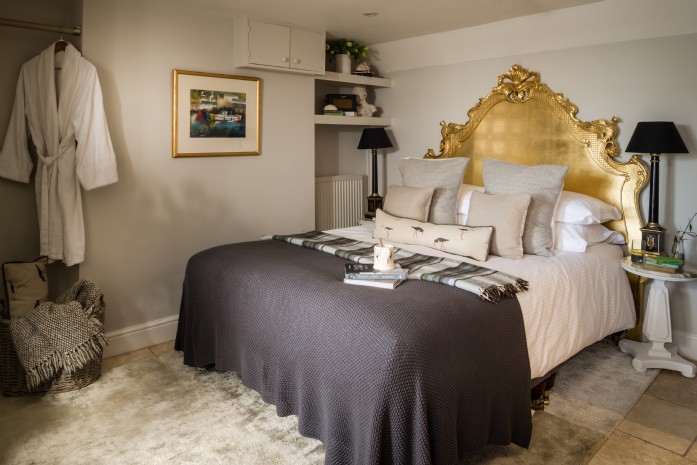 Just along the harbour, a little amble from the salt-weathered door of The Oyster Catcher, sits another of our most stylish homestays, Voyager. A cocktail of colours, textures and patterns make this old customs house a luxury pad for modern-day families. There's something quite fashionably European about Voyager's uber-cool interiors which incorporate crisp white walls, shiny marble worktops and flourishes of gold leaf. 
Valentina's Lost Orangery, near Castle Combe, Wiltshire
A classic English orangery with a Venetian twist, this stunning self-catering home and wedding venue is a stylist's dream. Crystal and wax chandeliers drip over the banquet table like a backdrop straight out of Vogue, whilst the bedrooms bedecked with antiques offer refined elegance. The wintering citrus gives a botanical feel, flowing out to meet 500 acres of Utopian private grounds designed by Julian and Isabel Bannerman.
The Stack is a 19th century engine house sure to inspire those with a love for unique architecture and rough-luxe interiors. A dramatic display of architecture stripped to the soul, this old stamp house encompasses original industrial features, exposed wooden beams and coatings of paint peeled so perfectly that they reveal the story beneath the many layers. 
Florin, New Quay, Credigion, Wales
Florin has all the magic of a fairytale manor, wrapped up within the stone walls of one of Wales' most exclusive holiday homes. From the elaborately styled bathrooms, to secret 'Les Dandys' bookcase and dramatic living spaces with roaring fireplaces- this Victorian family home has been sensitively brought into the 21st century, boasting a stylish decadence throughout.
Peacock Blue, Holne, Dartmoor National Park
In the heart of Dartmoor National Park lies a sublime self-catering abode named Peacock Blue; the haute design and stylish interiors of which wouldn't look out of place in the trendier purlieus of London or Berlin. The designer owners have created a truly lustworthy abode in the renovation of their pet Peacock's barn, where exuberant bohemia fuses with sophisticated flourishes.
Honeystone Manor, near Burford, Cotswolds
This luxury country house is within easy reach of London and perfect for celebratory occasions. The heated outdoor pool and bathing area brings about an almost Provençal feel to the gardens, whilst the spacious entertainment barn provides a thematic backdrop for grand gatherings. Fresh and inviting, a delicious fusion of traditional features blend with a colourful twist of characterful artwork and bespoke furniture here at Honeystone Manor, making it one of the UK's most swoonworthy homestays.