It's a truth universally acknowledged; the greater into the wilderness you travel, the greater the revelations you can hope to uncover. Being in the back of beyond allows us to loosen the ties that bind us to the familiar world and rediscover the most simple pleasures in life. From woodland hideouts and country cottages ensconced in nature, to cliff-hanger cabins perched atop wild oceans, these remote retreats will offer inspiration for your quiet place somewhere, as close to off-grid as you can go without compromising on comfort. Because we all need to go somewhere different, even if just for a little while.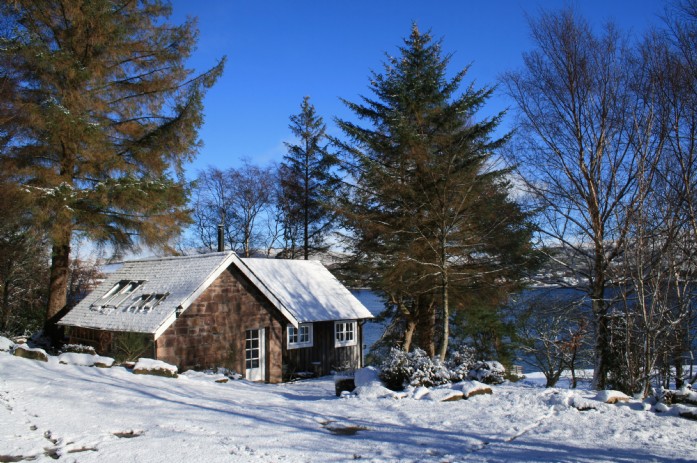 Tucked away on the south shores of Loch Broom, this highland hideaway with hot tub occupies a secluded location near Ullapool in Scotland. Castaway promises to keep romantic affairs a forever secret, providing the perfect destination for star-crossed lovers to flee. Formerly a renowned two-starred Michelin restaurant only accessible by boat, the 300 year old dwelling harbours an enchanting history, having hosted a wealth of famous faces and intriguing characters wanting to get away from it all.
This wooden-clad cottage near Helford in Cornwall exudes oodles of rustic country character, set within acres upon acres of private woodland with a trickling stream meandering along beside. A perfectly private abode nestled within a quiet valley setting, Clapper Bridge Cottage is a very special woodland hideaway you'll want to keep all to yourself.
Hidden down a winding mountain road in the remote Olchon Valley, this modern-rustic home commands soul-stirring views towards Offa's Dyke and the majestic Black Mountains beyond. Charity is great for large groups and gatherings, offering a luxury retreat with a rugged 'into the wild' vibe. After a day of bounding up mountains and cooling off in waterfalls, the party can retire back to base camp for an evening of movies in the cinema barn, saunas and soaks under the stars in the wood-fired hot tub.
The fifty acres of unspoiled private farmland surrounding Whimplestone provides a tranquil backdrop for a well-earned family break in the verdant Cornish countryside. This breath-taking property has been flawlessly furnished to create a luxurious country home for those seeking complete seclusion.
For a far-flung romantic getaway or unique solo break, this luxury chapel conversion on the Isle of Skye will be the perfect sanctuary. Complete with a sauna and spa bath overlooking Loch Harport and the soaring mountains beyond, Supernova lets guests experience the wonder of island life, in the lap of luxury.
Positioned within sixty glorious acres of private farmland and cradled by the arms of the Black Mountains, The Wilds was the home in which Haratio Clare wrote about his heart-stirring title 'Running for the Hills'. Now, this luxury self-catering barn conversion gives others the chance to run away to the Brecon Beacons for hot tub sundowners and evenings tucked up by the fire. A truly 'in-the-middle-of-nowhere' escape. 
Way back when love letters and drift bottles were amongst the only few means of communication, The Cable Hut was built to house the first telephone lines being laid across the Atlantic Ocean. Over 100 years later and after a storm hit the Pembrokeshire coast leaving it abandoned, The Cable Hut captured the hearts of a passing couple who have lovingly transformed it into a unique half-cottage/half-tin-house for the ultimate remote coastal escape.
Acres upon acres of bluebell-swathed woodland provides the heart-stirring backdrop for this secret hideaway in the heart of the Weald Downlands. Forget Goldilocks and her three Ursidae visitors; this dreamy cabin in the woods complete with eco hot tub is a grown-up den for wilderness lovers who covet the finer things in life. Team it with zero Wi-Fi and patchy mobile signal, and couples can truly unplug from the outer world and plug in to each other. 
This quirky 1930s beach hut is becoming quite an iconic dwelling within the north coast of Cornwall... for those who can find it! The Limit's unique position within Holywell Bay's sand dunes makes it perfect for luxury surf breaks and romantic self-catering weekends away, with no internet or landline meaning no distractions! 
Rediscover the simple life at this secluded and iconic beach hut in Millook. This unique beach shack in North Cornwall occupies an enviable nook on the edge of a stunning coastal fifty-two acre estate, making it an idyllic location to inspire writers, artists and lovers alike. First built in the 1920s as a Cornish tearoom and now a unique self-catering retreat, The Beach Hut is the ultimate coastal hideaway.