Bringing a flourish of green and a flicker of gold, silver and bronze medals to London, it's no secret that the annual RHS Chelsea Flower Show is well underway. Each year exhibitors challenge the boundaries of conventional gardening, filling The Grand Pavilion and Main Avenue with gardens and plant species that are truly mind-bending. Most talked about this year so far has been Jason Basson's Maltease quarry-inspired garden which won Gold and stole the Best in Show title for its unique, unapologetic and true representation of a harsh but beautiful environment; one you wouldn't usually expect of an RHS show garden. 
To celebrate one of our favourite weeks in the social calendar, we have gathered together our favourite Unique Homestays with show-worthy gardens that you can enjoy; from endless manicured lawns and wildflower meadows to sea-scape inspired terraces. Here at Unique Homestays we look for extraordinary homes with gardens that will astonish, where outside space is just as important as inside, so let us guide you through our top picks.
Wildflower gardens surround Sundance, bursting with ornamental grasses, pops of colourful foxgloves and rockery succulents; attracting a whole host of wildlife. A garden lovers dream.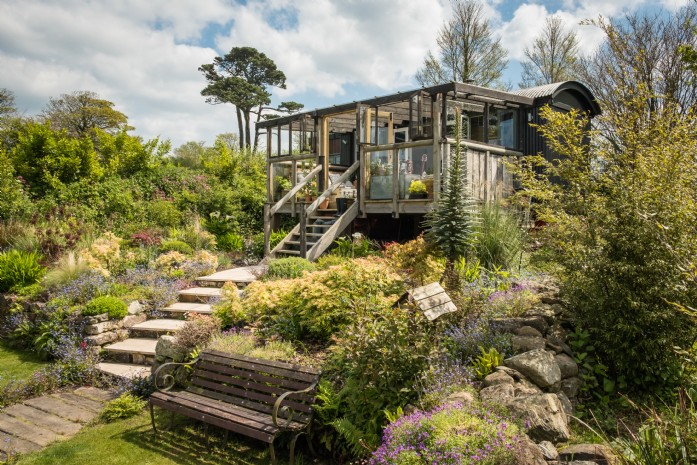 There is plenty of green space to enjoy at The Woodlanders' Helen Dooley designed garden, with three neat lawns including one which magically transforms into a chaotic wild grass meadow throughout summer. Escape to the charming garden house for a few hours peace and seclusion, the perfect spot to finish that novel or enjoy a classic cup of Earl Grey.  
With twelve acres of gardens to explore including topiary sculpted works of art, sweeping lawns, fruitful orchards, a parkland with arboretum and colour-filled borders throughout, The Parsonage truly is a garden of dreams. There are also a number of formal and informal dining areas, just perfect for al fresco dining. This garden has it all. 
The grounds at Valentina's Lost Orangery were imagined and designed by Julian and Isabel Bannerman who created an astonishing world of pruned topiary and fragrant rose gardens all set amongst the walls of romantic castle ruins (which they first made from polystyrene so the owner could gain a sense of what it would look like in stone!). Huge bowls of tulips line the terrace whilst glistering chandeliers dangle from above, creating a vibrant and fun contrast to the classic English country garden. 
There is a great sense of occasion arriving at Gatsby, which welcomes you with 70 acres of sweeping lawns, formal gardens and kitchen gardens. With extensive parkland AND a lake (yes it has swans too!), there really is nothing more one could wish for in a private garden. There are not only endless green spaces to discover but also a croquet lawn and outdoor pool, so don't forget to pack your swimmers when staying here!