We're counting down to summer here at Unique Homestays, dreaming of plunging into crystal waters, washing away the blues and taking a dip at sunset in the UK's dreamiest private pools. It's been a hard task but we've hand-picked five of our favourite homestays guaranteed to knock-your-socks-off… literally!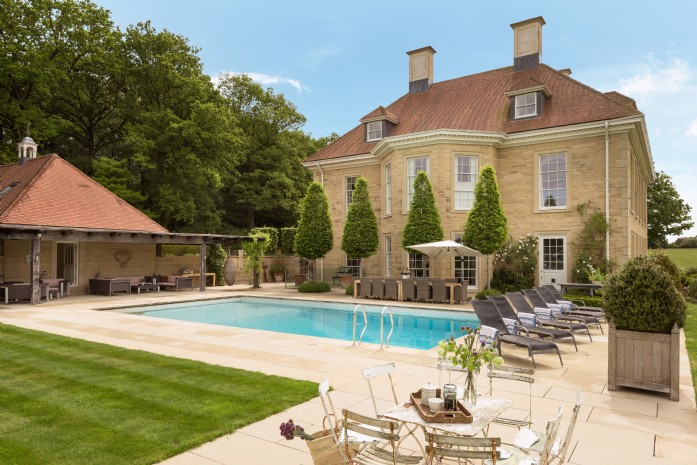 40 acres of self-catering extravagance all bottled up in a luxury country home in West Sussex is what you can offer a party of 14 guests when you take exclusive charge of Cornucopia. Hire this large, lavish home and we'll even throw in a private lake (row boats and jetty come as standard)! Life doesn't get much sweeter than that.  
Dive into Rydon, a stone's throw from Dartmoor National Park, where rustic meets contemporary with splashes of quirky style. Rydon's outdoor heated pool provides utter indulgence and relaxation, so cool off in the country and soak up the serene horizons without suffering any lost time outdoors.
Luxury awaits at Arcalia, a fairy-tale farmhouse sitting pretty on the edge of Bodmin Moor in north Cornwall. Immersed in nature-filled gardens, this magical farmhouse delights the entire family with a hearty dose of Cornish hospitality. Jump into the heated outdoor swimming pool and create family memories splashing about until well past bedtime.
Spring-fed and chemical free, Bohème offers the purest spa waters in its 15 metre indoor heated pool, with the addition of wrap-around views over  100 private acres of pastoral paradise.  This stylish, country retreat oozes laid-back ambiance perfect for rest and recuperation.  Those wanting a health spa with a difference will love to indulge in this luxury self-catering sanctuary near the Devon and Somerset border.
Exuding exclusivity and elegance, Gatsby is a glamorous Georgian manor house set within 70 acres of enchanting grounds. Possibly the most scenic of the bunch, this luxury homestay boasts a swoon-worthy outdoor heated pool and most breath-taking spot overlooking Blackmore Vale. Spend evenings gazing into the horizon from the star-lit pool, for a romantic private country escape.